Over the last two decades, the number of millionaires has skyrocketed. This increase in new wealth has allowed the world's most exclusive hotels to create luxury suites that truly fit the name; offering up incredible amenities and spacious living quarters that put many American homes to shame. These rooms are replete with hot tubs, immense floorplans, dining rooms, sitting rooms, and bathrooms to lose yourself in. They often come with army of private chefs, masseuses, personal trainers, and butlers on call to service your every desire. Most also have private entrances, so there's no mixing with other guests.
When you're ready to pamper yourself while abroad, you're ready for one of the 21 most luxurious hotel suites from around the world.
The Apartment at the Connaught, London
Pure Posh: Overlooking the wealthy and gorgeous Mayfair area of London from the wraparound balcony, The Apartment is just one of a few luxury rooms at the Connaught. Along with the striking outlook comes your own butler and private meals from Helene Darroze, a triple Michelin-starred culinary miracle-worker.
New York Palace Hotel Jewel or Champagne Suite
Take Your Pick: Both of these exclusive rooms exist in the New York Palace hotel, and each has 5,000 square feet spread over three floors and decorated in modern deco. The Jewel suite gives more sparkle, thanks to design by Martin Katz, while the champagne room is more about resting in luxury with incredible comfort at every turn.
Per Night: $25,000
Burj Al Arab Hotel's Royal Two-Bedroom Suite, Dubai
Palatial Simplicity: All of the rooms in the famous Burj Al Arab are sumptuous, but this offers a gold iPad, a full staff, a pair of iMacs, and 2,500 feet worth of room to indulge your every whim.
Presidential Suite at the Hotel Cala di Volpe, Porto Cervo
Local Color: A Sardinian hotel that celebrates the culture around it, most of the decorations come from nearby artisans and crafters. A huge terrace accommodates 8 diners and the room has a private wine cellar, immense swimming pool, and solarium along with plenty of hi-def, high-tech televisions throughout.
Presidential Suite at the Mandarin Oriental in Pudong, Shanghai
Into the People's Republic: China is riddled with smog and rife with people, so visiting it can be overwhelming; unless you know you're going to be resting in a two-bedroom apartment 25-stories up complete with wine cellar. Then, it's heaven with a view of skyscrapers in every direction.
Shangri-La Suite at the Shangri-La Bosphorus, Istanbul
Crown Jewel: Standing in your room and looking out over the Bosphorus Strait, you'll feel like you're on the deck of a ship where you can see each of the seven sillouettes of Istanbul. Turn from the window, and you'll be treated to two bedrooms, dining and living rooms on the 25th floor with more than a thousand square-feet of total space.
Royal Suite at the Hôtel Plaza Athénée, Paris
Capital: At 4850 square-feet, this is the biggest hotel room in all of Paris, and outsizes many homes of the notoriously expensive City of Lights. It's an incredible hotel room with fresh fruit, a well-stocked bar, and an easy commute to Eiffel's cute little wrought iron project.
Royal Penthouse in the Corinthia Hotel, London
See it All: You could spend your money on a sightseeing tour and go through the streets of London like a tourist, or you could view Big Ben, Nelson's Column, St. Paul's Cathedra, the Thames, and the London Eye just by looking out the window of this room. It's London in snapshot.
Presidential Suite in the St Regis, New York
Fake BnB: Unlike the clinical nature of most hotels, this suite is based on a 5th avenue apartment that is owned by an adventurer. Styles mix and meld in the decorations, and the feel of being brought into another, more exciting world is palpable. Also palpable is the ability to drive a Bentley from their fleet as part of the admission price.
Amanyara Villa at Amanyara in the Turks & Caicos
The Non-Hotel: 18,000 acres with an infinity pool and lush grounds cared for by professional chefs, landscapers, and housekeepers, this is more of a resort than a hotel; but once you see the complementary golf cart for getting around and the indoor/outdoor combination living, you'll never want to leave.
Royal Villa at the Grand Resort Lagonissi, Athens
In the Footsteps: Newly minted academy award winner Leonardo DiCaprio once stayed at the Royal Villa, and with the two marble bathrooms complete with steam rooms located off of the dual master bedrooms, it's easy to see why. A gorgeous swimming pool looks out over the ocean in opulent irony that's a treat unto itself.
Royal Suite at St. Regis Saadiyat Island, UAE
Top Shelf: In actuality, this is a duplex that spans the upper two floors of the St. Regis hotel. It's artfully decorated in white stone and seashell coloration with bespoke fittings to add an air of fantasy to the already mystical locale.
Penthouse Suite at the Grand Hyatt Cannes Hotel Martinez
In or Out: The suite itself is nearly 1000 square-feet, but so too is the adjoining terrace which boasts a wonderful hot tub that looks out over the Bay of Cannes. It's is a feast for the senses during any season. For beds, the pair of king-sized rooms should suffice.
Hilltop Estate Owner's Accommodation, Laucala Island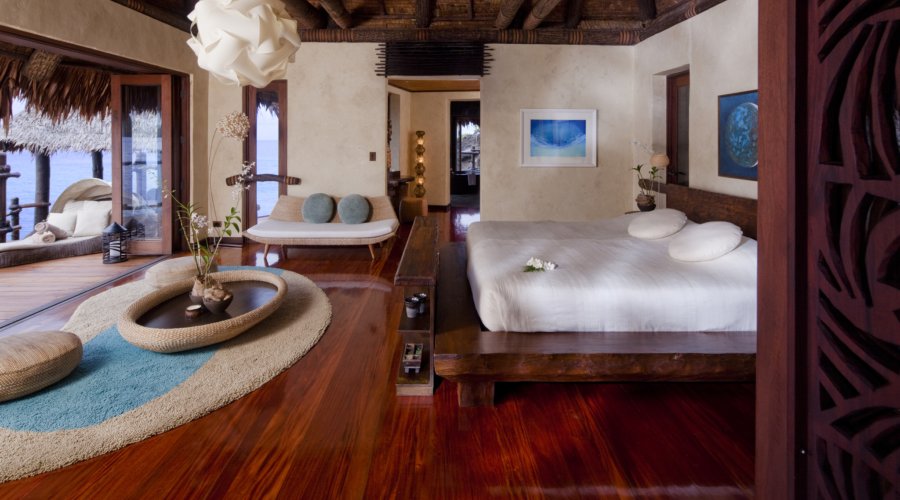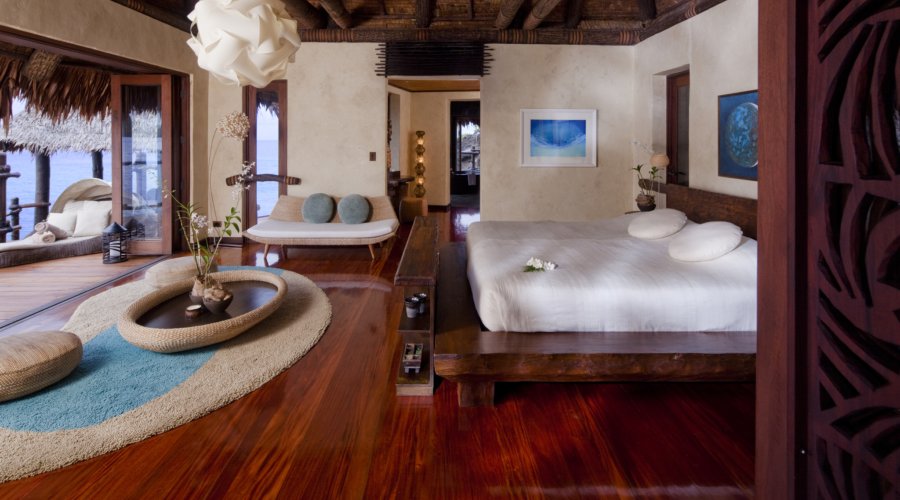 Exceptional Exclusivity: More than a room, this is a resort within a resort that includes a pair of guest houses for bringing along your entourage. Thousands of square feet await you between the actual house and the grounds, but you must apply to be accepted so they can keep out the riffraff of young, destructive Hollywood.
Sky Villa at the Palms Casino Resort, Las Vegas
Above the Fray: Outside of soccer riots and Times Square, there's few places as chaotic as the Vegas strip. High into the desert sky, there is nothing more tranquil than the two-story Sky Villa with its cantilevered pool, butler staff, and dry sauna. It's the only proper way to spend your winnings.
The Palace, Jumeirah Bodrum Palace
Along the Aegean Sea: This is an escape more than a mere room. There's bathrooms and bedrooms to spare, with special therapists on hand to soothe your mind, body, and soul with spiritual practices from Turkey, the far east, and even the western world.
Ty Warner Penthouse at the Four Seasons Hotel in NYC
Apple Stem: Literally the highest suite in the entire City That Never Sleeps, the Ty Warner looks out over the urban sprawl of New York from four glass balconies. If you're tired of city lights, enjoy the Venetian velvet, Chinese onyx, and Japanese silk as you rest in the decadent atmosphere. When that grows pedestrian, you can enjoy the massive library or talk to the art concierge about the Blue Period.
Shahi Mahal Suite at Raj Palace, Jaipur
Fit for an Emporer: An actual palace made in the 1700's, the Raj offers the royal treatment in their Shahi Mahal Suite. It's four full floors in size and is reached through a private entrance via the breathtaking Charbagh gardens. Rooftop tub, theater, kitchen staff, and library are all standard.
Royal Penthouse Suite of the Hotel President Wilson, Geneva
Tranquil: 12 bedrooms and a panoramic view of the entire city, this occupies the top two floors of the hotel, and use that area for walk-in closets, marble bathrooms, and more amenities than you will have time to enjoy. This is the top when it comes to luxurious hotel rooms.
Owner's Villa, Cheval Blanc Randheli, Maldives
Island-sitting: A four-bedroom villa located on a private island in the gorgeous Maldives, the hotel doesn't list a price because it is literally whatever the owner feels like charging. The villa is designed by Jean Michel Gathy and has multiple dedicated chefs, a 25-meter pool, and Guerlain products throughout.