Analog watches have become popular among the white collar set since their classic stylishness helps make a suit look put together, and they are a handy way to flash a little wealth without looking like you're trying too hard. Though not typically as stylish, digital watches have a much more important place among those women and men who actually work for a living. Police, firefighters, military personnel, EMTs, search & rescue, and any other life-savers and defenders out there use heavy-duty digital watches because they have more features, fewer failures, and far greater reliability in dire situations. They're also good for anyone who rolls up their sleeves, or simply wants a timepiece that works hard and doesn't require much thought or maintenance.
What Makes a Good Digital Watch
In analog watches, you only need professional movement, a quality crystal, solid body, and good looks. Digital watches, being far more complex machines need to reach far more exacting standards.
Battery
Since a dead watch of any kind is useless, digital watches with high-quality batteries are good, with those that have internal recharging capabilities are best. Solar capacity and extensive battery life – along with batteries that are easily replaced – are ideal.
Readability
Digital watches have cluttered displays with a lot of information. Make sure you can quickly read the data you need off of the face in day or night.
Resistances
Prizing functionality rather than aesthetic appeal, you want a digital watch that can handle impacts and water without saying uncle. If it can't take a beating in rough weather, it's a cheap imitation not worthy of your wrist.
ALSO READ: Best EDC Watches
Armitron Sport Women's Digital Chronograph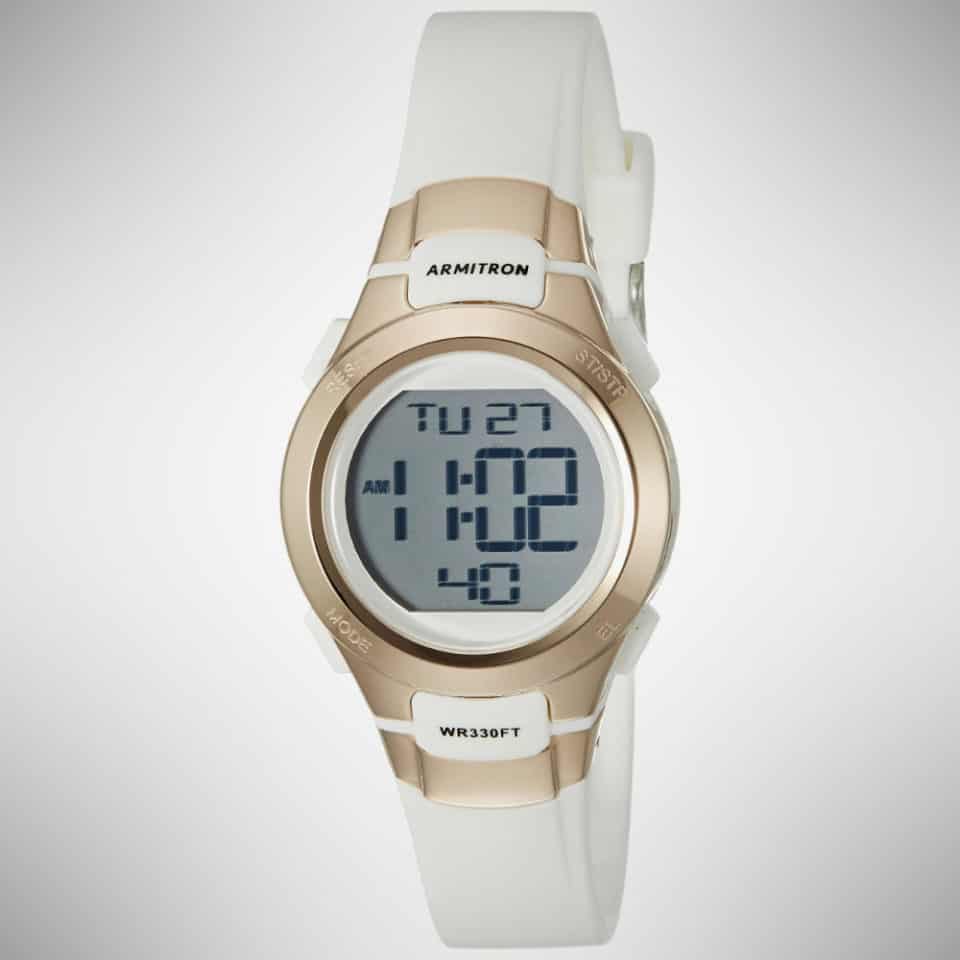 Decidedly female with a bare-bones appeal that still bears 100 meters worth of full waterproofing, it's as stylish, sophisticated, and strong as the modern woman. Purchase: $20
Timex TW5K901009J Iron Lady Essential
This is an Ironman sport watch reimagined with a more feminine state of mind. It has the same 100 meters of water resistance, dynamic fitness tracking, and simple display, all built with a body that's easier on a slimmer, more feminine wrist. Purchase: $35
1Face Unisex C1105
There's something to be said for simplicity. Not the toughest hombre to ever fire a pistola, you get a basic frill-free watch that's tuxedo stylish. Purchase: $40
Casio Classic Digital Watch Gold
When you want a digital watch that oozes traditional flash long before anyone used the word "bling" this has what you're looking for, and miles of features and functions to boot. Purchase: $40
Casio G-Shock DW9052-1V
The entry-tier of the G-Shock lineup, we've included a few other unique choices on this list, but if you want a hard-core digital watch that won't bust your bank account, but will work like a Trojan, anything in the incredible G-Shock line will do you proud. Pick the one that fits your budget and style, then rest easy. Purchase: $43
Timex Expedition Shock XL
Like the G-Shock line, anything in the Timex Expedition family is going to be better than bombproof. We like the Shock XL for it's big features and nifty vibration alarm. If it doesn't suit you, find the Expedition that does, go forth, conquer. Purchase: $52
Casio "Baby-G" BG169R-7A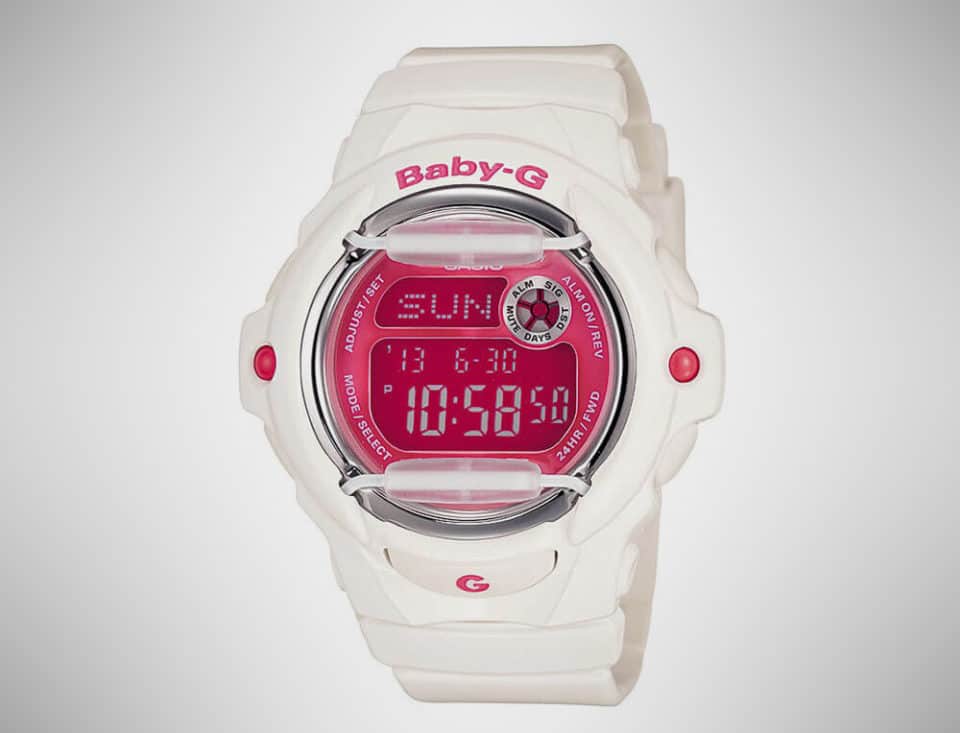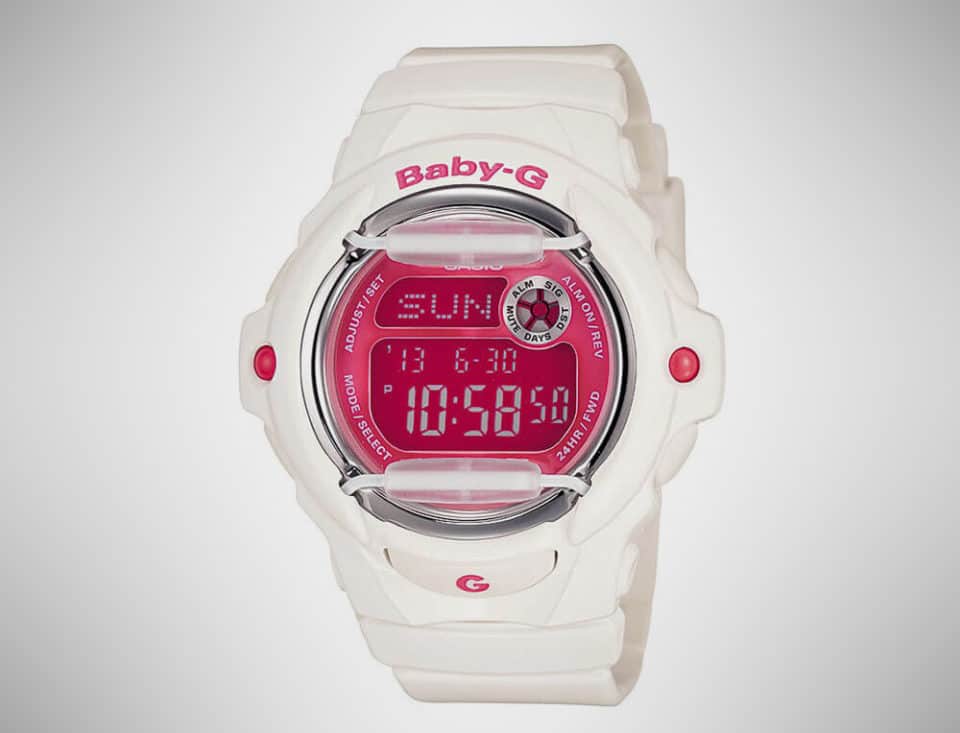 Don't let the reductive "Baby-G" name confuse you. This is a serious G-Shock watch with 200 meters worth of water resistance and all the shock fighting and time-tracking you'd get with any other member of the G-Shock team. It's merely made to fit with a woman's size and style. Purchase: $53
Timex Expedition WS4
Though we said any Expedition will keep you happy, we couldn't ignore the big, bold grandeur of the WS4. It uses the giant screen to full advantage, telling you all you need to know when and where you need to know it. Purchase: $74
Diesel White Digital
Now run by Italian design maven Nicola Formichetti, Diesel is doing new things. If you're aiming for something avant-garde and noticeable, this will make an impression. Purchase: ~$92
Casio G-Shock DW5600HR
Classic looks with plenty of extras, it's water-resistant to 200 meters, runs better than a top, and is dense with smart features executed incredibly well. Purchase: $99
G-Shock GA110-1B Military Series Watch
A digital and analog combination that has a serious military state of mind, the features on this watch are astounding, as its barbed-wire resiliency, and Ooh-Rah stealth capability. Purchase: $120
Garmin Unisex Vivoactive
Not quite a smartwatch, there's lots of fitness tracking features, on-board Bluetooth, and famed Garmin GPS that will keep you from ever going into the wild alone. Purchase: $137
Nixon The Unit SS
With a negative red display that won't ruin your nightvision, along with a built-in bezel for analog feel, it's streamlined enough for business meetings as well as black bag operations. Purchase: $148
Casio Pathfinder Titanium
Powered by sunlight and so packed with features it's a whole wearable survival kit, it's also got that distinctive titanium sheen that goes with everything from your sport coat and jeans to your fatigues. Purchase: $174
Suunto Core
The timepiece that made Suunto a household name, the Core is hard as hell to hurt, has survival features as well as all the standard bells plus whistles, and looks damn good with a pinstripe suit. Purchase: $175
Ziiiro Eclipse
More beauty than pure brains, the Eclipse is a digital take on analog style with the ultimate in minimalist makeup. 30 meters water resistant and made of steel, it's more than meets the eye. Purchase: $199
Garmin Forerunner 230
You can go with the Forerunner 235, which is about as good, but we suggest saving your money and going with this stellar fitness tracker that also tells the time like an Aztec sundial. Also, some of the best GPS to be had on your wrist. Purchase: $204
Watch Sport by Apple
Apple's smarter sport iteration of the Apple watch is a winner, especially for devotees who already have the iPhone to accompany it. Part activity tracker, part smartwatch, part decent digital timekeeper, it isn't as tough as some choices, but has respectable water resistance and a slew of features that expand all the time. Purchase: $210
Mutewatch
Another in the line of semi-smartwatches, the Mutewatch works via touchscreen to minimize buttons, bits, and bobs, while simplifying the look and operation of the entire kit. Purchase: $279
Huawei Watch 2
Like most smartwatches, the Huawei 2 isn't intended for swimming, though a quick dunk won't kill it. What it has is the best cross-platform capability for working with Android or iOS phones, making it the digital smartwatch for the everyperson. Purchase: $370
Vestal Guide
Few watches will step to Suunto for action survival features, but Vestal is among the chosen few who do it, and do it well. If you want a military watch that can prove its mettle, give the Guide a go. Purchase: $380
Suunto Elementum
Suunto has become the forerunner in those who live an adventuresome kind of life, and the Elementum takes that to new heights. As nice as the face is, it's the altitude, weather, and direction features that might literally save your life. Purchase: $389
Braun Prestige Digital
Yes, that Braun which makes shavers, this German-made beauty is a work of art that can resist water up to 30 meters, has a stainless steel body, and is as kind and easy a smartwatch as you're likely to find. Purchase: $518
Tissot T-Touch Expert Titanium Digital Watch
Compass, altimeter, barometer, lightweight titanium casing, and solar power turn this into much more than a pretty face, but it's gorgeous to boot. Purchase: $666