Our junk drawers are screaming with the weight of thousands of cheap earbuds purchased in haste to replace the ordinary, stock in-ear headphones we could have sworn were right here a minute ago. Everything we own is becoming forever wrapped in the tiny, stringy cables of all these buds, most of which barely worked right out of the box, hurt our ears, shorted out or lost sound, turned our Tina Turner tinny, or merely weren't compatible with our device of choice. We cry out to an uncaring headphone void: Give us decent earbuds at a reasonable price!
Headphones of all kinds aren't complicated, which is why there's so many terrible options on the market. When your budget puts you into the less costly bracket, you end up in a kind of limbo; a place where quality sound intersects with weak white noise. At about $100 bucks, you're in the no-man's-land of headphones, where you should expect good things, but will often get a lot of pretty choices that are shot through with design flaws. So you can wade through this morass, here's 14 sincerely spectacular earbuds for most any lifestyle, each with good sound, durability, and a little sexy X factor to move you along.
How We Picked
The three major criteria we used in determining which headphones cleared the bar were: Comfort, sound quality, and durability. Comfort was first, because when you're stuffing something into your special ear hole, it needs to feel good, or at least not cause issues. No matter how glorious the sound, if it couldn't be worn, it went into the bin.
Sound quality was about how well the earbuds hit notes accurately. Clarity was prized over thumping bass or pure power, since we want music, podcasts, and all our audio books to sound good, not just loud.
Last, in checking durability we wanted things that would last under both tough travel conditions, arduous workouts, bad weather, and living the rough and tumble life that earbuds are exposed to. Looking good and feeling good are only part of the equation, because a dead bud isn't anything but pretty.
We ignored whether something was wired or Bluetooth, intended for exercise or riding the rails, opting only for those that came in under the price point and could do the job for as long as was required. These are the survivors.
Panasonic ErgoFit
There's a lot of choices among the ErgoFit line, with the cheapest choice, the RP-HJE120, standing strangely tall. Loads of colors, quality sound that blows out any other $10 piece, and a good feel in your ear, most won't need to spend a cent more than this to have their audio itch scratched. Purchase: $9
Koss FitClips
There's no mic or remote to be found here, just rich sound with a bendable over-ear loop that slips in and stays put. They'll blow out anything with a similar cost, and won't fall down with a little sweat wetness, giving them added utility however you choose to use them. Purchase: $16+
Brainwavz Delta with Mic
The Delta is an older option for those seeking to save money and get a lot of functions along with their noise. The mic and controls work well with both iOS and Android phones, while the fit is sublime and comes without long-term aches. Newer choices will sound better, but you'll spend far more elsewhere to get quality audio without many of the more practical perks to be had here. Purchase: $23
Sony MDR-EX37B/BLK
9mm drivers are the story here. Intended to jack up the bass response – as much as an earbud can – the end quality is plenty heavy, but doesn't slide into muddy or overbearing bass territory, leaving you with a baseline that will give you a cardio-thumping beat in a package that's understated and stylized. Purchase: $35
Anker Soundbuds Sport IE20
Anker was once the maligned stepchild of the tech industry. Somehow they have managed to turn cheap into chic by providing depedability, good looks, clean function, and good if uninspiring performance. No lag, easy use, and lots of nifty accessories make these best for the average listener who doesn't need profound audio in their budget earbuds. Purchase: $37
Skullcandy INK'D Wireless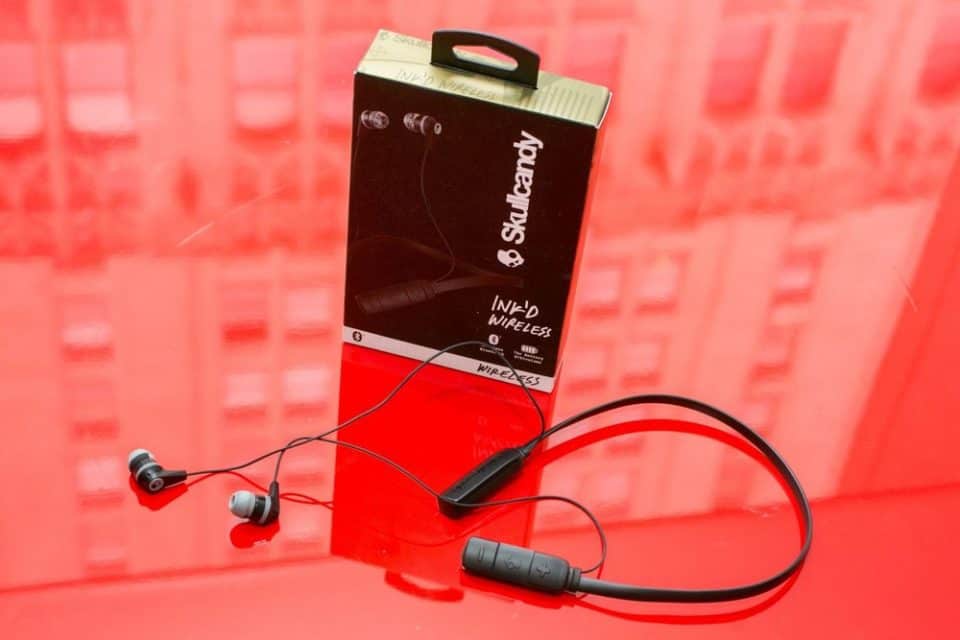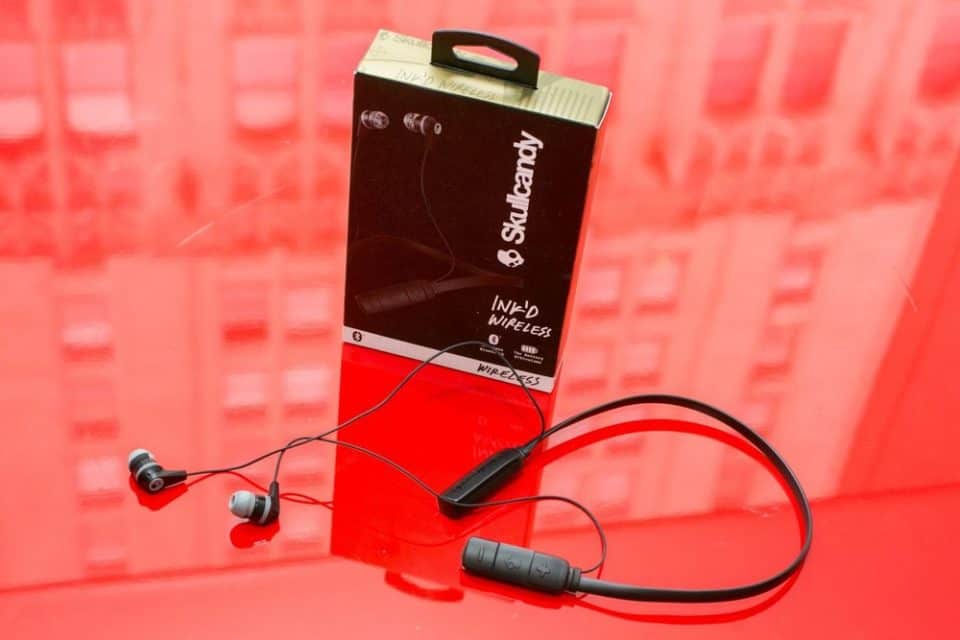 Among the Bluetooth options for your budget earbud, the INK'D make a fine showing of how to use a collar to maximum effect. These lay flat for easy access and less hassle, providing the added sound that comes from the extra hardware and power right at your throat. They still won't hit the same notes as wired models, but are a serious Bluetooth contender for the average listener. Purchase: $40
Marshall Mode
Mellow and remarkable whether you prefer opera or thrash metal, the bass boost supports the lower end for better response at the foundation, all put into a body that is a joy to wear for hours. There's no sharpness to the highs, so switching tracks rarely requires volume adjust. A best buy. Purchase: $42
Audio-Technica ATH-ANC23
Truly impressive sound along with equally astounding noise-cancellation properties, the ANC23 is proof that you don't need a lot of scratch to get quality. If you consider any other noise-cancelling earbud, odds are good you're wasting your money, because these do it up right. Purchase: $49
Plantronics BackBeat Fit
The long-time beloved of the fitness community, the BackBeat Fit have only improved in recent years with each new release climbing atop the previous one to create an impressive tower of headphones with a superb fit and sound acuity that flows. Get the newest or go with an older model, you'll be quite content. Purchase: $65+
Sennheiser OCX 686G Sports
Stable, kind to the ears, and completely sweat-proof, athletes who want not only supreme sound and a suave fit but high phone functionality for a professional experience can't do much better than the 686G. Snug and secure, they move well enough that forgetting you're wearing them is common. Purchase: $75
Sony XBA-H1
Though technically discontinued, these sleeper earbuds can still be found for savvy shoppers looking for a bargain. Though often priced over the $150 to $200 mark, deals around the $80 range can be had. The musical detail is astounding, but there's no remote or mic, so you must want nothing but pure, great sound to get these. But they deliver that in excess. Purchase: $90
1MORE Triple Driver
Here you have a three-button remote that works with Apple and nearly all Android phones without any special tweaking. 9 sets of tips come packaged, offering a way for any ear to find a fit that's satisfying and stays in place. Triple drivers deliver even sound that has been spread across the high, mid, and low range for solid response with any music genre. Purchase: $100