A set of chapped lips is a special kind of torment that will vex you for hours on end. If you're a man, you're faced with the conundrum: Use a shiny, glossy lip treatment that smells like wax fruit or stoically live with the pain, just like your forefathers.
Related Reading: How to Be a Better Kisser
Though some of the stigma has faded from a man applying a little gloss to dry lips, there's an increasing number of companies who recognize the masculine market needs a mouth glaze that heals, repairs, and protects a man's kisser, but also looks, feels, and smells like it has some machismo.
Best Lip Balms for Men
To celebrate the brands that give a guy's mouth what it needs, here's the 17 best lip balms for men.
Burt's Beeswax
View in gallery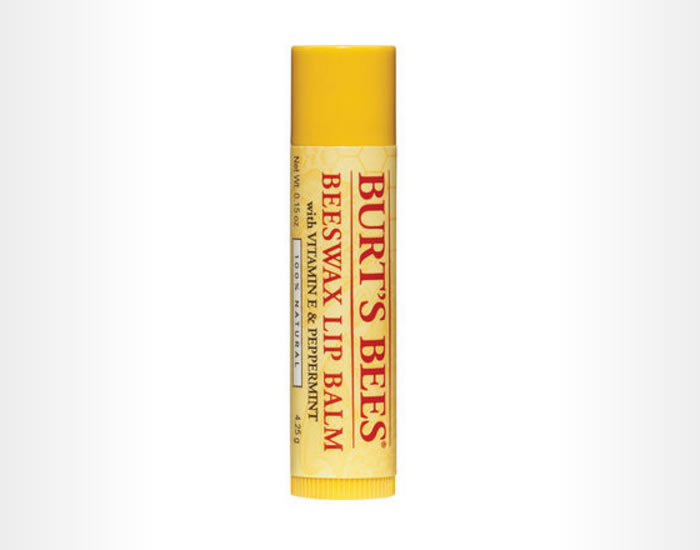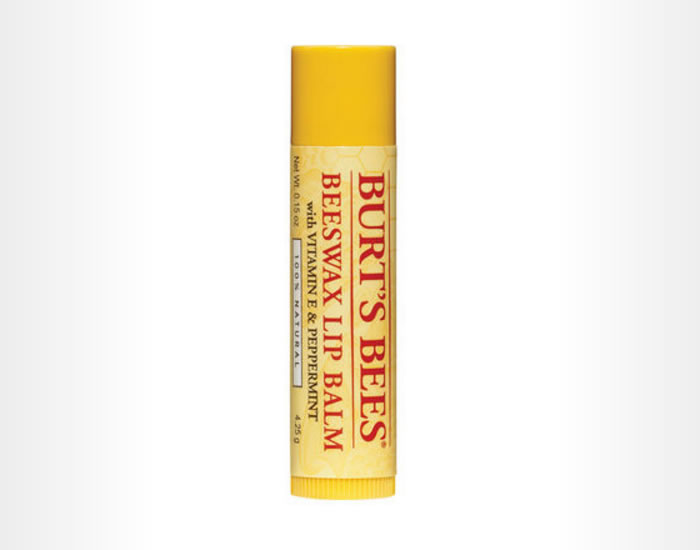 Natural, Original: Burt and his famous bees were one of the first all-natural brands to make it to the mainstream. Made as naturally as possible and fortified with skin-saving vitamin E, Burt's has been impressing us since 1991 by their ability to consistently outshine the competition, while offering a reasonable price.
Eucerin Aquaphor Lip Repair
View in gallery
Healer: Most lip balms work before your mouth has met a tragic fate. Once lips are damaged, you could be reapplying waxes and sticks and salves for life. Eucerin seeks to fix that by repairing the damage underneath. It's good for protection, but there's none better for fixing your crooked smile.
Mario Badescu Lip Wax
View in gallery
Primer Coat: Often applied beneath lipstick, this is nonetheless an exceptional form of oral protection for men (lipstick optional). The white and green tube looks clinical, and the smoothly textured wax creates a seal for guarding your lips. Best used at night, thanks to a glossy finish.
Blistex Five Star
View in gallery
Ubiquity: Blistex is a known quantity in the marketplace, and most stores that stock their wares will have a tube or two of the Five Star on the shelves. Easy to find anywhere from Pawdunk, Erewhon to the beating heart of downtown Paris, Texas, it should be your fallback balm for those sudden dust storms.
Cherry Bourbon No. 77 Lip Elixir
View in gallery
Once More, With Mystery: If the name and the tin don't combine to draw you into buying the No. 77, you are a creature of great will. It smells like brandy, cloves, and wood, for an aroma that is masculine, yet seductive. The concoction itself is jasmine and bee balm with crushed aloe and vitamin E for damage repair and sun protection, respectively.
Ernest Supplies Lip Protect with SPF 12
View in gallery
Medical Grade: Here's something to note: A sunscreen's SPF is not the only determining factor in its effectiveness. To protect you from both sunburn and more permanent damage, a sunscreen must be broad spectrum. To protect your lips, so too must a balm. Covering all UVA and UVB rays, Ernest supplies covers deeply to protect against irreparable damage.
Hurraw!
View in gallery
Natural Selection: Hurraw! is the vegan choice for anyone looking for a completely cruelty-free alternative to waxes that use bees. Pomegranate seed oil moisturizes deep, penetrating quickly to heal dryness. Natural zinc oxide handles broad-spectrum sun protection, and tangerine, vanilla, and chamomile make it tasty and soothing in resplendent harmony.
Jack Black Intense Therapy
View in gallery
Heal the Burn: Made of pure petrolatum, Jack Black has brought unto the world a serious repair kit for those with damaged lips from sun, wind, and the the weathering of the elements. It blocks most UVA and UVB rays, helping keep your pucker protected from long-term damage and even cancer.
Evolution Man Lip Balm
View in gallery
Style-Conscious: The glide of Evolution's basic balm is slick, applying a fast, non-glossy coat that retains moisture and has sunflower seed oil, carotenoids, lecithin, and fatty acids to gird your face against the onslaught of the sun. Vitamin E keeps moisture in, locking them away from the driest of air.
Baxter of California Hydro Salve
View in gallery
The Great Divide: Baxter's of CA is a wonderful brand with solid, "everyman" sensibilities, but even some fans of the name don't care for the Hydro Salve. The reason isn't quality, even detractors agree: It's good. The issue is with the retinyl palmitate (unformed Vitamin A) on the ingredient list. It's been linked to cancer.
Alder New York
View in gallery
All American: Open the recyclable aluminum tin and you'll discover an all-natural mixture of beeswax, shea butter, and coconut oil with a light juniper, sandalwood, or clove scent. Made right in Brooklyn, it's a true USA original.
MenScience Androceuticals Advanced Lip Protection
View in gallery
Sun & Surf: There are two parts of your body you must protect when out in direct sunlight: Your eyes and your lips. Your lips can burn more easily than any other part of your body, yet too few people lotion them up. Boasting 30 SPF UVA/UVB protection, MenScience guards against sun damage while it soothes and heals.
Nivea Moisture
View in gallery
Mercury Falling: Nivea's Moisture (formerly A Kiss of Moisture) is more chapstick than you need for everyday carry. It's more than overkill, it's a nuclear solution. Rather, you keep the Nivea on hand for those days when your lips are dry and you're about to walk into the wind during the first hurricane blizzard ever. It's even bigger for easy locating in a whiteout and sticks like mad.
Kiehl's Facial Fuel
View in gallery
Snow Bunny: Facial Fuel is formulated with winter specifically in mind. Tested in Siberian conditions, the tube comes filled with protectants like squalane, ethylhexyl palmitate, and cera microcristallina/microcrystalline wax. That gibberish means high-grade guards against wind, snow, wetness, and even sweat. Costly, but worth it when the temp goes south.
Tom Ford For Men
View in gallery
The Icon: Designer Tom Ford knows more than clothes. He also knows how to put his name on an incredible, natural balm that is stuffed with oils and butters (the exact mixture is a trade secret) built to seal in moisture and rescue damaged skin. It comes from the fashion world, so it knows looks matter; which is why there's no glare or shine to be had.
L'Occitane Pure Shea Butter
View in gallery
Don't Overthink It: 5.2 oz. of 100% USDA-certified organic shea butter. This is made by a women's cooperative in Burkina Faso; a tiny country in West Africa where women are given almost no rights. With butter this good, you'll want to liberate them yourself. It's a win on every stage and works for moisturizing anywhere and everywhere, not just your lips.
Crème de La Mer
View in gallery
A New High: We haven't the first notion of what kind of brass bits it takes to call a product "Cream of the Sea" but we applaud it. Originally for women, repurposed by men, Crème de La Mer is a breath of dockside crispness that refreshes and invigorates you even as it heals. Creator Dr. Max Huber has truly made the Rolls-Royce of lip balms.