The modern military might outfit soldiers with almost all of the skills and weapons necessary to win war on the contemporary battlefield, but it doesn't provide everything.
Many boots on the ground fighters are finding that in addition to their traditional tactical load of spare mags, goggles, gas masks, watches, and fatigues, they also need a special breaching and survival tool. They require something that can pry open doors, hack through armor, and dig enemies out of their shells and bunkers.
In short, standard soldiers, mercs, security personnel, law enforcement operators, and others who live and die by the gun are turning to tactical tomahawks to complete their combat kit.
The 16 Best Tactical Tomahawks
A modern tomahawk can cut into a car, shatter the toughest glass, pierce through kevlar, and can dig in the dirt, hew trees, and work as much as a cooking and camp tool as a close-quarters combat weapon. These are supplements to go with your tactical knives, and a slightly more powerful tool than you'll get with a survival blade. Plus, they are simply badass.
When you're prepped to get combat ready, get a tactical tomahawk, and you'll be ready for battle.
As the company that specializes in making James Bond's small, signature gun, we expect a lot from Walther. Luckily, they delivered with this urbane axe intended for use in urban landscapes. Ready for brick, metal, concrete, mortar, and all the materials of a city, it might not help you survive in the harsh wilderness, but fights in city streets just got a whole lot easier.
A pound and three ounces is all the Fast Hawk brings to bear, since that's all it needs. Throwing and light hacking are the intention here, as is fighting in close quarters, where every inch and ounce can make the difference between a swift kill and a sloppy struggle.
Pulling up nails is a breeze with the prying handle, or use the can-opener spike to break in, then widen the hole. Grab and turn, and you've got a 16″ fighting axe that's capable of short throws, though accuracy won't impress since it isn't balanced for chucking.
Beginning with a wide, upswept blade that hews and chops with swiftness, while the spiked reverse head provides plenty of picking and grinning, there's few tactical tomahawks out there that have quite the same level of workmanship, combat readiness, and pure allure of the M48.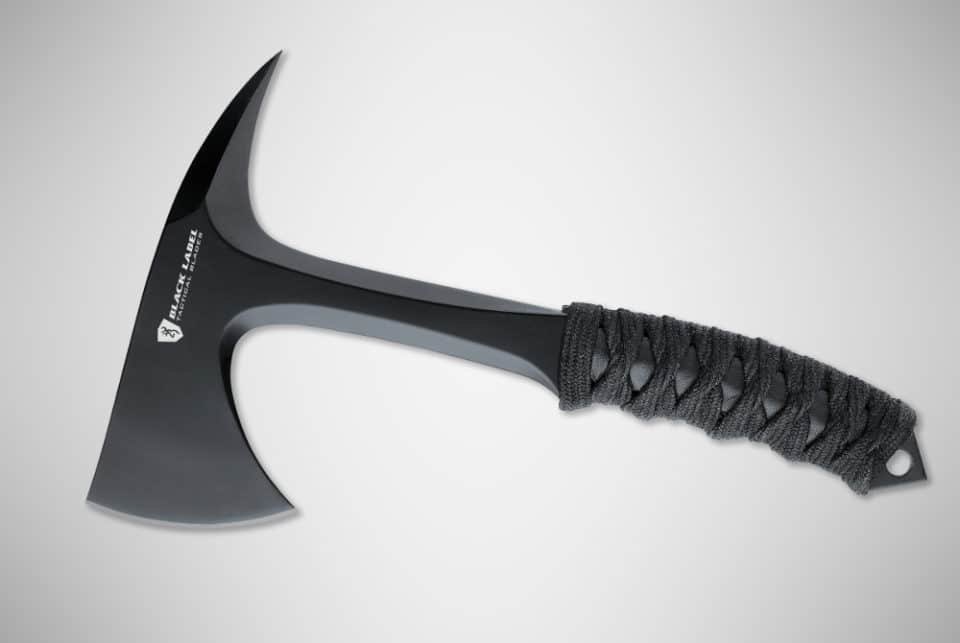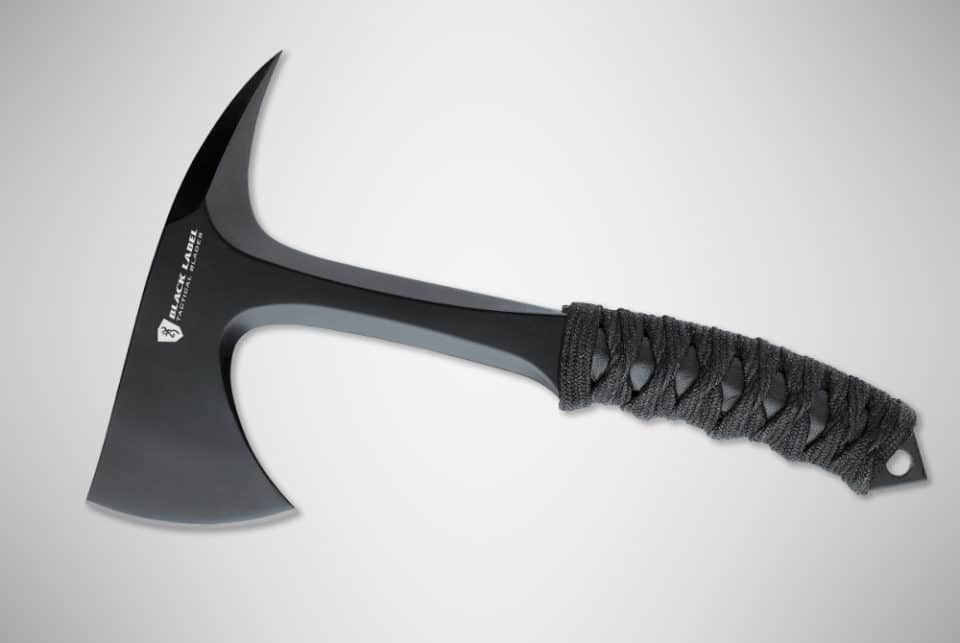 Normally "Shock n'" Anything will at least give you a big size. Instead, Browning chose to make this less than a foot long, using 1055 high-carbon steel to make it impressive, rather than just adding size. Dense and hard, you can use it as a work axe or hatchet, but it's like using a SIG Sauer to open a can of beans.
550 paracord on the handle and a head specifically made to cut through plane fuselages, the TRT is a heavy monster that's built more for rescue jobs or slow breaking & entering gigs. It's too cumbersome for quick action in a tight spot.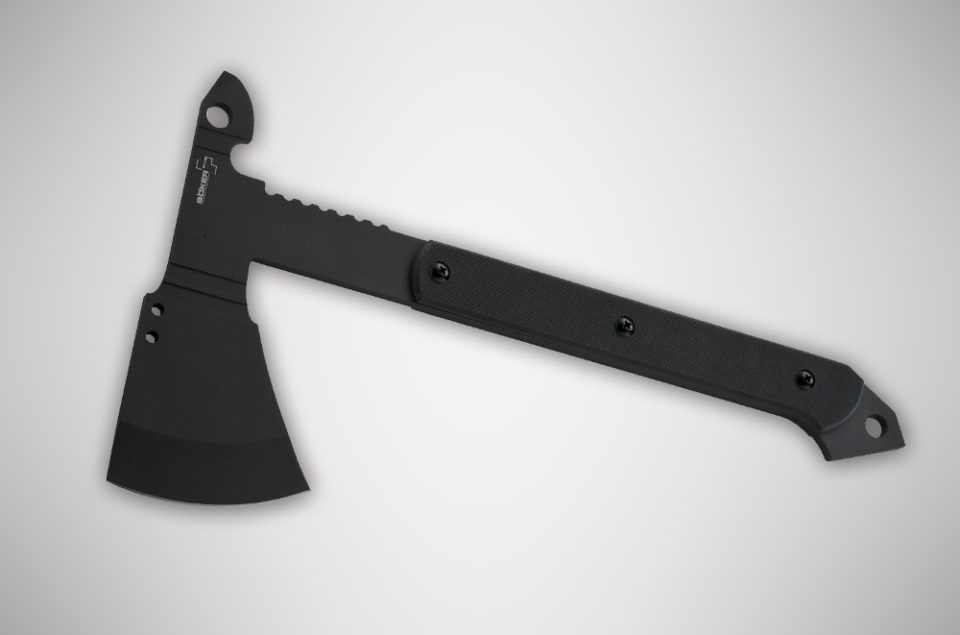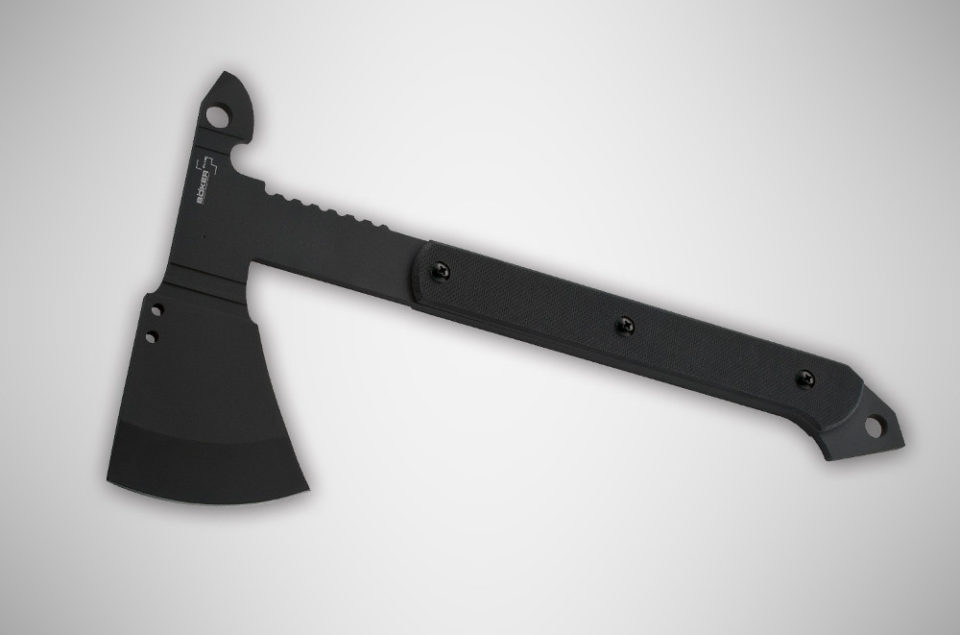 Boker makes a mean tactical pen, and that same no-nonsense outlook has created one of the most delightful tactical hawks around. It's SK5 carbon steel with a black coating to add in rust resistance. The whole build is straightforward function, without even an attempt to dress it up. Because it works well enough that window dressing would only drag it down.
A hammer company who decided to try their hand at making tomahawks, Estwing might have stumbled onto its true calling. Using the impact resistance and familiar feel of a hammer grip, you can kill or hack all the live long day using the comfortable Black Eagle. A true toolman's weapon of choice.
5.11 is rapidly taking over as the brand for all things truly tactical. Beginning with a Viking-style blade attached to what amounts to a complex ruler/hammer/meter stick/wrench, the Operator clearly wants you to notice its multiple functions, though it's easy to get caught on the pragmatic permanence the body gives.
An axe head with integrated pry bar that is assembled in the United States for supreme structural quality, the downrange puts itself above the competition thanks to versatility. Light as a long 'hawk can get, but still as sturdy as any camp axe we've ever used, it's a workhorse.
The first thing to know is that Ryan Johnson's name is behind the design here. As you look over the head, bladed at the front and the top, it's made for supreme cutting, gutting, or gripping and ripping into bone and flesh or metal on metal. Sometimes "eviscerate" is the best battle plan.
12. The Traumahawk
Built jagged for nastier cuts when engaged in hand-to-tomahawk combat, the breaching and prying are a distant second to how effectively the Traumahawk minces up meat while still on the bone.
Purchase: $299
Famous for flipper knives, ZT has now proven that they can make a full-tang tool worthy of serious chopping. Light enough for laid back weekend work, or getting deadly during wetwork on Tuesday, expect to see a lot of these at the Special Ops jamborees.
Though the top name in knives should easily be top of the heap in tomahawks, Benchmade's build isn't as impressive as we'd like. Made solely for breaching by Eddie Killian, it's a big, one-note tomahawk that does what it says, but isn't worth much outside of a forced entry.
An impressive design coming all the way from down under, the LFT01 has grit to spare. It uses D2 tool steel for the body, to give it the heft and balance of a smooth crescent wrench. Smashing, breaking, ripping, digging, and slashing are all on the table with this problem-solver.
16. RMJ Tactical S13 Shrike
Full tang and free of frills, the Shrike is precisely the kind of long-handled breaching hawk you want for going through metal, hacking up wood, and opening up enemy armor like cans of baked oysters. A narrow head, quick swing, and leverage galore give this slender dame some serious teeth.
Purchase: $455
Modern Tactical Axes: CONCLUSION
Have you used or purchased any of these bad boys?
We'd love to hear your feedback on how you used it and how great it is. Hit us up in the comments section below with your quick review.