1978 Motobecane: Mean Custom Moped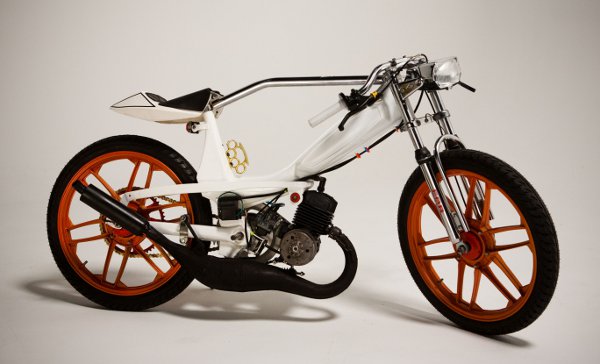 In 1978, this Motobecane 40T rolled off the production floor in France, ready to carry its customer around town at speeds up to 30 mph.  It was one of many moped models released in the late 1970s by European brands like Puch, Piaggio, Tomos and Sachs.  Like most of the now-vintage late 70s mopeds, this Motobecane featured a relatively basic two-stroke engine, a pair of pedals and a simple frame.  Three decades later, Jarrett Petty of Austin, Texas turned this Motobecane 40T into what might be the meanest moped in Texas, which puts it pretty high in the rankings for meanest world-wide.  There's no scooter stigma in this bike, which can hit 60 mph on the open road– and get there in a flash.
Both visually and mechanically, Petty's Motobecane 40T has evolved far beyond the original.  Those new chrome forks, that angled cross-bar, the seat and rims are all new, sourced from a variety of aftermarket or part-out suppliers.  The gold racing chain and gold brass knuckles under the seat add plenty of visual style, a style that screams louder than that kidney-shaped exhaust pipe.  The pipe is fed from a wildly tuned engine, which can push serious performance out of a 50cc cylinder.
If you're a city dweller, you've likely seen bikes like Jarrett Petty's Motobecane screaming through the streets.  From Paris to Chicago, San Francisco to Rome, vintage mopeds like this one travel in packs under the wrists of the Moped Army.  This bike is one of the most magnificent I've seen, even as a vintage moped owner myself.  [more photos by Mike Torres, thanks Jarrett!]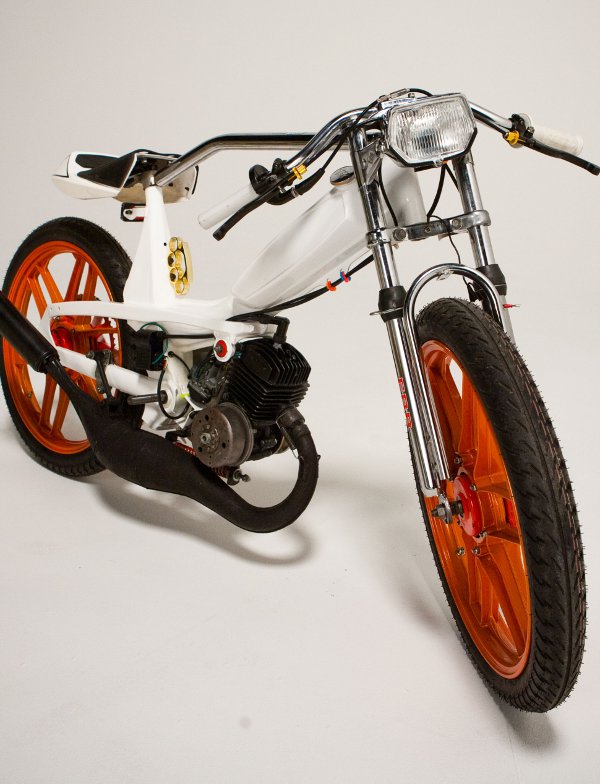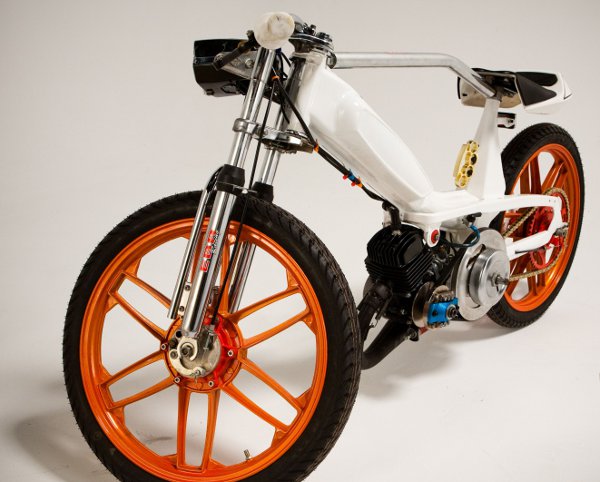 1978 Motobecane 40T Gallery