Are you lost trying to sort through top shelf spirits, hoping to find the best bourbon on the market? We're here to help with some of the most popular spirits available today, with reviews for the best bourbon under $50, $100, and right on up.
View in gallery
Throughout East Asia, sake is often the drink of choice. When you move further west, vodka becomes king. Then as you run into the Atlantic, you hit Scotland with its scotch whisky. And the Emerald Isle whiskey isn't far off.
But once you cross the Atlantic, you'll land in the USA. And in America, one spirit reigns supreme: Bourbon.
---
Here's what you'll find in our best bourbon reviews below
(priced according to 750ml bottles):
---
What Makes a Good Bourbon?
In truth, straight bourbon whiskey is the only true American liquor. One reason is corn, due to its cultivation in the Americas.
Of course that same crop is the reason westerners have so much high fructose corn syrup. But in the case of bourbon, it creates a rich, powerful drink, instead of being bottled heart disease.
Just as rye whiskey carries the distinction of being made of a majority of rye, bourbon is a majority of maize, or corn. And corn is the necessary ingredient that changes it from straight whiskey.
And although it's as connected to the Americas as it is to corn, the name "Bourbon" is most likely French inspired. The name comes from the French Dynasty, which brought over a vast culture. A culture which still lingers in the Southern States.
The Best Bourbon Under $50
Precisely how this mish-mash of corn and malt with rye became "Bourbon" is unknown. But what matters is that it's delicious. So long as you get the right brand at the right price.
But look no further, here we present the best bourbon under $50:
Swimming in rye, basic Bulleit might be easy to find, but that doesn't discount how well it leverages mass production to bring high quality to the masses. It has lots of Dreamsicle orange sweetness, but also has spite and tobacco leaf bite built right in to finish the job with frontier sass.
Part of the allure of small batch mixtures is they will change over the years, evolving as the blended mix evolves to alter the taste landscape. With Four Roses bourbon, dark fruits and cinnamon come on quick, bringing a maudlin sense that is rapidly expunged by citrus peel backers and lots of rye. Then it slides into sweet caramel and toffee.
View in gallery
Long absent from sale on the shores of the United States, I.W. has returned with both an NAS (No Age Statement) version and one with a dedicated 15-year maturity. Both are 2+2 simplistic, beginning with corky sweetness that is shot through with vanilla and blond oak. Low proof and basic, it's a gentler choice for new sippers.
View in gallery
With Woodford Reserve Double Oaked, you'll initially pick up on hints of honey, chocolate, and toasted oak. Then once you sample the bourbon, you'll taste the peppery spices, along with a nuttiness that results in a full-bodied drinking experience. What you end up with is a uniquely flavorful bourbon with a lot of character.
A strange concoction that bears corn bread, stone fruits, walnut, along with menthol and mint, the delicate balance will never yank your tastes in any one direction. Though quite a high wire act, Basil Hayden's Kentucky Straight Bourbon Whiskey is silky and smooth in your mouth, that finishes off light, with no clingy aftertaste.
image via mylifeonandofftheguestlist.com
The Best Bourbon Under $100
There's nothing wrong with cheaper bourbons, but you definitely get what you pay for if you expand your budget a bit. Smoother finish, more complex flavors, smaller batches. It's all good when you're drinking the best bourbon under $100:
The first distillery to rise in New York after the dark days of Prohibition lifted, Hudson Baby uses only corn grown right in New York. It is also made entirely of corn, which is a rare find in the bourbon field. It's also aged in 3 gallon barrels, which is far smaller than the 53 gallon casks typically used. The outcome is a strong corn and oak taste that is smooth; one of the best sipping bourbons for neat enjoyment deep into the wee hours of the morning.
View in gallery
Upon initial experience, Elijah Craig Barrel Proof has a strong aroma of rich caramel, sweet fruits, and toasted oak. Once you taste this amber libation, you'll be met with the flavors of vanilla, butterscotch, and even more caramel. All while black pepper, and cinnamon dance in the background. There's a reason Elijah Craig Barrel Proof is one of the top bourbons of 2021.
View in gallery
A curious creation by Diageo to revive the Stitzel-Weller distillery, Blade and Bow calls back all the notes of summer that made Stitzel-Weller a household, homespun name. Expect caramel apples, banana, oak, and cinnamon to come bounding in, begging you to play with them.
Usually when a bourbon starts claiming it's "Prohibition style" it means made cheaply out of suspect ingredients. In the case of Old Forester, it comes from the recipe used by distiller Brown-Forman during the prohibition era when the government ordered them to keep their doors open to make bourbon "for medicinal purposes." It's 115 proof with vanilla, nuts, and seasoned oak that has a bulky belly which shows its exceptional age.
image via via modernthirst.com
Are you ready to go down a rabbit hole of bourbon deliciousness? Because that's quite literally the case when you pour from a bottle of Rabbit Hole Cavehill Bourbon.
Prepare to be pleasantly taken by the sweet, yet spicy, aroma. But once this popular bourbon hits your tongue, you'll be in for a blend of creamy orange, mint, and toasty grains. All finishing up with a hot finish strong in vanilla.
Aged 8 years in white oak barrels, Blanton's distinctive bottle actually houses a sedate "everyman" bourbon that's vanilla and rye able to appease the rookie palate as much as the purist. It's the lingering sweetness that seals the deal.
View in gallery
Floral mocha; rye spice and oak; salt and burned sugar; there's a lovely yin/yang symmetry here that is earthy like the sea meeting the sky on the horizon. Sticky flowers helps bind this together, creating a cohesive whole that you'll miss when it's away.
View in gallery
Peppery and intense with hints of toast with ample depth. Along with welcome caramel notes. Of course, finding a bottle of this can be quite a challenge. But a lifetime quest worthy of your devotion.
Each year the ubiquitous Michter's puts out a small batch of mystery mixed 10-year bourbon with a recipe and distilling history that we can only guess at. Each year it's a jam and bread delight that's mom's home-cooking mixed with dad's secret medicine stash. Splash this with a little water to release the grassy fields and summertime blues hidden in every bottle.
High End Bourbon Under $500
If you don't mind getting spendy, your taste buds will be rewarded with some of the best bourbon out there. Each of these costs more than a benjamin (or three), but are guaranteed to offer something special.
Behold, the high end best bourbons under $500:
View in gallery
Oak, almond, and apple with vanilla, this is all tannic tastes that ends off with a sweet burn a few seconds after it goes down. Most of the bourbon in this mix is about 8-12, with a little 6-year nipper hopping in just to keep things light and airy. Sadly, it comes in smaller bottles as a "nod to prohibition" that looks more like a cash grab.
What Bardstown Bourbon Company does by aging their high corn bourbon in Armagnac casks is simply glorious. The sweetness of the Armagnac and corn blend well with the rich, oaky flavor bourbon is known for. Even with the added sweetness, it's never cloying.
When you first take in the aroma, you'll enjoy bright floral tones. Once you take a sip, you'll taste apricot, espresso, and cinnamon. But the finish is what will keep you coming back for more.
If you're wanting a unique bourbon experience, then Parker's Heritage Heavy Char is a must try. By letting the flames lick the barrels for 90 seconds, the resulting char is what gives a luscious caramel flavor. And although the char is as heavy as they come, the resulting bourbon has a sweetness and warmth that balances out the smokiness.
For a newcomer to the liquor game, Blue Run is really bringing the heat. And award winning heat at that. In fact, this small batch bourbon is the recipient of Best in Class and double gold medals at the San Francisco World Spirits Competition.
When you first taste Blue Run 14 Year, you'll notice it's sweetness. Then you'll be inundated with notes of French toast, pepper, and cherries. A sweet and savory mélange of vibrant flavors with a smooth caramel finish.
Absolute Top Shelf Bourbon
Consider these aspirational bourbons. They're wildly expensive, but can make for an event unto themselves. Pure flex if you have these stocked in your home bar.
Here is the absolute best bourbon money can buy:
View in gallery
Using four grains that would have been accessible to EH Taylor when he began Buffalo Trace bourbon in the 1800's. The flavor is undeniably traditional, leaning heavily on sweets like cherry and a bubblegum nose. Rye shows up with oak to finish it off with a controlled burn.
View in gallery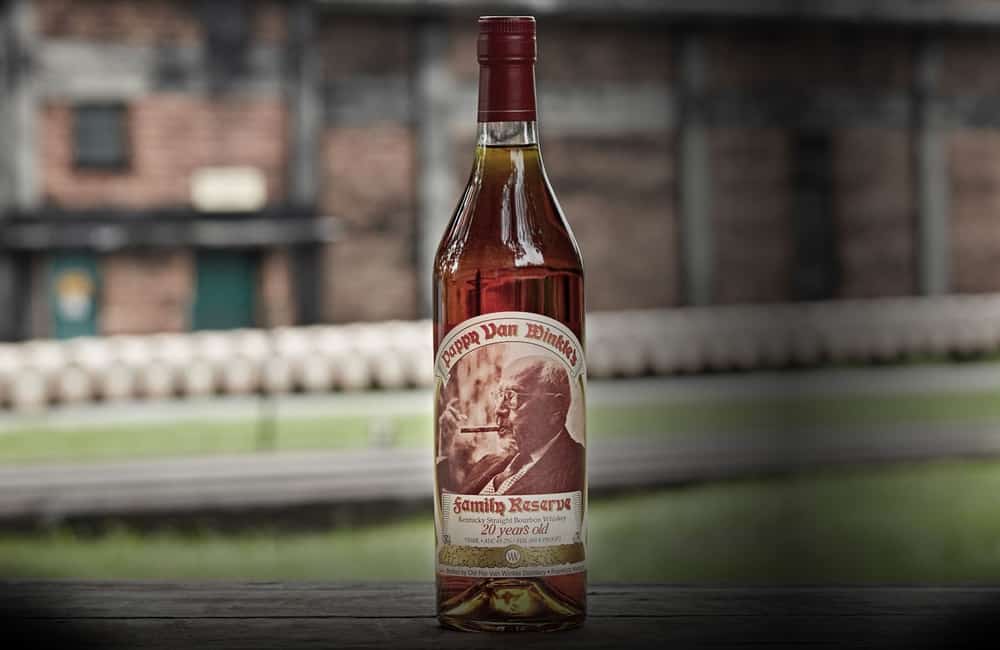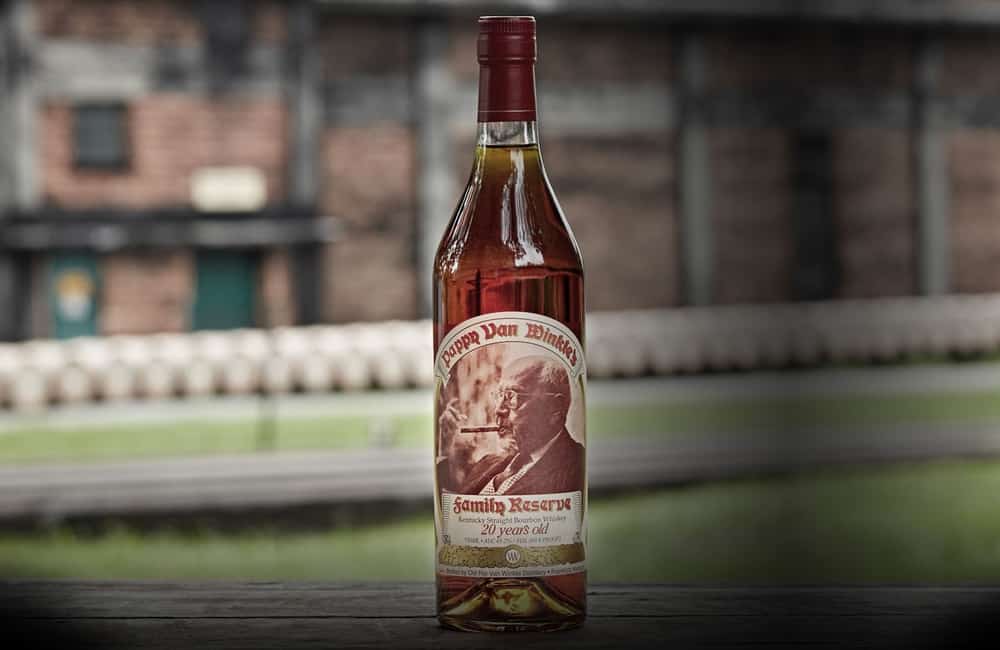 Experts and new drinkers alike are split right down the middle on this well-aged juice. It's long life sitting in a barrel makes some sippers lose their minds, claiming there is nothing else in the world worth drinking. Others say it's too old, too bitter, and lacks the perky vanilla and caramel taste that makes younger bourbons better. Either way, you need to give this a shot, if only to join the conversation.
Frequently Asked Questions About Bourbon
View in gallery
For anyone feeling out of the loop when it comes to the complexities of the liquor world, we put together a short FAQ about bourbon.
1. Is Bourbon Only Made in USA?
As of 1964, bourbon became the native spirit of the United States. And although the majority of bourbon comes from the state of Kentucky, you're free to bottle up bourbon in any state.
2. What's the Difference Between Whiskey and Bourbon?
While all bourbon falls into the whiskey category, not all whiskeys can be bourbon. However, there's the factor of having 51% of corn that makes all the difference.
Then, there's ABV. For whiskey to be bourbon it can't fall under or go above 80 proof (40 ABV).
3. Are There Different Types of Bourbon?
Short answer: Yes. There are several distinct styles of bourbon. In order to clear up any language barriers, we've broken a few down for you:
Single Barrel – Just as the name suggests, these bourbons are aged in a single barrel. Of course, toasting, char, and materials used will alter the flavor, making for many unique distillations.
Cask Strength – When a bourbon is "cask strength", or "barrel proof", it means that the bourbon comes directly from the cask. Since other bourbons add water to help alter the flavor, cask strength does not. It's bourbon as straight up as it can be.
Wheated – When you add wheat as a secondary ingredient to the bourbon mash, it's known as a wheated bourbon. What you end up with is a nutty, more floral, bourbon.
High Rye – If a bourbon goes beyond 10% rye, you'll end up with a heavy hitting, flavorful, spirit. Because of the additional rye, there will be a stronger, spicier, flavor than with a traditional bourbon.
High Corn – In order to be a bourbon whiskey, the mix has to be at least 51% corn. However, some distillers choose to go above that 51% threshold. And the result is a sweeter bourbon.
Small Batch – As the name implies, small batch bourbon is made separate from the flagship batches. Due to the smaller quantity, distillers have more opportunities to experiment with flavors. And the finished product is never exactly the same as the last batch.
4. Can You Make Cocktails With Bourbon?
By simply adding some soda water, or building a classic old fashioned, bourbon makes for a fantastic cocktail. Because bourbon can vary so widely in flavor profile, you can get fairly creative with cocktails. Or just stick with some easy mixed drinks. But for high quality bourbon, we suggest you sample your wares neat.
5. What Is the Difference Between Bottom, Mid, and Top Shelf Bourbon?
Well, a lot of the differences have to do with the quality of ingredients. Top shelf bourbon often uses higher quality ingredients.
But that's not the only driving force here, marketing has a heck of a lot to do with where a liquor sits on the shelf. In fact, some of the big names amongst bottom and mid shelf bourbons have produced impeccable top shelf quality bottles.
Plus there's the allure of finding that rare bottle. And when scarcity combines with quality, you get a greatly sought after product deserving of the highest shelf.
Best Bourbons: Thirsty for More?
Now that we have your attention with some of the highest quality bourbon on the market, which do you want to try?
If you're one of the lucky ones that has tasted the divine nectar amongst this list, which is your favorite?
Make sure to let us know what you think in the comment section!