Each year, literally millions of bags are lost, mishandled, damaged, stolen, or incorrectly routed by airlines, and recent studies have shown that number to be on the rise in spite of new tracking techniques being employed by airlines. Not only that, but to compensate for decreased ticket prices, more airlines are charging exorbitant fees above and beyond the ticket price, simply to check your bag. In this maelstrom where you pay more to an airline that is increasingly likely to hurt your luggage, there's but one solution: Carry-on.
Finding the delicate balance of a bag that is just small enough to be stowed in the overhead bin, yet still capable of packing along all your necessities for a weekend getaway is an exact science; and we've mastered it. Behold the best carry-on luggage for all travelers; from coach to the elite platinum class.
HUF Weekend Duffle
Relax: There's no reason to think too much about the bag you're taking along for a weekend of adventure, but having a nice waxed canvas satchel that can repel water, fit anywhere, and still have better than gym-bag looks never hurt anyone.
Perry Ellis Armada
Free Upgrade: Lightweight ABS makes up the frame of the Armada, giving it a dense level or protection using only 6lbs. of weight. Nimble as a gazelle thanks to a set of 8 caster wheels on the bottom, tripping, sliding, and losing balance are three of the tricks the Armada shan't pull as it scuttles in your wake.
Kirkland Signature Hybrid Spinner
Swing & Spin: For the low price, there's a lot to love from the CostCo manufacturing company. The Hinomoto wheels are nearly silent, yet work in any direction for an agility that is as surprising as it is long lasting. Cordura fabric protects the body without adding snags or loose ends to catch the YKK zippers, and the ergonomic handles are kind, even to arthritic hands.
Samsonite Winfield 2
Trust is Earned: Samsonite wrote the book on reliable yet affordable luggage, and with the Winfield 2, they stuck to the manual. A solid, integrated zipper lock is sunk into the fully polycarbonate body for a build that is chunky, but devoid of nonsense.
Dakine Split Roller Bag
Stack Exchange: Dual tiered for simpler access and easier organization, the split level makeup gives you an easy access section in which to put items you need, while the lower level houses greater security that's tougher to access on the fly, stopping thieves from ever digging too greedily, or too deep.
Lipault 4-Wheeled Carry-On
Disappearing Act: While Lipault could use some help in naming their products, when it comes to designing a rolling and/or duffel bag that keeps rain off your unmentionables, they've cracked the code. Head to toe nylon, it stuffs out well, and sags in easily to suit your load without wasting a millimeter.
Herschel Campaign Luggage
Blender: As basic on the outside as a bread box, the interior is an embarrassment of riches. Neoprene mesh pockets offer a visible, flexible way to stash your stuff that doesn't require digging to get what you need. The pleated front handles wallets, gadgets, and paperwork without detracting from the spacious rear, where the magic happens.
Travelpro Platinum Magna 2
Unshaken: The ballistic nylon treated with DuraGuard on the outside hides a plush interior that uses a softer nylon to provide your clothes and toiletries with a comfortable bedding that is also capable of repelling water. No matter how quickly you're rushing for your flight, the setting of the aluminum handle prevents wobble and tip, even when navigating terminals littered with floor seams and detritus.
Calvin Klein Avalon 2.0
Pro Pack: It's a tall order to make a backpack that has a flair for professionalism as well as a surplus of space, but the Avalon 2.0 does it all with style. Fold-up wheels at each corner let you roll it if the need arises, while handles let you carry it over a shoulder, or as a sling for quickdraw passport deployment.
Briggs & Riley Expandable Upright
Business Partner: Like a pharmaceutical rep's sample case, this is made to work, but given a bit more Wall Street than you'll get from most carry-on luggage. The Tuff-Lite polyester blend handles and endless stream of abuse without ever shedding its G-Man black look, and the option to switch it into attaché case means one less bag for overseas operations.
Ernest Alexander Smith Flight Bag
Proportional Response: The brain child of a tactical bag and a messenger sling, this multi-pocketed fiend is a chameleon that can work in the field as well as on the streets. Scads of space that can be arranged to fit any lifestyle, you'll never regret having one on hand.
Filson Rolling Carry-on Bag
Strap In: A suitcase-style soft roller that bears the last brand name in rugged materials, this is intended to be used as your mobile command station with plenty of ways to secure and stow your gear, whether keeping your dress blues in top shape or preventing your laptop from sliding free and dying horribly.
Tumi Tahoe
Hidden Depths: Able to operate as a briefcase as much as a rolling piece of carry-on luggage, the expandable cloth body with hard backing is layered to mash down under the seat beneath you, or suck up space with all your kit for surviving a grueling international flight; complete with 7-hour layover.
Rimowa Salsa Deluxe
Bulletproof: The polycarbonate body is sturdy, but the fabric is a combination of Kevlar and Keprotec that fights off stains as well as stops penetration from knives and sharp corners. Embedded in the body is a TSA lock that shrugs off tampering and won't crack open during the brutal shifting of a rough flight.
Bric's Magellano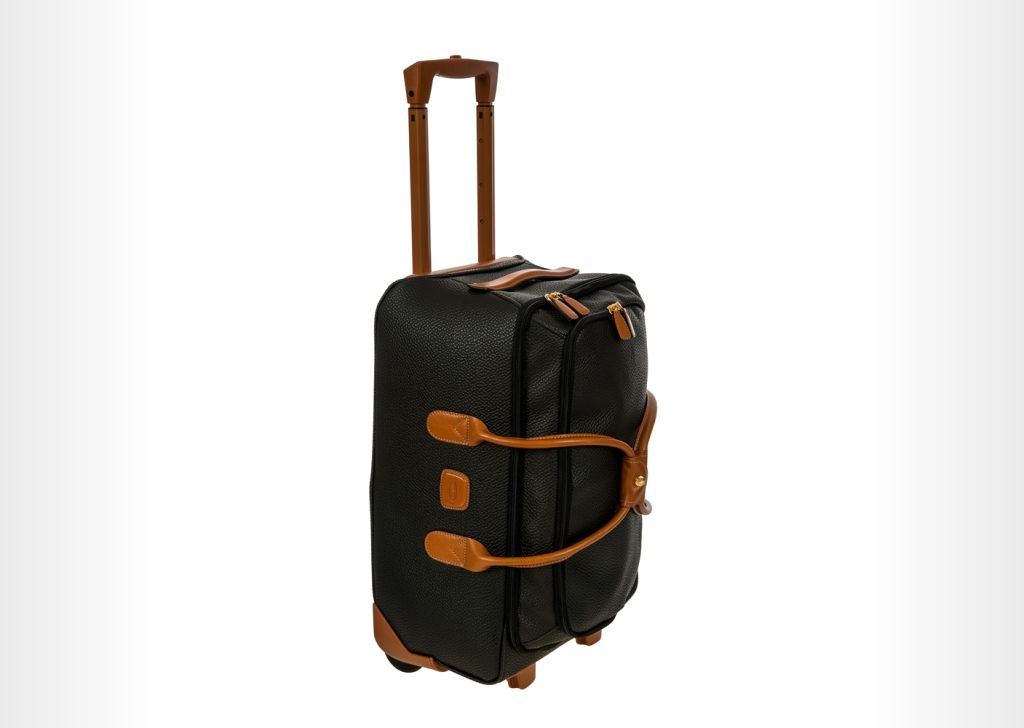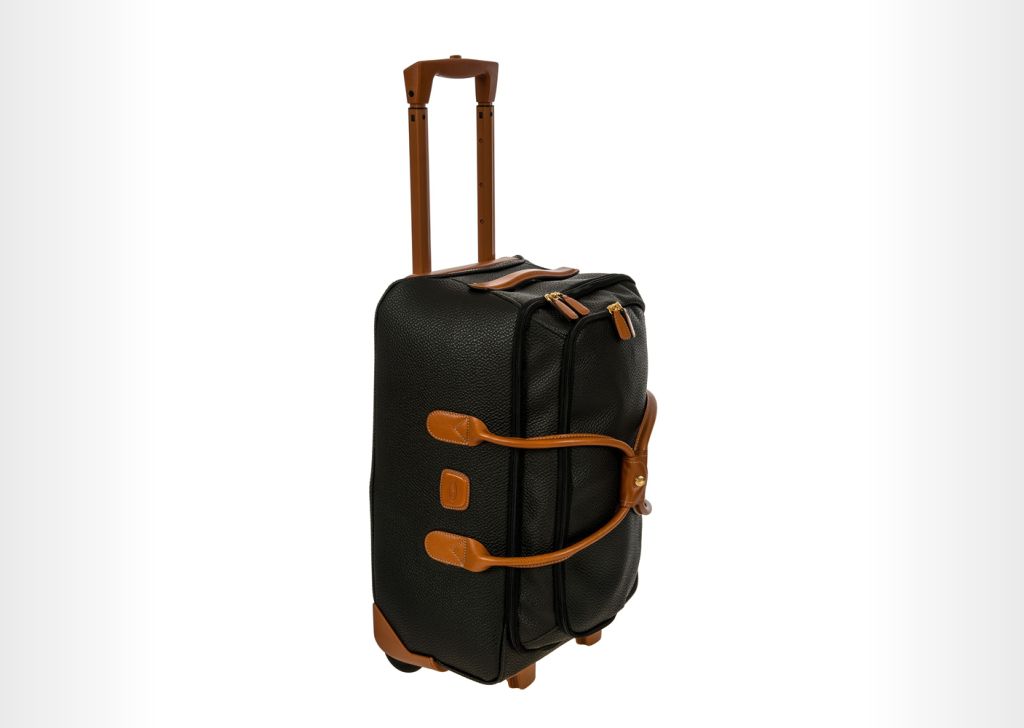 All Positions: Stand it up, lay it flat, or flip it over, there's no wrong way to use the Magellano, from duffel carry to wheeling it at your heels. The trim is all full-grain Tuscan leather that is meant to accent the PVC body built to fight scratches, stains, abrasions, and stop water from ever seeing what's beneath the surface.
Killspencer Weekender 3.0
Grab Bag: A duffel for the refined gentleperson, the Weekender 3.0 provides a sturdy interior frame for easier sorting of personal items. It's made of bull leather on the outside, closed by Riri Swiss zippers to hide the internal mil-spec nylon webbing that can withstand more than 1,500 lbs. worth of force. Made proudly in the USA.
Dolce & Gabbana 'Mediterraneo'
Continental Traveler: Nothing is more gauche than arriving at a Parisian bistro, or on your private tarmac with a bag that makes you look like a vagabond. Equally suitable for either gender, the stylish calf leather of the Mediterraneo, along with the luxurious interior give you a carryall that lives up to the name without shedding a fraction of its style points.