Getting a good blade for your kitchen or your everyday carry is only part of the battle. Anyone who seriously uses their knives knows that if you don't keep them sharp, you're better off buying a dollar store cutter every time you need to slice and/or dice. You can choose to go to a professional sharpener, if you have money to burn and don't care about the treatment your knives receive, but it's better to do all your sharpening yourself.
Knowing how to hone a knife is a skill that will serve you throughout your life, making you ready for situations where a grinding wheel or local sharpening shop isn't available. You should have this at the ready, and know how to pick a proper whetstone to get the most out of your cutlery. After all, if you've done it right and shopped smart, your knives are going to be with you long after your spouse has left, your eyesight has gone, and your dish ran away with your spoon.
So take the time to get good at edging and find yourself a decent knife sharpener.
How To Pick A Knife Sharpener
Choosing a knife sharpener is an involved, intricate task. There's typically three categories that knife sharpeners fall into:
Stone: This is a basic stone made of gritted materials that you use to run the blade along to sharpen it. This requires the most skill and practice, but gives the best results.
Manual: Stones are technically a manually operated type of knife sharpener, but this category also includes items that are worked by hand, or by stationary systems with angled stones built in that you work with. This category is typically as good as stones for sharpening a blade, depending on what you use and how well you use it. It also requires know-how and practice.
Electric: These are automated systems that allow you to simply insert a knife and have the machine handle the sharpening. Generally, these not only give the dullest results, but severely limit the life of your blade. Using electric sharpeners with quality blades is ill-advised unless you can afford to replace them often, and don't want a truly keen edge.
The trade off between the three different styles is how much time you're willing to spend learning to sharpen your knives, and how often you can afford to replace them. If you have a set of secondhand knives that don't need to be exceptionally sharp, and you don't care if they last for years to come, an electric sharpener will do the trick. Those who care more – and spend more – on their cutlery and equipment will likely want to invest in a set of stones with varying grit and then learn to use them properly.
Whichever way you intend to run, one of the 13 best sharpeners of every kind will carry you to the fine edge you require.
Lansky PS-MED01 BladeMedic
Certainly not a lone wolf, the BladeMedic is meant to fit into your glove box or pocket for doing a little road work, assuming you aren't sharpening with the car window trick. Purchase: $9
J.A. Henckels Poly Sharpening Steel
A real classic hunk of steel, having this on hand for getting your turkey carving knife up to snuff or prepping for a knife fight, it's not ideal as your only sharpening tool, but a handy backup. Purchase: $18
Wüsthof 2 Stage Hand-Held Sharpener
Hard carbide to knock the rough edges off, with a ceramic stone to polish it up, there are better options at about twice the price, though few feel as good in your hand, or work quite as well for doing a little fast and dirty sharpening wherever you happen to be. Purchase: $20
King Two Sided Sharpening Stone
Those looking to learn the age-old craft of sharpening, particularly if they prefer Japanese steel in their kitchen can begin with these basic stones. All a young samurai could want. Purchase: $27
DMT FWFC Double Sided Diafold Sharpener
A quick-folding piece that is part diamond whetstone and part sharpening steel, having the Diafold within easy reach never requires much drawer space or thought, allowing you to keep it around until the day it saves you from mashing your tomatoes. Purchase: $32
Chef's Choice ProntoPro 4643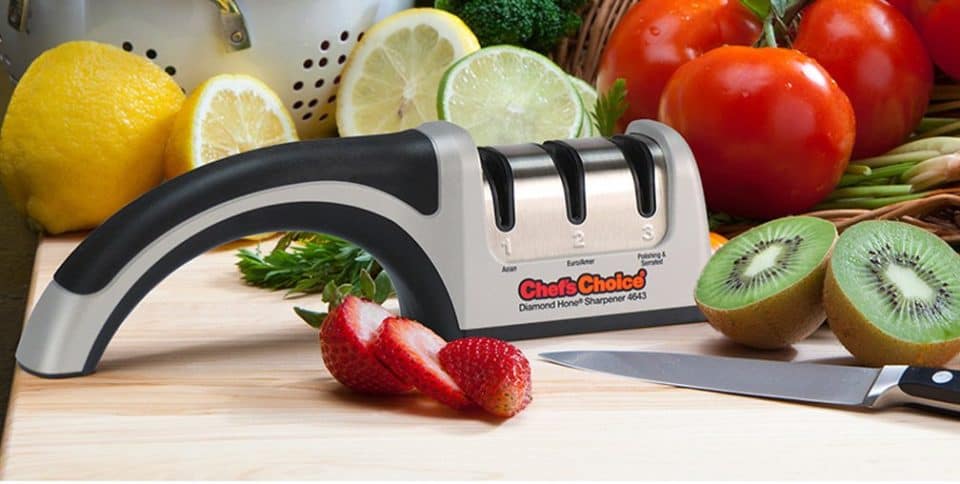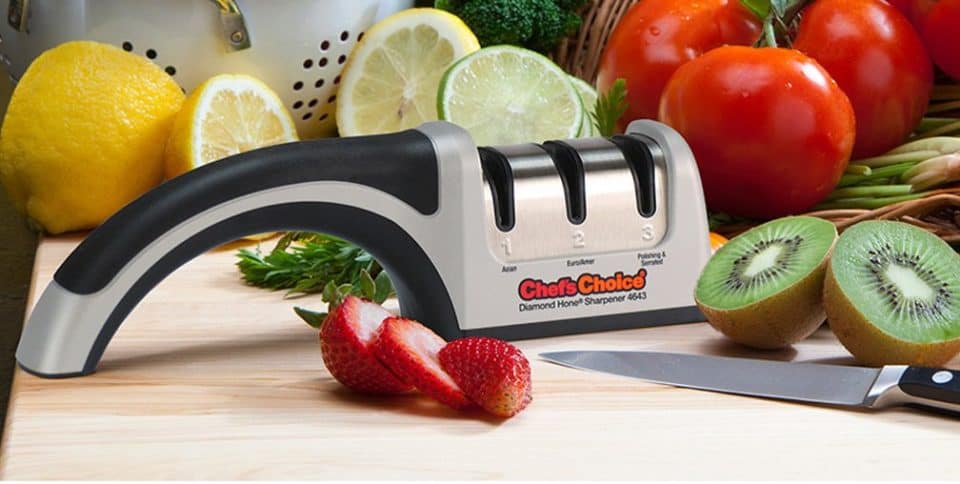 Inside this simple, intuitive manual sharpening device are diamond grinding wheels that allow you to insert a knife and slide it from hilt to tip to get it sharp. In a matter of a few dozen strokes you can have a brand new edge on your blades, with another 20 or so to polish it up to a razor's keenness. The learning curve is practically nonexistent, and will give you stellar cutting power with about a minute's worth of work per knife. Purchase: $39
Spyderco Tri-Angle Sharpmaker
A curious concoction from one of the most legendary names in pocket knives, the Sharpmaker takes some practice to use, but once mastered it can get your hunting knives, fabric scissors, garden shears, and tools into sleek working order. Purchase: $57
Naniwa Chosera Stones
The Bugatti of sharpening stones, you can get these in any grit imaginable for use on anything that needs an edge. If you can't get it sharp on these stones, it's always operator error. Purchase: $75+
Brød & Taylor Professional Knife Sharpener
A beautiful tool that uses a set of tungsten-carbide stones set in a "V" pattern, this piece looks like it would hack off too much metal, warping knives and damaging them permanently, like many similar products employing this form do. In fact, the exact engineering rivals the best edges professionals can get with a scant portion of the practice required. Purchase: $119
Work Sharp WSKTS-KO Knife and Tool Sharpener
Less a knife sharpener than an "Everything in sight" sharpener, workmen who want to also get their axes and tactical blades edged up should go this route. Purchase: $130
Chef's Choice 15 Trizor XV
Those who must have an electric would do well to invest the money in the Trizor XV, as it offers the best sharpening ability with the least amount of metal shearing. Lauded for putting a "15-degree" edge on a knife, what it actually does is create a triple-beveled Gothic Arch Edge. The powerful little motor doesn't catch, and can get down to within 3/8 of the hilt, for a very full, effective grind. Purchase: $154
Edge Pro Apex 4
A whole guided sharpening system, those who are looking to go deep into the world of sharpening will find this helpful for learning the ropes, all while offering the ability to edge like a pro. Overkill for most, but ideal for the perfectionist. Purchase: $255
Wicked Edge Precision Knife Sharpener
Way more than you'll need if you have no plans to set up your own sharpening shop, the Wicked Edge is a complete structure that allows you to smooth knives to as fine a bevel as you require, get the perfect burr on the blade, and polish your cutting pieces to true excellence. Purchase: $299