Most of the world isn't made for cars. With miles of traffic lights between you and where you want to go, boring stretches of hypnotic nothingness out the window, and cops with little better to do than ruin your motoring around, the world isn't kind to the person who longs for the open road. We understand the frustration this brings, as only people who love to go fast and test their machine against the pavement of the world can. We know it's important to find a place where you can explore and enjoy every gear, every turn, and the sweet whine of an engine being redlined.
A great driving road is one that has variation in its layout, allowing you to enjoy meandering through hills, straightaways where you can really knock the carbon off your valves, and landscape that rewards you with new sights wherever you go. These roads should be well-maintained, have a minimum of daily traffic, and be easy to use and enjoy without fretting over potholes or busted blacktop. To see it done right, here's the 17 best roads to drive anywhere on our home planet.
Highway 1, Big Sur, California
The big daddy of coastal highways, there's legends built around the drive up or down the western seaboard. You'll hit multiple historic bridges, have incredible views over the crashing waves, be dappled in sunlight the entire way, and any car feels natural as it wends along the twists. Make sure to hit the stretch through the redwoods.
North Coast 500, Scotland
Some will say that you should hit Route 66 in the US if you want a weird and winding path. A pox to their nonsense. What you really want is the variation of the 500 which begins in Inverness then sweeps you up over the crags. You'll see heartbreaking coasts of jagged stone, true castles, locks, and can log loads of laid back miles that are great fun in a sporty coupe.
Hells Canyon Road, Idaho
Not every road can have a coast, though adding in a water feature never hurts. For 22 miles this follows the Snake River. beginning in the green land of Oregon and terminating at the Hells Canyon dam, the road begs for small vehicles to run the track.
Seward Highway, Alaska
You'll see a bit of the Turnagain arm alongside the peaks of the Chugach Mountains. It's as isolating a drive as there is, so bundle up and have some cozy music to keep you company.
N-222 from Peso da Régua to Pinhão, Portugal
The goal here isn't to enjoy glorious vistas to lift your heart. Here, we're talking about making your car earn its money. The winding road has a specific makeup, with 10 seconds of straightaway for every single second spent going through a turn. It's a natural performance track running right through the Douro Valley.
Hana Highway, Maui
Normally a drive of 52 miles wouldn't take more than an hour worth of highway driving. Two in a suburban area. The reason that you need to schedule a full 2.5+ hours to traverse the Hana is because you have to stop every few miles. Here there's immense mountains, there's a stand for fresh banana bread. Then there's a bunch of seal pups sunning themselves. It's magical and requires savoring.
Sani Pass, South Africa
Adrenaline and danger are what lie in wait here. Only serious 4×4 vehicles are allowed to make the trip, because the terrain is a hellscape of tough roads. It's barely 6 miles long, but border guards must stop any vehicle deemed unable to survive the trip.
Dadès Gorges Pass, Morocco
To one side there's snow. To the other, desert. A hundred miles of strangely broken land, you'll need a 4×4 or aggressive all-terrain vehicle to make this doable. The reward is a new understanding of switchback travel, and appreciation for how alien our own world can be.
Furka Pass, Switzerland
All you need to know can be found in the James Bond vehicle Goldfinger. Yes, it's that pass.
Grossglockner Hochalpenstrasse, Austria
36 hairpin turns that go up and over Austria's highest peak, take it slow and easy for the view, then get quick and dirty for the story.
Leh – Manali Highway, Himalayas, India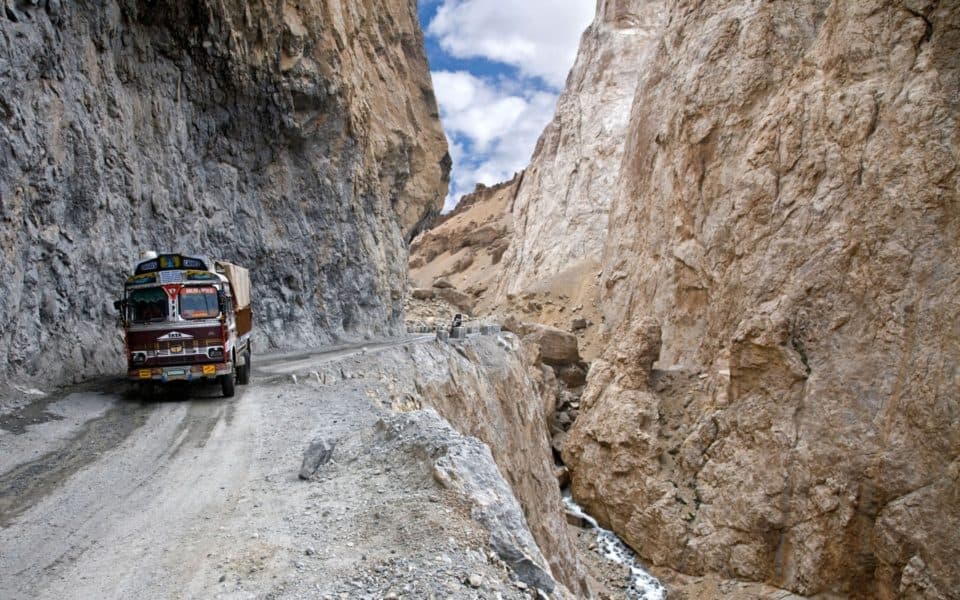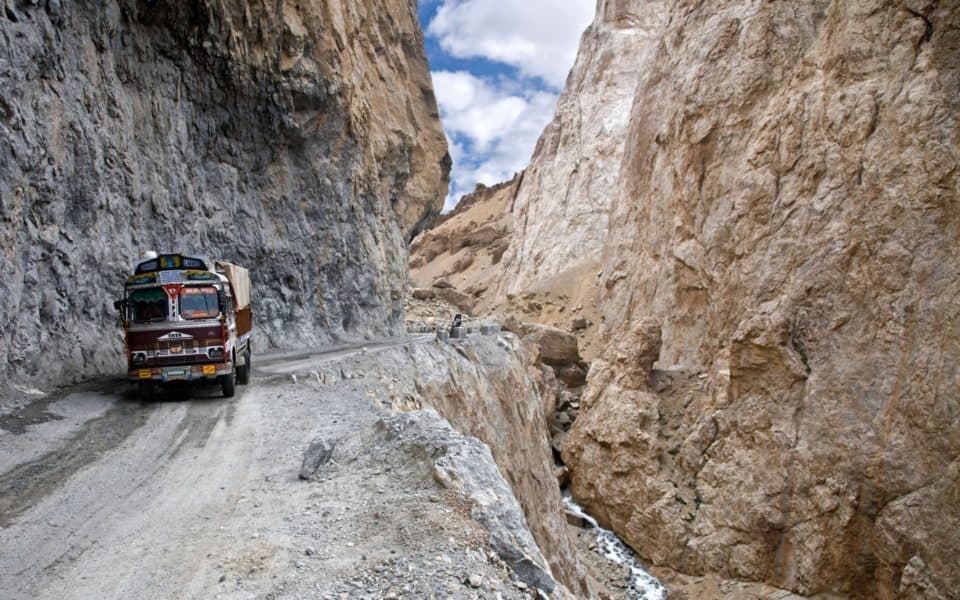 Most of the time, you're going to be two or three miles above sea level. That doesn't sound like much, until you realize that the thin air of Denver, Colorado is only a mile up. This is the way to drive the most monstrous mountain range anywhere.
The Atlantic Road, Norway
Viaducts, bridges, and causeways, oi jøss! Spread out over multiple islands and skipping like a smooth river stone across the famous waterways of Norway, there's no words for seeing the sea like this.
Yukon Golden Circle, Canada & North America
Historians who also fancy an interesting mountain drive will enjoy this trip through the gold rush towns of the west. Loads of small civilizations with unique charms, sites to see galore, and a roundabout trip that's fun for any kind of transport, this is a lazy day made to order.
Tianmen Mountain Road, Hunan, China
Wind, whorl, and snake, most people prefer to take the airborne cable car up to the top of the mountain. That itself is a gorgeous if passive experience. For people who like a little more grit in their teeth when they see lush forests and ancient mountains, there's the wends of the road.
Great Ocean Road, Australia
The largest war memorial in the world, built by returning soldiers from The Great War, there's everything you could want in 151 miles. Quaint cottages and inspiring overlooks, ocean, land, and bits of local lore thrown in for good measure.
Route 348, Helen, Georgia
Mountain drivers who long for steep hills, deep crevices, and loads of turns will adore this stretch. It's like an adventurous Rocky Mountain highway, but without the worry that snow is going to sock you in and leave you to die.
Stelvio Pass, Italy
Holding the crown for highest paved mountain pass in the Eastern Alps – which is, apparently a category – Stelvio was named the best driving road in the world by glorious UK television show Top Gear. If you want to argue with them, feel free.