Wearing black is one thing; wearing it well is another. To pull off an excellent black look, you need to combine shape, trends, cuts, and textures like a pro. The best black watches for men have mastered the art of wearing black. They have an inbuilt style don persona, are confident and yet simple, and have a timeless aesthetic.
View in gallery
These dark watches are versatile and can get along well with just about any casual, tactical, or formal attire. For this reason, it comes as no surprise to us that you're in search of fantastic black watches for men. Fortunately, we have seven of the best for all budgets below.
ALSO READ: Best EDC Watches
Black Watches for Men (What to Consider)
Timepieces are no dime in a dozen. They are very different because of their raw materials, brands, and working mechanism. Understanding these features when purchasing a watch can help you narrow down the options.
It will make the watch selection process much more manageable. First, a watch's brand significantly affects its price and availability.
Related Reading: Best Watches Under $500
Other factors that you should consider when sizing up the best black watches are:
The Watch's Movement
A watch can either have quartz, mechanical, or automatic movement. Quartz pieces are the least expensive, require the lowest maintenance, and are easiest to use since they are solely battery-powered.
You don't need to worry about battery replacements with mechanical watches, the same thing with automatic timepieces, which use kinetic energy from the wearer's wrist natural movement.
Style
The style you go for will depend on the occasion for which you're wearing your black watch. Dress watches are elegant and thin enough to hide under a sleeve. Sporty watches are feature-packed and often hefty in size, while luxury watches use high-end material construction.
Related Reading: Best Military Watches
Power Source
Some watch batteries are solar-powered, while others depend on a quartz battery or lithium-ion battery.
Features
Before you buy any fancy watch, know the functions you'd like it to perform. Some watches are simple timepieces, while others are chronographs, pilot, dive, military, tool, field, or smartwatches.
Related Reading: Best Digital Watches
Construction Material
Stainless steel and titanium black watches for men are durable, while ceramic makes expensive, beautiful scratch-free pieces. The synthetic casing is the least expensive.
HAND PICKED: The 9 Best Black Watches for Men
With so many options to choose from, it can be an uphill task finding the watch that makes you tick. But lucky for you, we've narrowed down your search to seven of the best in the market. Read on to see which ones they are.
Check Price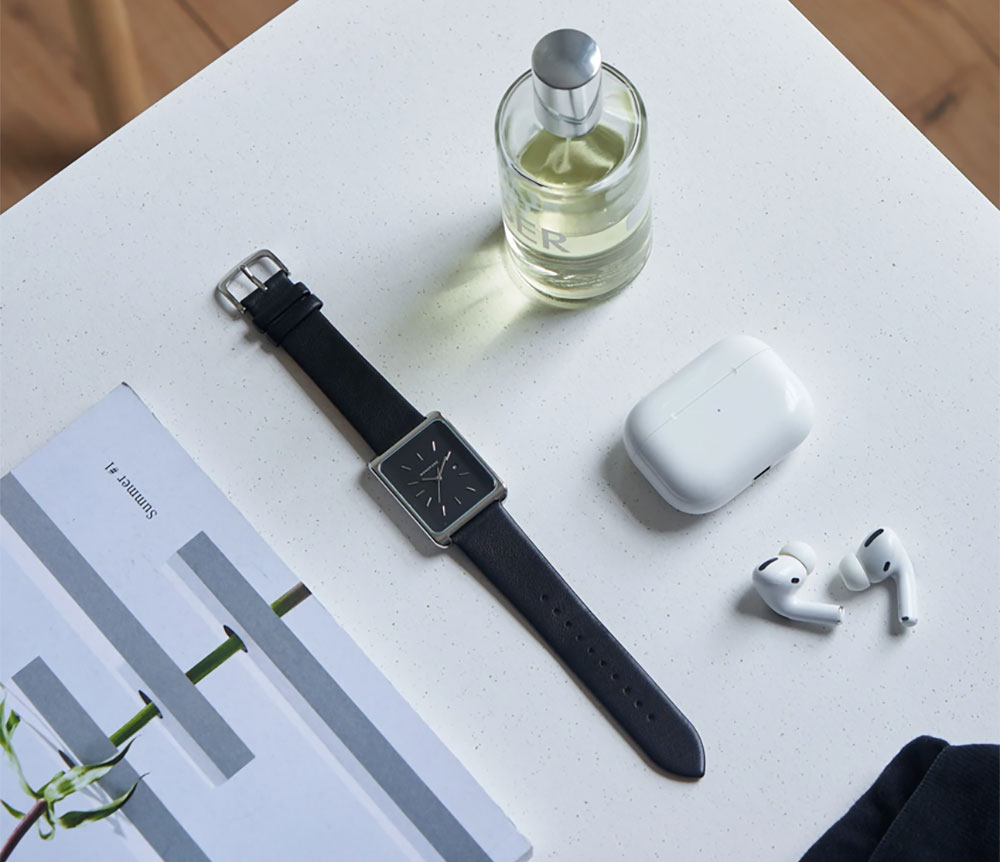 Shop Now
Some watches are complicated, while others are simple, minimalist timepieces that make their own kind of statement. The London-based watch brand Monofore was only established in 2019, but they are taking the world by storm in their pursuit of minimalistic style with their rectangular timepieces that fit snug on your wrist as lightly as possible.
Classic doesn't mean dated, and the Monofore M01 silver watch brings iconic timepiece style right up to date. It defines classic proportions for a clean geometry, pleasing to the eye, sleek, and simply timeless. Every detail has been considered, from the Monofore signature curved dial to the domed glass and embedded crown, to create a clean and effortless look.
And there is just something wonderful about adding the M01 wristwatch to create a little texture and highlight to complete your outfit with its polished stainless steel that sits in contrast with the matte finish of the dial.
Check Price
Shop Now
For any man who likes their timepieces elegant and sophisticated, and suitable for any occasion, the Tuseno First 38 wristwatch makes a popular choice.
Tuseno has been creating exemplary wrist accessories featuring refined Scandinavian style. It boasts a similar feel and visual look to Tuseno's older watches but in a smaller face to fit perfectly for daily wearing.
A mere 38mm, which is a classic watch size, it fits snuggly on any man with a smaller wrist size and those who tend to gravitate towards wearing classy and subtle timepieces. Most often, finding a watchmaker that brings everything you are looking for in an elegant wristwatch at a price you can afford is a difficult feat. But the First 38 timepiece is mighty impressive in that sense, but that's not all.
Just a couple of its most impressive features include a Japanese Sapphire crystal, Hybrid Mecha-Quartz Chronograph movement, and a Seiko VK64. For any man on a hunt for a refined wristwatch that looks unquestionably dapper, there's nothing to scoff at about this sensational timepiece from the Swedish watchmaker.
Liken the perfect dress watch to the perfect suit. It will elevate your formal look and display your style. The classic dress watch will add a level of sophistication to all your everyday outfits and, therefore, be as elegant and smart as this Fizili men's watch.
It is a slim profile watch with a minimalist look. It lacks all the bulk, bells, and whistles you will find in sportier pilot or dive watches. Selling at a superb price point, this Fizili dress watch has a dark eye-catching, and clean dial, but the adventurous man can choose its white or blue hands variant.
You can have a leather or stainless steel strap with a woven mesh look as per your taste. Its face is a high-quality material and will not easily scratch or break. Its frame is polished steel. Simple and ultra-thin, it will not tag at your shirt cuffs.
What seems to surprise most buyers is how expensive the watch feels, despite its low price tag. It has a $500 wristwatch feel and look. This is an analog dress watch that you will love to whip out on those occasional dressy events when your bulky sporty masterpiece will not do.
The Armitron brand is a division of the larger E.Gluck corporation, proficient watchmakers since the 50s. The men's sports 40/8284 watch is one of the best watches for men by Armitron. This timepiece is also one of the best digital watches and a low-end brand. It's bulky but has a hardy construction.
The Armitron chronograph watch has an analog display, and its movement is Japanese quartz. Its strap is of a soft black resin that ends with a buckle clasp. The window is acrylic crystal, cheap but not scratch resistant. The Armitron 40/8284's case and bezel material is black resin as well.
This watch has a water resistance of 3 BAR, meaning that you can safely shower while it's on your wrist. Watch out, though! The Water blocking seals will wear out with time, so lower-end watches are only water-resistant while new.
The watches' enormous face makes it easier for its users to read the time. It has a useful backlight function for nighttime use. Its chunky LCD has a dual time zone feature. Some of its other perks include a lap timer and alarm.
A hand crank or USB charging port radio, water, flashlights, and a G-Shock Rangeman GW-9400; are crucial elements of a respectable World War 3 emergency supply kit. You might have to rummage through your house for a few more items, but the tactical and fetching G-Shock Rangeman GW-9400 will be at hand… literally.
The Rangeman GW-9400 is part of the G-Shock watch range by Japanese Casio engineer Kikuo. The "Master of G" series resists vibration, mechanical stress, and shock. These sporty military watches have various features that include water resistance, a world clock, and flat panel displays or electroluminescent backlights.
It can take on extreme pressure, shock, and temperature on land, water, or air. So take it along on your extreme elevation mountain climbing trips or deep-water scuba diving. Its buttons and case sealing keeps out any dirt, mud, dust, and humidity.
You will not have any illumination failures or condensation inside the watch, as happens with other brands. The Triple Sensor feature will track your temperature, barometric pressure, and altitude. To this end, you can easily tell when your camping or hiking weather is about to turn nasty.
The built-in compass is a lifesaving feature. Two of its to-die-for features include its atomic timekeeping and solar charging panel plus battery. The G-Shock Rangeman GW-9400 calibrates multiband radio time signals accurately.
It will not require battery charging or changing for as long as you own it. The Rangeman GW-9400 is a lightweight, timeless, solid, and rugged watch with red and silver accents. Its window is mineral crystal hardy, while the pushers, strap buckle, loop, and case back are heavy-duty steel. On the downside, unlike its pricier counterpart, the GPR-B1000, the GW-9400 is not GPS navigation-capable.
Like the G-Shock Rangeman GW-9400, this military watch from Suunto is a quartz movement watch. Suunto Core watches are a watch design feat, combining design and dependability to produce some of the most popular outdoor sports instruments on the planet. It is no wonder then that this watch leads in rating quantity on Amazon, garnering close to 8000 buyer reviews.
This sporty all-black number builds on its predecessor's success, the Vector, packing in tons of features in a compact package. As an illustration, it has a Storm Alarm feature that uses its inbuilt barometer to track air pressure, sensing impending storms before they happen.
Take the Suunto Core along on your hiking and camping trips and use its altimeter to gauge your level of elevation or descent. The altimeter provides accuracy for up to 30,000 feet when mountaineering, keeping your data for analysis. The Core does lack GPS navigation features, but it makes up for it with an accurate digital compass.
With it, you have a waterproof computer on your wrist. By combining the compass and the altimeter, you can easily gauge not just elevation but also your location on a topographic map. To stay on course when down a creek or up a ridge or trail, use the Suunto Core's sunset and sunrise indicator.
The Core's other nifty features include a weather trend indicator, an alarm, and a dual time display. The Core functions in German, English, Spanish, and French and has various color options that include aluminum and light black.
Its strap is silicon, and while hardy, some reviewers feel that it caves into punishing use too fast. Its battery life is decent, while its round bezel and display are scratch-resistant mineral crystal.
Fossil has been making some of the best fashion watches you can find since 1985. The brand has a solid watchmaking reputation, and its iconic 50s era design of tin box packaging has given it much visibility in the market. Fossil watches are decent in value and design.
The Nate Chronograph watch is a budget Fossil watch with a modern trendy look. It is a man's watch, jet-black with a quartz movement. The Nate stainless steel watch has a 5ATM/ 165ft or 50m water resistance, allowing you to shower or swim with it without causing it any damage.
Its face is mineral crystal, a chemical or heat-treated glass that is shatter and scratch-resistant. This material is an affordable alternative to sapphire crystal for mid-tier watches. It has a brushed jet stainless steel bezel and a buckle clasp. The inky black matt dial watch can have leather or steel straps.
Unlike other high-end, Fossil watches made in the UK, Germany, Switzerland, or Japan; they make this budget watch in China. Most buyers love it's easy to read, and large face but are peeved over its second hand's poor precision. It turns out that you cannot reset some Nate watches' second hand to zero. Because of that, the hand is eternally 1/4 of a second ahead of time.
Most Michael Kors designer watches have a mid-range price tag, selling at the $300-and-above mark. The Lexington is selling at the $189 price point, so if you are looking for a great deal on black watches for men under $500, here is your opportunity.
The black variant of the Lexington stainless steel watch is a three-hand, Japanese quartz movement watch. Some of its multifunctional features include three circular sub eyes that display the week, date, and 24-hour time. This watch is also stopwatch capable.
The band is jet black, while the bracelets are black stainless steel. You can, however, find the Lexington in gold, rose gold, or stainless steel grey. The watch has a white dial embellished with gold accents while its top ring is beveled.
While this Michael Kors piece is not cheap by any means, you can get a decent smartwatch at its price range. That said, it is high in luxury and quality and will look great on your wrist. It is water-resistant, so you can take a dive at the pool with it on, but be warned, you might feel a level of guilt doing so. Why? You don't want to ruin a watch as good looking as this Michael Kors Lexington stainless steel watch.
Bell & Ross luxury watches are as bold as they come. Their Black Camo piece has the B&R iconic square and a round shape and could be one of its most simple watches by design. Place it beside the loud and bold burning skull tattoo of the Bell & Ross BR01 or the multi-colored Renault Sport F1 BR03-94 RS17 theme watches, and the muted aesthetics of BR03-92 will become apparent.
Blending top of the range nocturnal camouflage design with an elite professional look, the BR03-92 watch is cool and attractive. It is every Bell & Ross enthusiast's dream. Its dark color and stealth features include a steel buckle with a dark PVD coating for striking black color.
Its matte black strap is undetectable in the dark and has zero reflections. It has an anti-reflective glaze on its sapphire crystal, while its case is a high-end matte black ceramic. Ceramic watch casings are as rugged as they come and phenomenally scratch resistant.
They will keep the vibrancy of their color for ages, aging gracefully with minimal signs of wear. UV rays do not affect them. One other upside of a ceramic watch is that it is as lightweight as an aluminum casing but hypoallergenic.
This aviation watch has an attractive military-type dial in a matte grey patchwork design. Its hands have a luminescent matte black coating while the date window discreetly veils itself through clever use of contrast and texture.
The watches' main numerals are cutaway but placed between two plates, with the lowest offering contrast in its black luminescent paint. The Bell & Ross BR03-92 has a Swiss automatic engine and has a 10 BAR water resistance. You can snorkel or swim in it, but it is not bombproof, so do not take it diving.
Conclusion
These black watches for men are excellent conversation pieces. They will define your social attitude and style. Choose and enjoy the magic of black. And let us know how it went, in the comments below.