View in gallery
The Fox Theater, Atlanta's Address of Culture and Entertainment
The Fox Theater Atlanta could be one of the city's most iconic buildings, a majestic Moorish-inspired civic center where music, film and theater are celebrated nightly. The Fox Theater was built for Atlantans in the 1920s and saved by Atlantans in the 70s, when the wrecking ball came close to demolishing her towering minarets. Having been fully restored to her former glory, the Fox Theater Atlanta is now the city's prime hot spot for fine film, music and theater entertainment.
The Fox Theater building was initially designed to house a shrine mosque and meeting place for the Shriners organization. It opened on December 29th, 1929, just two months after the stock market crash that brought on the Great Depression. Just two years later, the Fox Theater Atlanta declared bankruptcy and didn't return to grace until the 1940s. When faced once again with demolition in the 1970s, Atlantans came together to defend the theater and fight to earn it national landmark status. A non profit org named Atlanta Landmarks was the result of this group, who has owned and maintained The Fox ever since.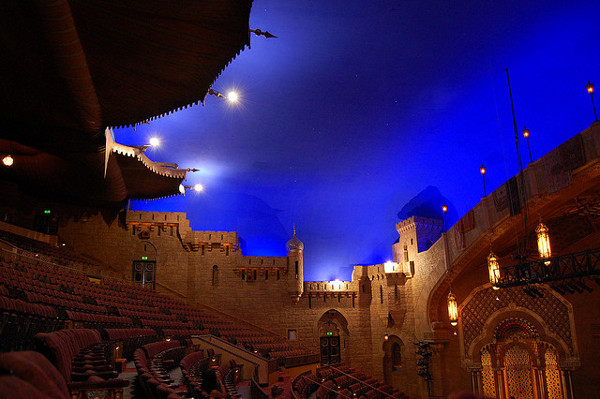 Today, major touring and local acts in music and theater regularly visit Fox Theater Atlanta. Broadway tours like Cats and Phantom of the Opera regularly visit The Fox, and musicians like Drake and Lady Gaga make this venue their Atlanta destination. But for guests of this theater, the act is only half of the enjoyment. The architectural wonder that is the Fox Theater is what makes a visit so special.
Inside the Fox, the Moorish and Islamic inspired features are stunning. The main auditorium is designed as an Arabian courtyard under a starry sky, where twinkling crystal lights and projected clouds create an open, natural ambiance. The minarets of the exterior continue inside, as the 5,000 seated guests are welcomed within Mediterranean castle walls. Below the auditorium, a series of lounges share a range of architectural inspiration. Our favorite features the repeated Arabian arches that span above a more intimate lounge.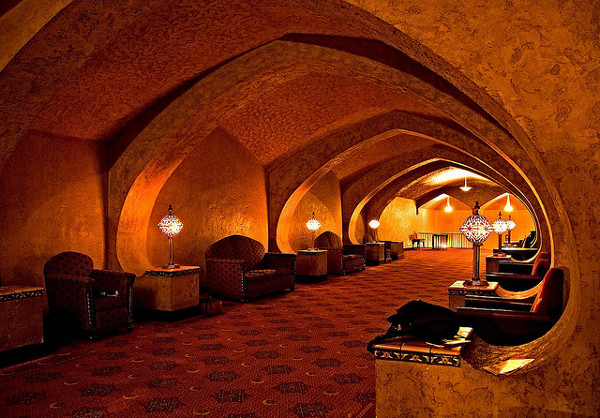 Ultimately, the Fox Theater Atlanta isn't just a must-see venue for culture-minded locals, it's a landmark on a national scale. Visitors to Atlanta, or those looking for a reason to visit, should make the Fox Theater a highlight of their Georgian experience.
– – – – –
Beyond the Fabulous Fox, what's your favorite haunt in Atlanta? From concert halls to fine dining to craft beer, is there a "can't miss" hotspot that you want the world to know about? Send us a photo by email or in the comments below. We're hungry to try your favorite!
View in gallery
Fox Theater Atlanta Gallery
Images courtesy of flickr users lumierefl, photo phiend and gail des jardin, all reproduced in observance of creative commons licensing.