Need help choosing the best shaving soap? Today, we're taking a deep dive into the subject, with 10 top-tier recommendations for any budget or skin type. Further down the page, you'll find a handy buyer's guide to help you reach your own conclusions, as well as answer your shaving soap FAQs.
View in gallery
Shaving soap is primarily used to lubricate your delicate skin from the razor blade as you shave. Regular washing soaps, on the other hand, produce a light watery lather that's not as effective as shaving soap in offering the much-needed protection to the skin.
However, deciding on the best brand can be tricky given the numerous legitimate options in the market today. Fortunately for you, we've handled the difficult part and picked out the best shaving soaps for your skincare routine regardless of your skin type and budget.
We'll also help you look at what you need to consider in choosing a shaving soap in our buyer's guide further down the page.
The 10 Best Shaving Soap for Men
Great shave soap lathers well, has an appealing scent, and performs remarkably. Here are some of the best shaving soaps for men.
The Viking Revolution generates a rich lather that can turn your shaving ritual into an expedition. The shaving soap comes in sets of four refined scents that you can choose from, including sandalwood, cedar and pine, clary sage, and bay rum. All very manly scents.
Additionally, The Viking Revolution soap lasts long so you don't have to be replenishing it too often. It contains active ingredients that offer thorough cleansing of the skin besides providing lubrication during shaving. You may also use this shaving soap for your face and body wash.
Sir Hare's Barbershop Fragrance is a hand-crafted shaving soap with a powerful lather for a comfortable, irritation-free shave.
The scents are delightful and classic; calculated to please the nostrils, not to overpower them. Sir Hare's Barbershop Fragrance offers a refreshing mix of oakmoss, bergamot, cedarwood, and sandalwood–all these fragrances cleverly tucked in the background blended to impress.
What's more, it's made from high-quality natural ingredients with no artificial additives making it an awesome tallow-based shaving soap. It's safe and comfortable for the skin–even dry skin. Sir Hare's shaving formula is enhanced with shea butter that leaves your skin supple and moisturized.
With Sir Hare, you have absolutely nothing to lose with their no-hassle satisfaction guarantee.
Mitchell's Wool Fat Shaving Soap is a completely natural shaving soap produced from lanolin content from sheep's wool fat, hence its name. It's superior to vegetable oils and synthetic oils, providing an exceptionally rich lubricating lather for a clean, comfortable shave.
Mitchell's soap has great performance, comes with a bowl (if you need one), and has an attractive price tag.
The scent is man-friendly too. It's no wonder then that there's all the frenzy about this soap from its zealous adherents.
Tabac Original is a German-made shaving soap that's bound to upgrade your shaving ritual. The traditional tallow-based formula produces a smooth lather that provides effective lubrication as you shave. It also has a delightful manly scent with overtones of citrus, lavender, sandalwood, and a warm floral blend.
Tabac has a thicker body and generating substantive lather from the soap requires skill and patience. You'll want plenty of water and a badger shaving brush with Tabac Original. Straight razors and safety razors both work well with the thick body of this high-performing shaving soap.
That's not all. It comes with an elegant glass bowl that makes it convenient to generate well-cushioned lather. The bowl's pleasant aesthetics can also uplift the look of your bathroom. Just keep in mind the lid isn't all that secure for actually storing the soap. Thus, you may choose to buy just the shaving soap puck without the lid–and save a few bucks.
Cella Milano Crema Da Barba is an Italian-made shaving soap that takes the crown for most affordable tallow-based product. But don't let the price fool you into imagining it produces a substandard shave; far from it.
Cella shaving soap generates a well-cushioned lather, with coconut and almond oils in the formula that hydrates and protects your skin from irritation. The mix of quality ingredients keeps your skin supple in anticipation of the shave.
Generating a decent thick creamy lather with Crema Da Barba requires lots of water. Furthermore, you'll get better results with shaving brushes that have tougher bristles. Boar's hair would be excellent.
At a massive at 5.20z, Cella Milano cements its value-leader status as one of the gems for regular wet shavers.
Check Price
Proraso shaving soap is designed to be user-friendly for newbies looking to indulge in a pleasurable shaving experience.
It depends on a glycerin base and lathers effortlessly regardless of the shaving brush used. That means you don't need to replace your current shaving brush to use this shaving soap. Additionally, the easily generated lather provides an excellent cushion for whatever razor you'd want to employ.
Proraso has custom-made several shaving soaps to meet the specific needs of different skin types. (That's unlike most other manufacturers who produce the same shaving soap but merely change the scents across their product offerings.)
There's the Green Label purposely designed for general use with a refreshing fragrance of menthol and eucalyptus, which is what we recommend for general purposes.
The White Label is the best shaving soap for sensitive skin.
The Red Label targets men with thick, rough beards. It has an alluring sandalwood scent.
What makes this shaving product even better is its affordable price that includes a soap of 5.2oz that also comes with a plastic bowl. What a bargain!
View in gallery
A skillfully crafted shaving soap from D.R. Harris & Co with a unique subtle manly fragrance and a rich creamy lather that softens the beard. The scent is a hint of cedar and sandalwood with overtures of citrus and spice in the background.
If you're looking for a high-quality soap with subdued scents, this is it. What's more, if you like the shaving soap but don't like the scent, D.R. & Co Harris also has shaving soaps in lavender, Windsor, and Arlington, so you can pick your taste.
D.R. Harris soaps generate remarkably rich lather rather easily when compared with many other shaving soaps. It's also triple-milled to last long and stretch your dollar further.
It comes in a bold and stunning hand-made mahogany shaving bowl, making an elegant decorative piece for your bathroom in addition to practical storage considerations.
Check Price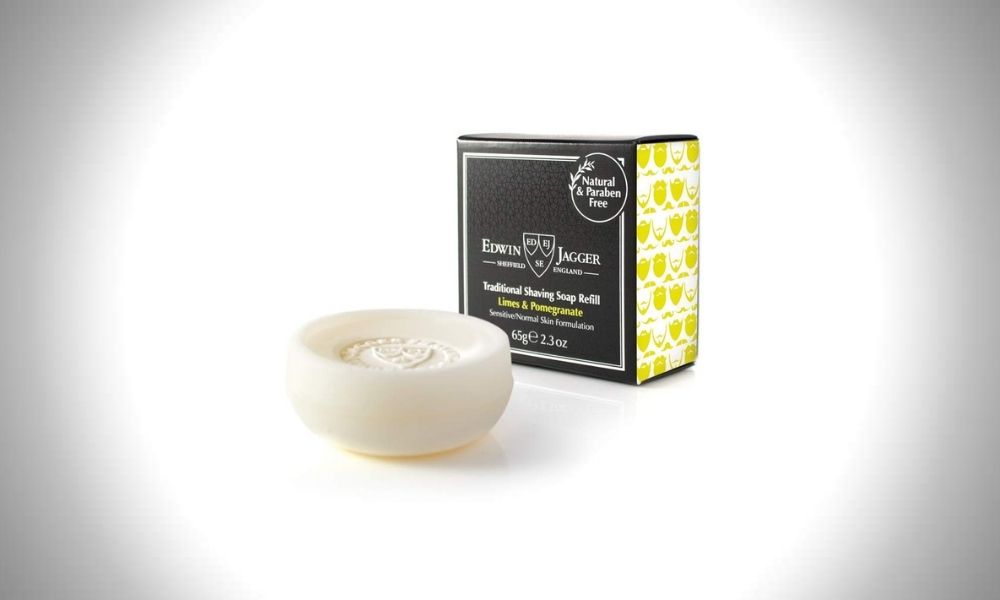 Edwin Jagger offers luxurious shaving soap enhanced by natural plant ingredients ideal for normal and sensitive skin.
With the help of a brush and hot water, the unique organic extracts combine perfectly to generate a rich lather. The rich creamy lather softens the beard and leaves the skin smooth and supple.
Carefully scented with a vibrant citrusy fragrance, Edwin Jagger is highly effective and delightful to use.
Check Price
A traditional English shaving soap from Taylor of Old Bond Street. It lathers easily and provides impressive lubrication. Besides the classic sandalwood scent, the company manufacturers shaving products in other man-friendly scents like grapefruit and avocado.
We love that this soap ships with an elegant wooden bowl, which you can reuse as long as you like courtesy of the brand's refills.
If you suffer from dry skin, this may not be the ideal product for you since the glycerin-base tends to dry out the skin.
Check Price
Truefitt & Hill holds the distinction of being the world's oldest barber shop in the world. Throughout over 200 years of history, they have served some truly illustrious clientele, including Winston Churchill, John Wayne, and members of the British Royal Family. Not a bad pedigree!
The 1805 Luxury Shaving Soap offers a rich lather for a cool and comfortable shave. While this is a glycerin-based soap, it doesn't dry out the skin nearly as much as similar products. It offers a complex fragrance, with sandalwood, musk, and cedarwood at its base base and complemented by a fusion of cardamon, mandarin, bergamot, clary sage, lavender, and geranium.
Truefitt & Hill clearly takes pride in their product and expects repeat customers, as evidenced by the gorgeous Acacia wood bowl they include with the soap. And yes, you can purchase refills.
Perhaps due to their association with royalty, they don't come cheap, costing almost twice as much as standard offerings. But after two centuries, they're clearly doing something right.
---
What to Consider Before Buying Men's Shaving Soap
The increasing popularity of liquid hand soap and body wash has been a lurking threat to authentic shaving bar soap. It's unfortunate it's turning out that way. You see, the main difference between shaving soap and canned body wash is the added water and chemicals, and also the ease of using the liquid soap.
But despite being elbowed out in popularity, shaving soap remains superior in shaving performance compared to liquid hand soap, shaving creams, and body wash.
Here's why: It provides a better protective barrier to your skin from the shaving blades of your razor. When it comes to shaving, the cleansing action of the soap is but an added benefit to your grooming routine.
Here's how to find the right product for your skin:
The Base
Shaving soaps usually have either glycerin, tallow, or oil base. Old-style shaving conformists will religiously stick to a tallow base, hearing nothing of alternatives. Tallow is simply rendered animal fat that provides a wonderful creamy lather.
Glycerin, on the other hand, is a relatively recent soap base that comes from vegetables. Those keen on using vegan-friendly products will find shaving soaps with a glycerin base a fitting alternative. They lather more easily compared with tallow bases. That said, they're best used for regular toilet soap or lotion. Moreover, they're inferior compared to tallow-based and oil-based soaps in lubricating performance.
It takes skilled users to produce considerable lather from tallow-based shaving soaps. For this reason, you're better off using glycerin-based soaps as a newbie.
Today, there are several great soap shaving products made using oils. The preferred oils are olive oil, shea butter, coconut oil, green tea, and argan oil. Some shaving soaps made from these oils have a performance that's comparable to tallow-based shaving soaps. Oil-based shaving soaps have gained popularity among men who prefer products produced with no cruelty to animals.
Notwithstanding, you'll still find a few fine glycerin-based soaps and some horrible oil-based shaving soaps. It's not 100% categorical–so make sure you're paying attention to other factors as well.
Scent
When it comes to scent, there's hardly a right or wrong way to determine what's best. It largely depends on your personal taste. Nevertheless, there are scents that have stood the test of time to become loved far and wide. Those could be a good way to start off then explore wherever curiosity leads.
Popular classic scents include menthol, eucalyptus, sandalwood, lavender, lemon, almond, and mint. Be sure to check out your skin's sensitivity to fragrances and scents so as to avoid irritating sensitive skin.
Pick a scent that shines a spark of life into your morning as you face the day.
Shaving Container: Bowl or Mug
Before buying a shaving soap you'll need to consider whether it comes with a shaving bowl or mug. You'll find most shaving soaps sold in a bowl or tin. In such a case, you don't need to worry about purchasing a separate bowl or mug to generate the best lather in your soap.
However, there are several shaving soap brands sold in cardboard or other such packaging materials. In such a case, you'll need to invest in a shaving bowl or mug. You may decide to buy a bowl separately for your shaving soap or make do with whatever you have at home.
Generally, shaving soaps sold with a container are usually pricier than those without a bowl. Since you don't need to always purchase a shaving bowl with every shaving soap purchase, consider buying a bowl once, and then buying refills or standalone pucks of soap. You'll save a few bucks in the process.
Soap Size
Shaving soaps will come in a vast range of sizes from just over 2oz all the way to 6oz. You'll find better value for your money when you buy larger-sized shaving soaps. Compare prices for specific brands and see if there are some savings per unit cost for larger quantities.
Shaving Brush
Whereas you can easily apply shaving cream using your fingers, you need a good shaving brush with sufficiently coarse bristles to effectively rub in hard-shaving soap. Confirm that you have a shaving brush before you proceed with purchasing a shaving soap.
You may skip the use of a brush altogether if you go for softer shaving soap or croaps (cream soaps).
Milling: Triple-Milled Soap or Semi-Hard Soap
The process of making all soaps is basically the same and is referred to as saponification. Soap is made from a chemical reaction that mixes up fat or oil and an alkali. Milling is what happens to the soap that's been formed through the process of saponification.
Milling, in soap making, is the process of passing the soap through milling machines that consist of steel rollers. This process thoroughly squeezes out excess air, moisture, and impurities. It also mixes in the fragrances or other additives to the soap base.
Manufacturers have to carefully balance the milling process as "over-milling" the soap can result in an extremely dry end-product that's unattractive and difficult to use.
The more soap has been milled, the harder it gets and the longer it lasts. A puck of a triple-milled soap is that it will last longer. Typically, a greater milling number on a shaving soap will translate to a higher price tag. That means tripled-milled shaving soaps will be more expensive compared to semi-hard shaving soaps.
A triple-milled soap has gone through the milling process over three times. It's harder, lasts longer, and needs preparation to lather well before use. Soak hard shaving soap in water for a few minutes for better lathering. You may add a few drops of warm water to soften the soap and speed up the process.
If you've no patience for shaving soaps, you could try out shaving creams or some good quality croaps that need no prior preparation. But we still recommend a classy hard soap over shaving creams.
Razor Type
Straight razors, shavettes, and safety razors are more commonly used by men. That's because they work well with most shaving soaps. A cartridge razor is easily clogged when you use soaps with a tallow base. If you prefer to use a cartridge razor, use it with glycerin-based shaving soaps that are unlikely to clog the shaving blades.
Shaving Budget
The price of shaving soaps swings widely based on the brand, size, ingredients used, and the milling process. With a budget in the range of $20-$25, you can get a solid product from a credible brand.
---
Shaving Soap FAQ
View in gallery
What Is Shaving Soap?
Shaving soap is chemically similar to regular soap, but it contains high levels of stearic acid. The reason is that this fatty, oily substance adds stability to the lather. Moreover, it lubricates and softens your beard hair, allowing the razor to glide and cut more easily without nicking your skin.
What's more, shaving soap will tend to have hydrating and nourishing properties that leave your skin feeling moisturized and healthy after a shave.
Can You Use Soap as Shaving Cream?
Yeah, sure. But it shouldn't be a long-term shaving plan.
For one, regular soap doesn't lubricate nearly as well as does dedicated shaving soap. Yes, you can get up a decent lather, but since it isn't stable you'll find that you need to re-apply soap continuously throughout the shave.
Moreover, the astringent properties of hand soap is quite likely to dry out your skin after repeated use. And if you nick yourself, you may find standard soap bars cause stinging.
Of course, there are more gentle soaps, face washes, and shampoos out there with moisturizing properties that can make a suitable stand-in for dedicated shaving soap. Conditioners and cremes have a bit more body to them and can work well, too, but they tend not to lather very well. Basically, whenever you deviate from shaving soap, you're making some sort of compromise.
What's the Difference: Shaving Soap vs. Cream?
Purists will write you a novel on the subject, but for all practical purposes shaving cream is more convenient. It tends to be ready to lather up, shipping with an appropriate moisture content to do so.
Shaving soap is the connoisseur's choice; it takes time and skill to bloom, load, and lather it up. However, the result is more luxurious, often with a beautiful fragrance emanating from the silky smooth lather.
Keep in mind, though, that not all shaving creams are made equal. Those cheap aerosol gel cans often contain harsh chemicals that will dry out or even irritate your skin. Good shaving creams–and there are many–offer a similar shaving experience to shaving soap. But they're just a bit softer on average and less substantial.
There's no right or wrong choice, it's all up to what suits your skin and shave style best. Experiment with both, and pick an educated favorite–you'll be glad you did every time you perform your manly ritual in the mirror.
How to Use Shaving Soap?
First, take your shaving brush, and soak it in warm water for about a minute. This is especially important if you're using a nice, stiff-bristled brush like badger hair; saturating the fibers makes it softer and more pliant when applying the shaving soap.
Next, if you're using a hard shaving soap, run a little warm water over the bar's surface to soften it. If it's really hard, you may need to let it sit for a minute or two. This process is called "blooming" the soap, and will make it easier for the bristles to load up with the good stuff. It also smells amazing!
Lightly shake out the brush until it is just damp, rather than soaked. Twirl the bristles upon the surface of the shaving soap in a circular pattern. Be patient, and make sure you're getting enough load to where the tips look well caked; it takes about 30 seconds to a minute.
Now, swirl your brush inside your palm or a shaving mug to work up a lather. You may need to periodically reload on water to dial in the lather properly, but don't go overboard or you'll saturate your lather and lose body and stability.
Alternatively, you can apply the brush straight to your face using the same swirling, reloading method. This saves time, but usually doesn't yield as luxuriant a lather as a shaving bowl. In any case, ensure a nice, even distribution of shaving soap all over your facial hair, and go about shaving as normal.
When you're done, rinse the later off the shaving soap bar, flip it over, and let it dry before returning to its container. If the puck lives in its own bowl, make sure to dry the bowl out as well before storage.
---
Best Mens Shaving Soap – Last Words
A properly-made shaving soap can turn your shaving experience into a delightful one by offering sufficient lubrication to the skin. An exceptional shaving soap will also have great scents that are man-friendly. Lastly, they'll also cater to all types of facial hair and skin types.
Which of the 10 shaving soaps listed above have you used? Feel free to share your experience with us in the comments section below. Which other shaving soaps do you think should have qualified to be on this list?