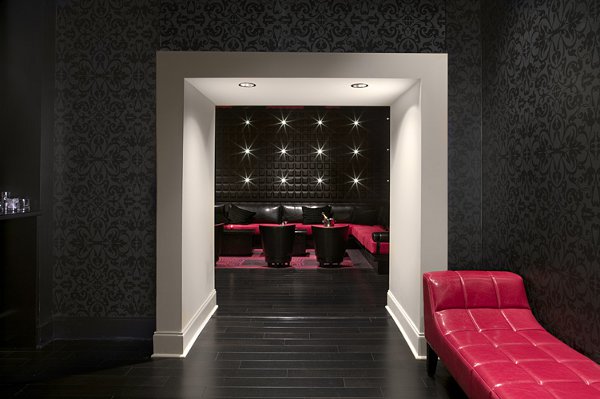 The W Hotel in Midtown Atlanta offers decadence in design and leisure

If you're Atlanta-bound, the Midtown district should be on your itinerary for its arts, culture, entertainment and nightlife. Generally, there's a W Hotel in every lifestyle hotspot, and Midtown is no exception. The W Hotel in Midtown Atlanta continues the brand's focus on progressive design, luxury amenities and rates that are affordable in contrast to the standard upscale hotel. We'll dig deeper into why we love the W Midtown, enough so to call it one of our Favorite Places in Atlanta.
As is true with everything we cover on TheCoolist, our interest begins with design. The W Hotel Atlanta – Midtown features an interior by ICRAVE, a New York-based interior and architectural design firm focused on restaurants, hotels and nightlife. ICRAVE developed a dynamic interior image for the W Midtown that is in some parts refined and minimal, in other parts wild and complex. Each public room has its own identity, treating guests to an experience that feels like unwrapping a new piece of candy upon entering a new room.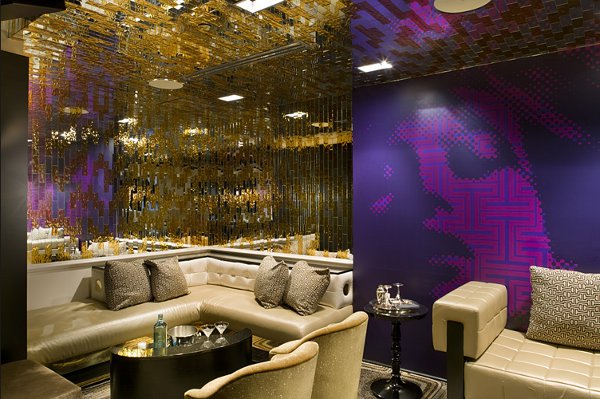 In contrast to the vibrant, vivid designs of the public spaces, the private rooms take on a conservative approach so that the guests themselves are the focal point. The color schemes are more neutral in nature, but are accented with brightly colored items like wall art, bed covers and more. Take the private bathroom shot below, for example. The walls are natural, neutral and warm, yet the bright rosebud prints below the sink level pop in contrast to the room's warm neutrality.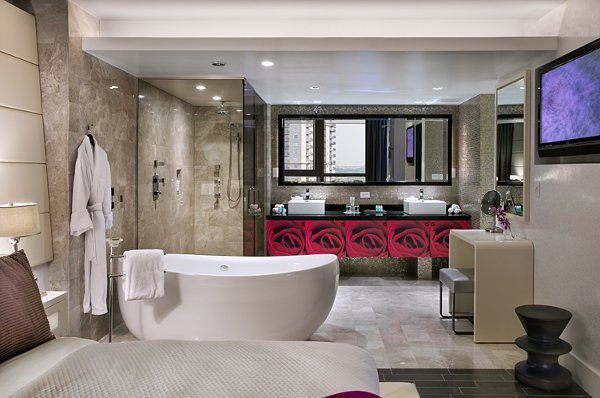 Where design is important, so is location– and the W Hotel in Midtown Atlanta is right in the heart of Atlanta's art district. Another of TheCoolist's Favorite Places, the Fox Theater Atlanta, is just a mile down Juniper Street. Beyond that, Midtown is home to the Atlanta Botanical Garden, the Atlanta Ballet, the Atlanta Symphony Orchestra and the High Museum of Art. For nightlife, Midtown is Atlanta's hot spot, with clubs like Opera, Primal and the Velvet Room, as well as playing host to Atlanta's prime LGBT-friendly nightlife.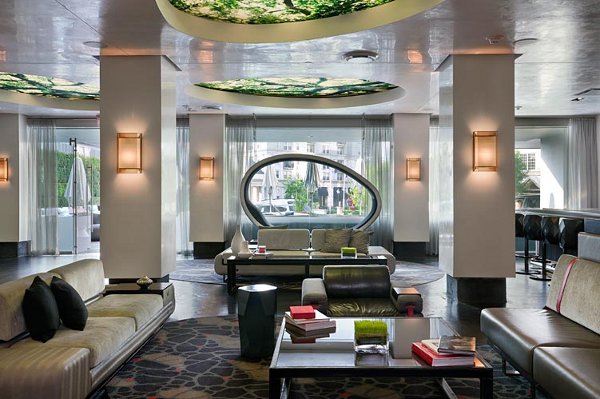 If money is no object, Atlanta's Four Seasons hotel is right down the street from the W Hotel Midtown. Since money is of consequence to us, we selected the W Midtown to round out our series of Favorite Places in Atlanta. But enough about us…
What's your favorite haunt in Atlanta? From concert halls to fine dining to luxury hotels, is there a "can't miss" hotspot that you want the world to know about? Send us a photo by email or in the comments below. We're hungry to try your favorite!
View in gallery
View in gallery
View in gallery
W Hotel: Midtown Atlanta Gallery