If you've been searching for the perfect minimalist watch for your wrist, you need look no further. Today, we review 22 of the best minimalist watches, ranging from the price of dinner to a small fortune.
View in gallery
A pair of jeans is just a pair of jeans until you put them to the test and find out which brands stand up. You could get any compact family car since they all look alike, but smart buyers go with names like Honda, Toyota (including Scion), Subaru, and increasingly Hyundai, Kia, and Mazda, because they won't go all to hell in a few years like some other makes.
The same goes for minimalist watches. You can get one that looks just like all the others, but a good choice does the little things well, looks dashing, and has added features that make it more than just another pretty, plain face.
22 Best Minimalist Watches Sure to Turn Heads
The intent of quality minimalist watches should be to offer versatility in form and function, allowing it to take some of the abuse required when doing basic work around the house or in the garage while having lines clean enough that it can work with a basic tee, a summer suit, or a first date at a Michelin-rated ristorante.
If it also manages to add in a few options for racing, diving, or whatever else you need, then that's just glorious gravy.
When you're ready to upgrade by downsizing, here are the best minimalist watches you could want.
Check Price
Shop Now
Monofore's distinctly minimalistic M01 watch boasts a timeless aesthetic, bringing back the old-school rectangular dials matched with subtly domed glass for minimal shadows and more space. And even the Italian leather carries the simplistic appeal, looking sleek with its stitch-free design.
Monofore is a London-based brand that's fairly new in the market, but its perfect take on pared-back timepieces with a contemporary twist comes with an understated elegance that many loves.
Check Price
Shop Now
Dalgado may be famous for its leather gloves and belts, but its timepieces should be on your radar too. The Dusseldorf-based label brings a small selection of Bauhaus-inspired wristwatches that deserves a spot in your minimalist timepieces collection.
Made in Germany from top-quality Swiss components and a first-of-its-kind German handmade certified organic leather strap, it offers a fuss-free but sophisticated silhouette. Quality matched with exclusivity, with only 25 pieces available worldwide, it would make a great collector's item.
View in gallery
Buy now
Give it the right band, and the Weekender has enough pomp to get you through the door without seeming like an inexpensive piece. Functional stainless steel with a silver polish offers up nice looks, along with 24/12 hour time and quartz movement that saves you scratch.
A slight, silvery steel face that's a mere 37mm in diameter, powered by Japanese quartz movement, and bearing a croc-textured calfskin band right out of the box, the tiny date window and knife-blade slim hands say all you need to, and still make a lasting impression.
Buy now
DW never fails to impress with their no-nonsense build, easy, friendly white faces, and trim, tidy aesthetic. The Reading not only eschews numerals, but offers no date window or chronograph, which makes the rose gold or silver casing and black alligator strap that much more enticing.
Straddling the fence between dress and leisure, offering a handy chrono on the uncluttered face, it's even able to come in at under 40mm for an understated elegance that belies the low price.
Buy now
Slim and slight as any good minimalist watch should be, the Hagen also has the lack of numerals to show that it doesn't need clutter to make a point. Steel and leather, it's masculine by way of cigar clubs and bourbon.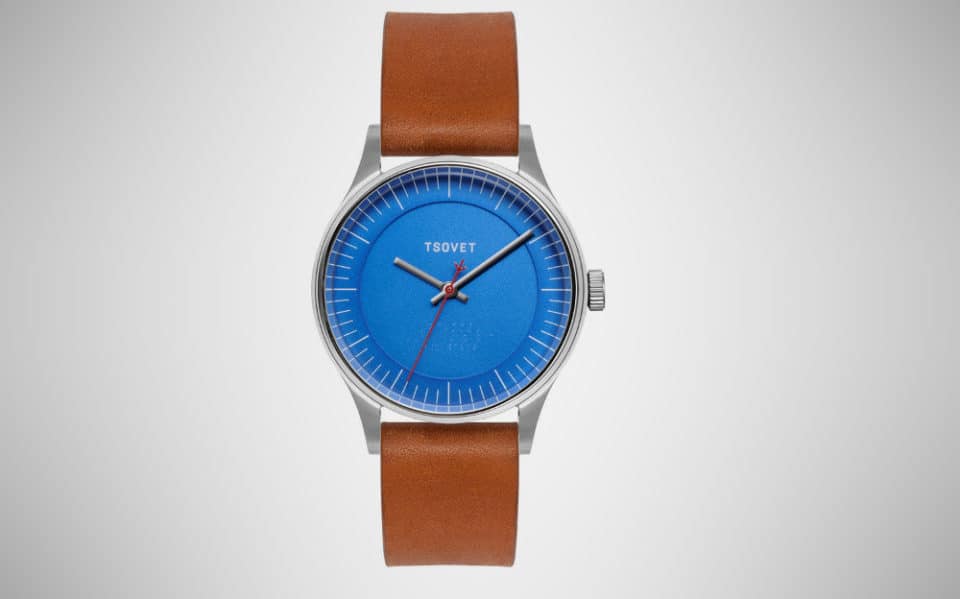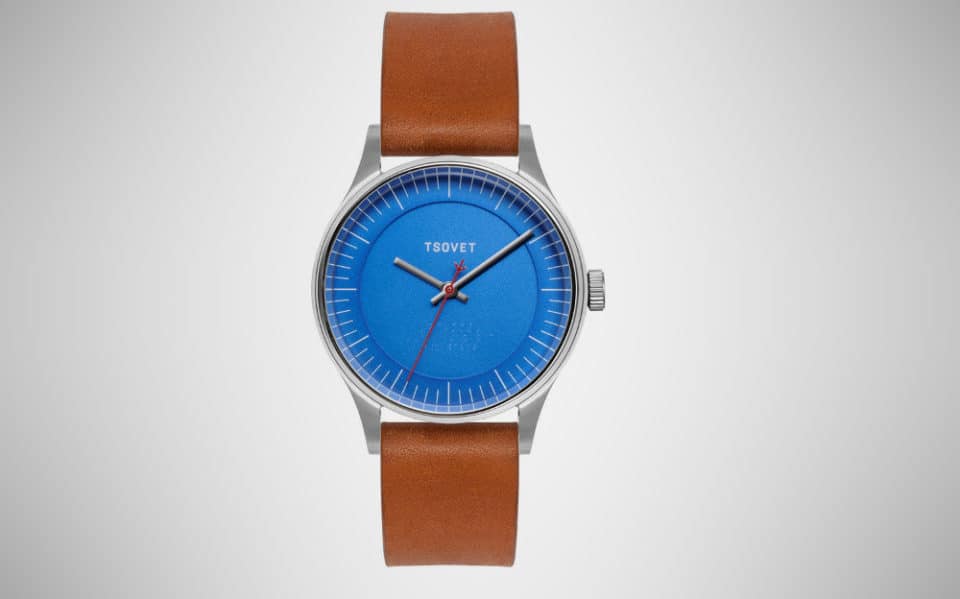 Blind stitching and a deficit of numerals on the front of the colorful face say everything you need while not speaking above a whisper. Sleek and sophisticated, yet offering more personality than basic black and white, it's for the pro with personality.
Movement (MVMT) gets a lot of flak, some of it deserved, but much of it white noise that ignores the pure functionality of these hardy marvels. The Rogue shows that minimal doesn't need to be boring, nor stripped to the bone of added features.
Braun has made a name for itself by devising an endless string of minimalist watches, which are clean and tough, while never less than painstakingly engineered. So, rather than stay with the ordinary, we opted for a digital watch with a minimalist makeup. Tactically friendly and a little blocky, yet terse and uncluttered, it takes confidence to wear, but says you're all business.
Buy now
Vegetable-tanned leather on the band is only the beginning of this basic look that combines equal parts matte and shine that's stark and striking, while followed up with Japanese quartz action that works every time.
Buy now
A strong 50-hour power reserve, and a self-winding operation that also allows for hand-winding and hacking, the "Cocktail Time" refuses to flag or falter in the face of adversity.
Loaded up with more than 200 strap and case combinations, the Bolt gives you a lot of options for customizing the way your watch looks, all of which bear the same smart, sunray dial and Argonite 713 quartz movement.
Originally made out of platinum, the new Klassiks are stainless steel, but bear the same ETA Swiss automatic movement and hand-made construction that marked the original, now for more mass consumption.
Resistant to water for more than 200 meters, backed up by some of the best German engineering out there, the Neomatik is yet another home run from the fine minds at Nomos. Rather than going with tuxedo black, it opts for a fun, Spring & Summer look that has Caliber DUW 3001 movement made in-house.
Made to fit like a second skin, it virtually disappears on your wrist, refusing to catch in all but the tightest of spaces, and forever looking completely in control with its sapphire crystal back that shows the automatic movement, should you ever take it off.
Merely because a watch only has that which you need, doesn't mean it can't bear a bit of functional flair. The Tourbillion skeleton casing gives a glimpse into the inner workings while carrying the undeniable grace, and price of a Piaget.
An homage to Range Rover and using many of the same materials found in the RR Velar, the perforated calfskin band certainly isn't eco-friendly, but the El Primero 400 B movement prized by watchmakers the world over certainly is.
Honoring one of the founders of the brand in a way that would appeal to his craftsman sensibilities, this is how the Swiss acknowledge a life that changed the face of time: with a suave operation that is entirely understated.
An open mockery of the Apple Watch, there's a scant 20 pieces of this made, making it a true collector's piece. It has a unique HMC 324 movement and no branding on the face, creating the most minimal of minimal looks, where the hands stand wholly alone on the vacuum of a face.
For the racer who must have the best, Chanel serves up a helping of Caliber 1 movement wrapped in platinum and sapphire. 240-degree retrograde minute action makes this watch more than unique, but a living conversation piece.
A miniature planetarium on your wrist, it's unlikely you can afford the 18K pink gold case which holds both turquoise and interstellar meteorites from Mars and the moon. Nonetheless, it's astonishing.
Conclusion
So there you have it, the ultimate list for your minimalist watch search. No matter which you choose, you'll stand out with subtle distinction. Spend a few bucks on a Timex, or go all out on a portable planetarium–whatever you prefer and your budget will allow.
Do you have any other recommendations for the best minimalist watches? Something outstanding we ought to feature on our page in a future update? Drop us a line below!