Regional fast food restaurants are incredible. They are also largely ignored by all but the drive thru connoisseurs who know that sometimes to get a good burger, dog, or basket of fries, you've got to think beyond the golden arches and the cowboy hat (that's what Arby's thing is supposed to be.) Each little pocket of the nation has their own contribution to the fast-food landscape, and each one brings a unique flavor that you won't find in the predictable, national chains. Which is why you need to strap in and look at these 21 amazing fast food restaurants you likely have never heard of.
In-N-Out
Until it was unseated by Five Guys, In-N-Out Burger was the top tasting hamburger made by human hands. Though it mostly lurks out on the west coast, the simple menu has all the stick-to-your-ribs goodness that so many boring chains lack.
Zip's
A bit of a throwback, Zip's has a very 50's diner feel to it, but the deep menu, crinkle fries, huge shakes, and constant specials make Zip's a must for both driving through, and sitting down, as they strive to make their dining rooms more enjoyable for the patron who prefers not to eat in their car.
Whataburger
You don't survive in Texas making substandard burgers. Given that Whataburger has not only survived, but flourished in the Lone Star State means they've hit the nail on the head. All beef on a five-inch bun, if this doesn't put a grin on your grill, you're already dead inside.
Culver's
Born in Wisconsin, where brats, burgers, and beer are a way of life, Culver's also has a simple menu of fried fish, chicken, burgers, and the like. Each never-frozen all beef patty is liberally buttered, which is the key to the taste. Wash it all down with their signature root beer, preferably in float form.
Biscuitville
In the south, breakfast is a profound meal. They invented biscuits and gravy, and then added chicken fried steak to that for a heart attack special. Aiming almost wholly at the rich breakfast from Dixie, Biscuitville is well worth the hospital visit to get your arteries de-clogged.
Rita's Italian Ice
In some areas this is called "Rita's Water Ice" which is a Philly thing. Nevermind the name, focus on the gelato, the creamy shakes, the smooth custard, and all the other beautiful, sugary coldness that Rita makes.
Wawa
This is a gas-station convenience store, yet has a touchscreen order menu for building the most delicious sandwich you've ever had in your life. Add in the chips and iced tea, to say nothing of the bread baked right on site, and you've got a magical meal for your road trip.
Bojangles
You haven't had fried chicken and biscuits if you've been eating at Popeye's and KFC. You've had a pale imitation that Bojangles' Famous Chicken 'n' Biscuits seeks to rectify. Fluffy biscuits baked with magic and love complement the slight Cajun bite to the chicken, and the supreme crunchiness of the breading.
Big John Steak & Onion
Ribeye steak, cut thin, grilled with onion and banana peppers, topped off with the red sauce they sell by the bottle, Big John can go hoagie to hoagie with any cheesesteak house right out of the City of Brotherly Love.
Jet's Pizza
Think of Jet's less as a pizza place and more as a house for casseroles that look like pizza. Edges seared with grease, cheese laid on so thick it tries to move on its own, and then there's bread and wings to really ensure you don't move for the next 14 hours.
Steak 'n' Shake
Thin fries that are deadly crispy and massive shakes in so many varieties that you'll almost forget there's also steak to be had here. You can have the steak sandwiches, which are excellent, but make sure you branch out into the whole menu.
Runza
The burgers are fine, but they aren't the story. The story is in a German item called a Runza, also known as a bierock. A yeasty dough stuffed with meat, onions, cheese, and other goodies, it's somewhere between a pierogi, cheesesteak hoagie, and English meat pie. Though, often trumps all three.
Friendly's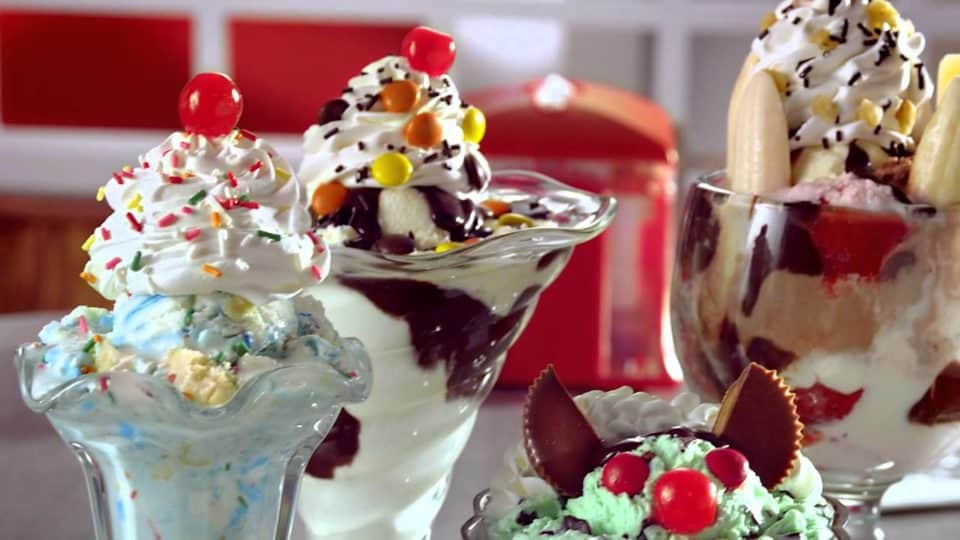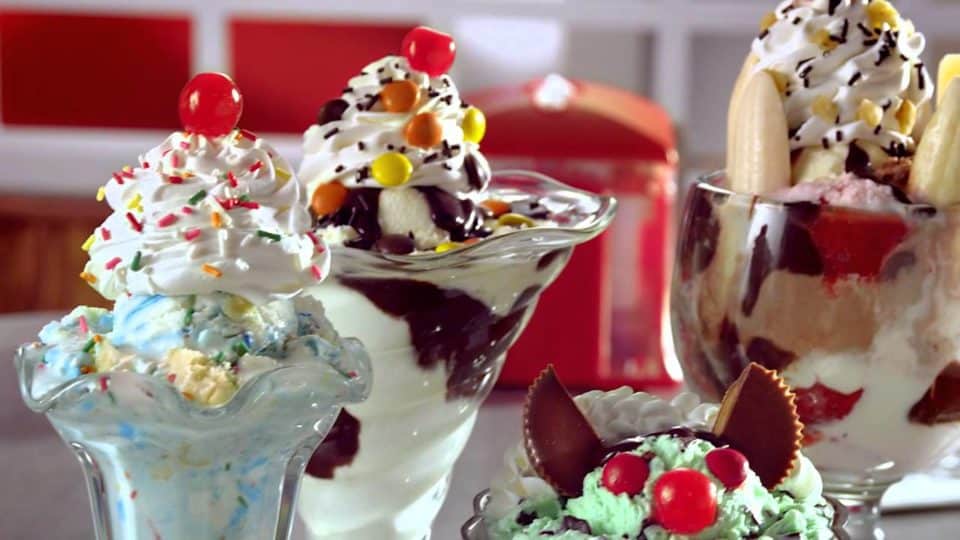 Ice cream is the order of the day at Friendly's. Order anything else, and you'll get a decent meal, but save space for a sundae, a massive cone, or any of the other dairy-based desserts Friendly's has on offer. Then decorate it yourself to be perfect.
Cook-Out
Here's a barbecue place that isn't kidding around. In addition to all kinds of BBQ, there's quesadillas, tacos, corn dogs, and almost anything else you can fry up. Then, get a float with some regional Cheerwine, the cherry soft drink that Pepsi wishes it could make.
Shake Shack
Signature burgers and "concrete" shakes are everything here. There's no specialty or focus needed, as anything is going to be dynamite.
Taco Cabana
We've largely ignored many of the Mexican food offerings, as typically you're going to be better off getting your tacos from a truck than a local restaurant. Taco Cabana is the 24-hour place that breaks from that stereotype, giving you lots of food with loads of spice that has an authentic feel, right down to the shockingly soft tortillas.
Portillo's
A chocolate cake shake so good that devoted foodies will rave about it years later, the hot dogs are charred and loaded, Chicago-style, but there's also pasta done midwest-style with cheese and cream sauce.
The Habit
The Habit wants to take on In-N-Out in the worst way, and they're doing a damn fine job. While the In-N-Out fries are a hot, wet mess, The Habit's are excellent, if not quite exceptional. Add in a simple menu, single patties that are flame-grilled, and DIY toppings, and you've got The Habit.
Taco Time
No deep fat fryer in the world works as hard or does as much as those toiling at Taco Time. Fried burritos are on offer here, with loads of other meat, grain, and tater options that you dip again and again in their sour cream ranch sauce, perhaps adorned with some of the red sauce "salsa."
Krystal
Imagine Wendy's, which is a respectable eatery in its own right, but then add in greasy biscuits full of egg and cheese, burgers and chicken sandwiches that are practically religious experiences, plates of chili cheese fries, and you've got Krystal.
Atilano's
Del Taco tends to get a lot of attention for its late-night drunk food, and we're not going to knock them for what they are. But, we challenge any lover of burritos to seek out an Atilano's and take a gander at their true-to-form Adobada offering, their stacked fish tacos, and even the Tripas and lingua burritos, which are sublime.