The daily hustle requires the right gear, and the best mens backpacks for work will help you carry it all. We review the top 10 work backpacks for style, utility, and rugged durability below.
View in gallery
Though fashion rules tell us that a man in a suit should carry a messenger bag or briefcase rather than a backpack, it's increasingly common for guys living in New York, up on capitol hill, and around the world to use an EDC backpack for work.
The reason is as plain as the Hello Kitty print on your satchel: There's no better way to carry a lot of gear on your person.
Backpacks provide a way to lug all the files and material you need on a daily basis in a way that is kind to your spine, well-organized, and given protection from weather. To say nothing of sitting comfortably while you pedal along as a responsible, environmentally-conscious bike commuter.
The 19 Best Men's Backpacks for Work
The trick with a men's backpack for work is trying to make it look as professional as possible while giving you all the attributes of an attaché case, a survival kit, and even a garment bag should the need arise.
It's an impossible order that is rarely executed well, let alone done with true aplomb, but we managed to track down and drum up 19 working backpacks for men that did their level best to be everything to everyone.
Shop Now
Not everyone spends their workday in a stuffy office. So, if you need a versatile men's backpack that's also professional, check out The Operative Backpack from Percival.
Not only do you get ample compartments for all your stuff. But you also get comfort with well padded and breathable straps. And did we mention how good it looks?
Check Prices
Purchase: $255
Shop Now
With an expert combination of business and pleasure, the Backpack Forrest from Steele & Borough boasts both office and weekend vibes.
Store your belongings in the many interior compartments. Including a hidden zip pocket on the back.
Purchase: $159
Check Prices
View in gallery
Shop Now
Mismo excels at men's backpacks for work. Debuting in 2011, the M/S Backpack is one of Mismo's signature pieces. Adding one to your ensemble will undoubtedly make a statement—specifically, that you have great taste.
Thankfully, Mismo doesn't sacrifice functionality for style. Their M/S backpack contains three external pockets, including an internal laptop compartment. The solid brass buckles add to the fabric's durability. Adjust the front D-rings for heavier carry weights and style the top flap for either a laidback vibe or classic look.
View in gallery
Shop Now
"Sometimes less is more." The Base Bag by Rains nails this concept to a T. Plush yet minimalistic, this backpack is a dark reenvisioning of the classic daypack that's sure to set you apart from your coworkers.
Midnight black with a soft but durable shell, the Base Bag's exceptional exterior is thanks to Rains' waterproof PU fabric. Designed for the modern man on the go, this bag is sensibly spacious. It features a front zipper pocket, a padded laptop compartment, and a large main pocket for all your work items.
Shop Now
A budget back bag for the up-and-comer, the low number of externally accessible pockets is deceptive, as the main compartment is beefed up with nooks and crannies that practically labels each spot for a piece of gear or equipment. Despite the low cost the dual-sealed zipper is tough to penetrate, keeping thieves at bay, and the outside beads up water like a poncho so you're ready for rain, sleet, snow, or shine.
6. The North Face Pivoter
Intended to suit those pros who often find themselves going from the office to the gym and back again, the Pivoter uses a D-door for fast entry to the primary holding area, where sweaty clothes or shoes can go, then a more proficient rear region where your laptop and office accessories can be kept.
7. North St. Davis
What's flat sexy about the Davis is not what it comes with straight out of the box, which is an exceptionally rough rolltop bag, but what you can add in. Rather than requiring you use the pockets and parcels that come built in, North St. lets you put in all the velcro pockets, sleeves, and belts you could want to customize your backpack like you would your corner office.
Shop Now
Here's the pro pack you take when you're jet-setting to a business meeting that may turn into a weekend retreat, or when you just need a full suitcase incorporated with your work essentials. A separate laptop sleeve lets you get at it right from the top with gradually deeper slots that allow you to reach only what you need without having to dig.
View in gallery
Shop Now
As one might expect from the Swiss Army knife maker, the Altmont Deluxe manages to be everything you need in a compact frame. A pair of hidden security pockets on the outside are only the beginning. Delve deeper and you'll be treated to places for your large laptop, tablet, pens, and even keys.
10. Aer Duffel Pack
When you can't decide between the convenience of a wide duffel and the easy, ergonomic carrying of a backpack, you need the best of both from Aer. It's a gym back, a work bag, and a suitcase that works as well as it looks providing a bridge between worlds in a handy carry-on.
11. Everki Atlas
Beginning with the big, padded areas for both a laptop of any size – all the way up to the beefy 17-inchers – and compartments for tablets and phones, each pocket is a treasure trove of stash spots for all your gear. The brilliance of the Atlas is dedicating each partition to a particular task, be it holding office supplies, guarding documents, or just staying hydrated for the road ahead.
12. Incase Icon
Available in both a standard and a slim model, the minimalist exterior of the Icon is meant to go with everything. Padded tech sleeves keep everything in place and well-guarded with a built-in stand that keeps it upright for better packing and stuff management. Right at the base also sits a small pocket with pass-through options for handling your phone with earbud cord.
13. Mission Workshop R6
Technically a field pack, the R6 brings survivalism into the office space with enough places to hide everything you require for a full-blown black bag op, or an extended business trip that goes far, wide, and deep. Admittedly excessive for most with stiff rails to maintain the bag's shape, it's the waterproof warrior you need when your job is more demanding than the typical 9-to-4:15.
14. Booq Cobra
A triple threat of bags that range from the tidy Squeeze to the bigger, denser Pro, each one begins with the assumption that you'll need a secure place for your laptop, as well as the ability to see your entire array of materials while sitting at a desk or table. Standing up or lain flat, these each focus on putting your entire desk into a portable workstation.
Buy now
The leather is vegetable-tanned and capable of being used for horse tack that is right at home on the weatherproof body. Inside the rough-and-tumble outside is nylon lining that won't injure your screens and hides a removable laptop sleeve that lets you decide where your computer fits into the mix.
16. Teranishi Venture
View in gallery
Though it's striking to look at with its multiple leather accents and limited zippers, the Venture is a true titan that uses waxed canvas with a rolltop design to guard your gear against the elements while never looking anything other than dazzlingly professional. Rugged as hell and impossible to kill, it earns its money for the adventuresome expert.
17. Arc'teryx Veilance Nomin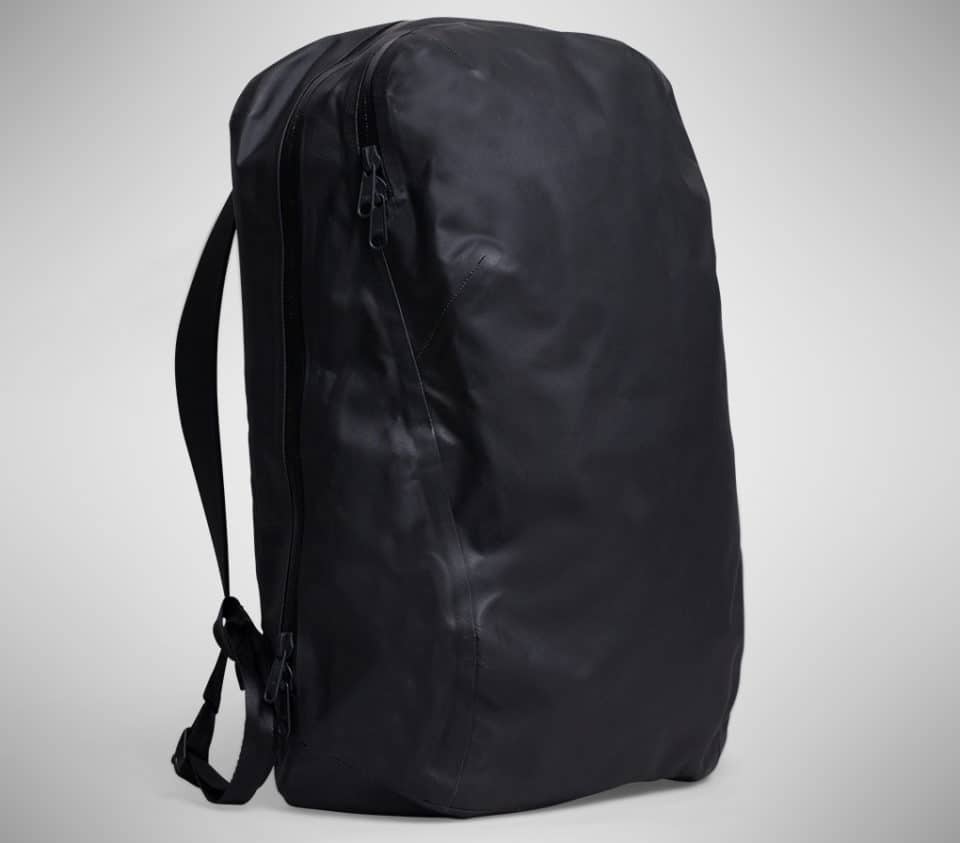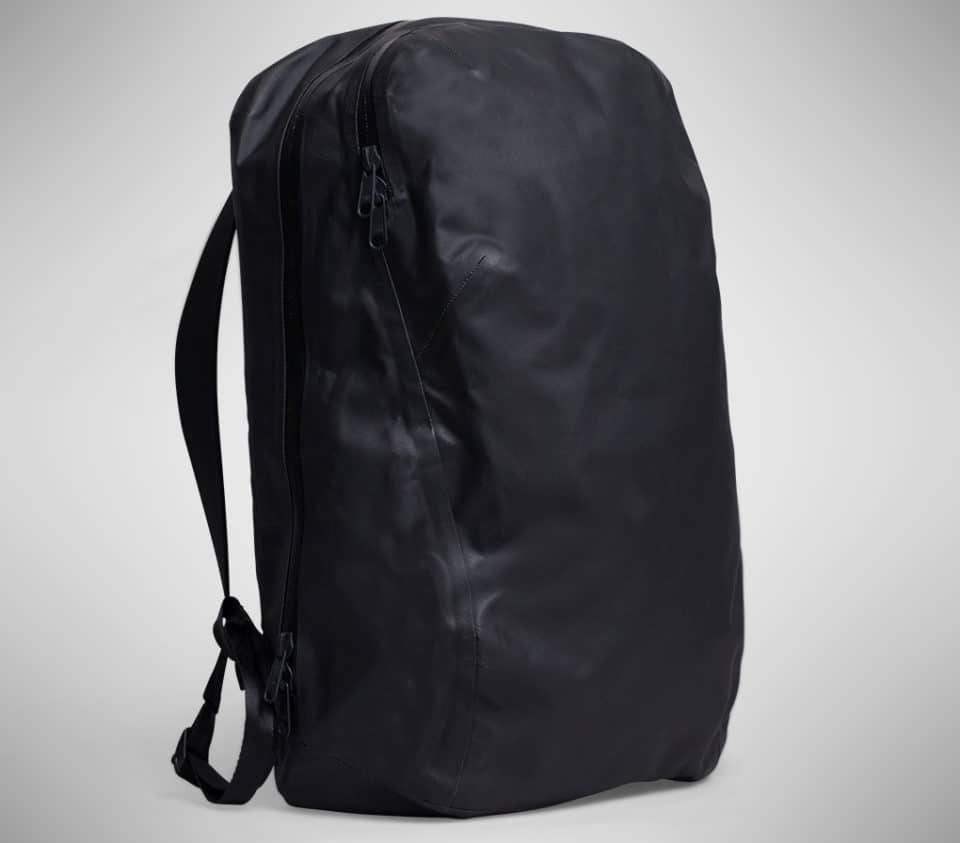 Technically one of the most advanced packs you can get, the dark nylon outside is so free of adornments, it's barely worthy of notice, yet manages to serve up a satisfying experience. The rigid rear is comfortable on your body, keeps laptops and other electronics safe as houses, and can go mountaineering with you as easily as into the boardroom.
Shop Now
Once you don Nation of Nmds' Onyx Backpack you'll be the envy of the office. With a compartment for everything you need from a padded laptop section, a key fob, to a water bottle holder.
And when you're on a business trip, your passport will be safe in its own hidden pocket.
Shop Now
When you first look at The Backpack by Thread and Tonic, the words debonair, and sleek may come to mind. Which is what you want from one of the best men's backpacks for work.
Well, you also want storage space for all your belongings. And you'll get plenty of space, and compartments as well.
Best Backpacks for Work: Conclusion
Having the right backpack is important. Have you found the right backpack for your work life?
If so, let us know your favorite one in the comments!