Before you even have the steed in your garage, the top two pieces of gear you need prior to hopping on a bike is a helmet and a motorcycle jacket. You keep all your most precious meat in your head and torso, making protecting them priority numero uno.
View in gallery
To leave home without this basic coverage is to play a fast game of Russian roulette. Plus, you look like a jackass riding around in your T-shirt and chinos, so take the basic safety precautions and keep all your squishy, wobbly bits on the inside. Your family with thank you when they don't need a spatula to put you into your coffin.
Stylish, Cool or Armored Jacket?
Being exposed to weather and being comfortable can affect a rider's performance as much as how well-tuned their bike is and how good the road conditions are. Just because you can't text and ride – unless you're a straight-up idiot – doesn't mean you won't be distracted and thrown off your game, leading to a crash.
And anyway, people who ride don't say "when, not if" you'll lay your bike down for nothing. That's why many swear by armored gear, and they're not wrong for it.
However, the horrible truth is that not everyone who likes motorcycle jackets actually rides. And that's okay, there's a market for them too–and a lot of crossover between the two sides, besides. Below, we're taking a look a variety of motorcycle jackets for any style or purpose.
ALSO READ: 16 Coolest Hoodies for Men
ALSO READ: 20 Best Down Jackets
Best Motorcycle Jackets You Can Buy
Motorcycle jackets are meant to prevent that disaster from ever happening, as well as protect you when it does. Plus, they look way more badass than your ironic bowling shirt. So suit up and get out there with the 14 best motorcycle jackets for looks, safety, and comfort + 2 more bonus models.
We've rarely met a casual rider who wanted to stay that way, but those who like hitting the track on occasion, or taking their ATV out, but aren't in need of more than the basics need look no further than this standard armored piece. The HHR Enduro Waterproof Jacket features 100% waterproof with its 600D Cordura mated with a sealed Reissa membrane. It'll keep you dry and reasonably so at all times while remaining breathable, all for a modest investment.
Waterproofing, a thermal liner, and deep-seated protection loaded up from the word go gives the Milano an edge for any cold-weather rider who is trying to get on the road with weather and wetness durability without a crippling price tag.
Check Price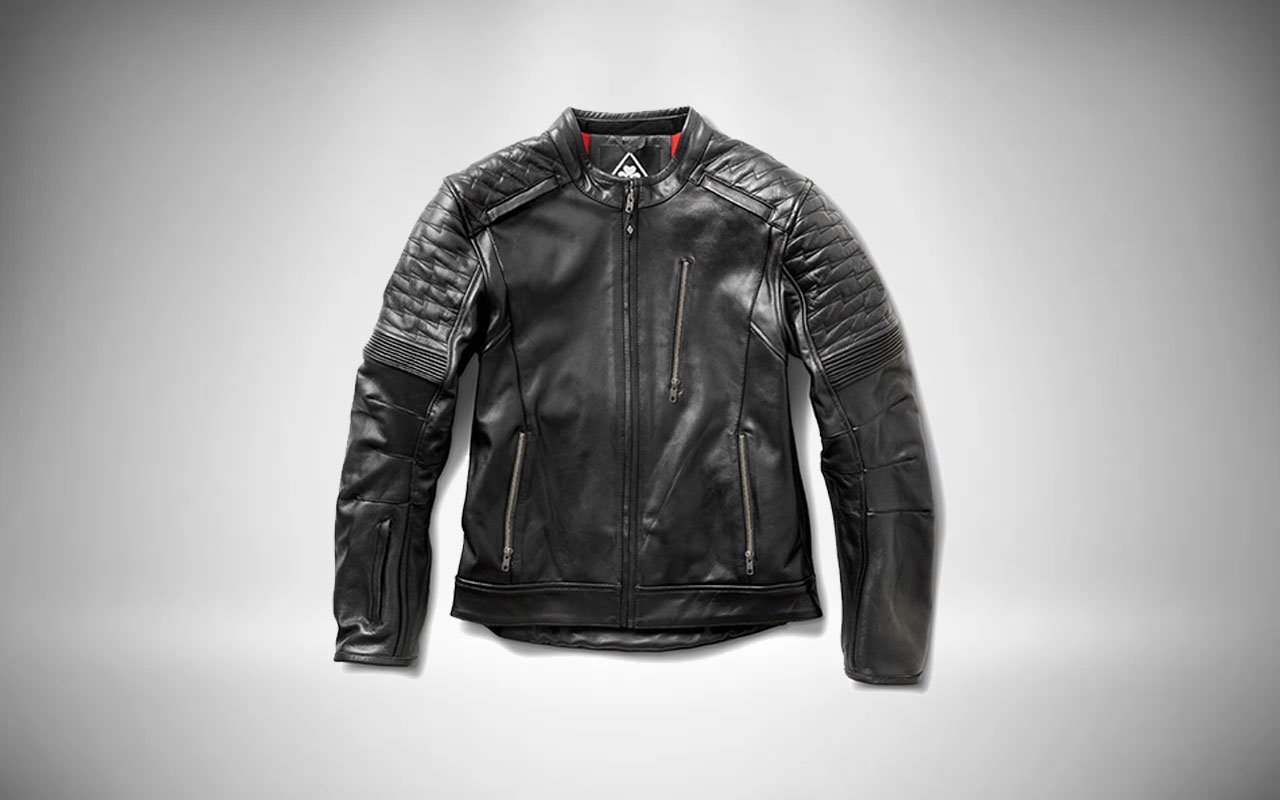 The name says it all; why rely on luck to save your skin when you can don protective armor AND look good doing it? The F@#K Luck Jacket from Roland Sands offers premium vegetable tanned race-grade leather, zippered vents, and KNOX Micro-Lock armor on the shoulders and elbows for effective protection. Yet it all comes together in something far more fashionable than the sum of its practical parts.
Purchase: $720
What's glorious about the Air-Frame is that it has lots of airflow for those long, hot summer rides, but also comes with a whole range of inserts that cheat cold and flow so you can eke out as much or as little warmth as you need while still getting plenty of permeable protection.
Klim's aptitude in the aggressive sport world takes a back seat on the Induction, showing that they can make a kinder, gentler piece of equipment on the outside, that has all the hard-hitting carbonite mesh super duty construction that they've brought to bear in the past. It's an all-day, 3-season, warm weather bomb-stopper.
Here's more what riders have come to expect from the Klim name. Dual layers of Gore-Tex made for cold weather riding, the updated and upgraded Traverse is meant to keep water and wetness at bay while offering layering options for not only riding, but any outdoor sports you choose to attack when the temperature drops.
#7 – Saint Unbreakable Denim Shearling Collar Jacket
View in gallery
When Saint says Unbreakable, they aren't just mouthing it at you. You'll get some plain jane cotton denim in the mix, but the real frosting is the Dyneema's 66% UHMWPE fibers that are rated at 20 times the tensile strength of standard denim. It's a long haul chunk of gear.
Price: $500
Honoring the first Bell helmet ever made by the iconic brand, only 250 numbered Bell x Schott 60th Anniversary jackets are made, but they're amazing jackets that cram decades of motorcycle progress into a single garment. 100% horsehide bearing a bi-swing back and underarm footballs, there's also a pile liner for heading out into the autumn and winter weather.
#9 – Iron & Resin Mojave Jacket
Check Price
A three-seasoner that is built from 14.75 ounces of waxed cotton canvas, the center zipper is all brass and swings both ways. Outfitted with an array of button pockets and a corduroy-accented collar stand to complement the custom Klamath pattern liner, it's hard to find a bad time for this beauty.
Price: $350
Dainese tends to grab the European market with liners that can't be removed. Here they've added in a totally removable Gore-Tex interior with plenty of waterproofing, a soft shell interior right in the box, and the outer shell with massive chest vents that offer the ability to ride even when the sun shines. A lot of bang for your buck.
Wrapped in a bomber jacket aesthetic thanks to the Nubuck leather, you won't be able to wrangle much airflow out of the Firebird, but it will give you armor at all the joints and gobs of protection from wind, rain, snow, and possibly falling brimstone, making it good for those who really ride in all conditions.
To say Schott's Perfecto is iconic is an understatement; the classic biker style jacket is an institution in its own right. It doesn't have any armor, but calling the Perfecto mere fashion leather is fightin' words. Made in the USA with the same naked steerhide leather and indestructible nickel plated hardware for well over half a century.
Check Price
From a company that has forgotten more about motorcycle jeans than most will ever know, it's possible the Revolution is the perfect denim motoring jacket. It's simple, breathable, yet water and windproof with a non-abrasive exterior that doesn't catch or snag and a fit that's all casual, until it isn't.
Purchase: $700
Check Price
Odds are you already have some of Buck Mason's incredible American-made gear in your closet already. If not, it's your loss and time to step it up. That 6 oz. calf hide made in striking black is downtown chic with a belted front and slash pockets that bring classic moto jacket function home to roost.
Purchase: $495
Extra Layers Under Your Motorcycle Jacket
As a bonus, here are two accessories for both style and safety minded riders to go with your motorcycle jacket:
Not truly a jacket, but a vest airbag system, there's little else out on the road that can compete with this simple sensor array for rider safety. The Tech Air Street is capable of inflating in a tenth of a second, it protects your chest, shoulders, back, and precious kidneys during a crash, all without needing to be tied to a particular bike. Not in the US yet, but just wait.
Check Price
Langlitz is legendary for their quality leather, and we could have featured any number of their motorcycle jackets. Instead, we're shining the spotlight on their outstanding line of custom leather vests. There are a ton of options ranging from practical to out and out badass, but all go into some of the finest made-to-order biker vests out there.
Purchase: Various
Why You Should Always Wear a Motorcycle Jacket
There's more to strapping on your bitchin' leathers than the average rider takes into account.
Like a good pair of jeans, they are designed not only to protect your primary impact points during a crash, or when you're forced to lay your cycle down in the street, but also to enhancing your ride.
Parting Words
Which is your favourite motorcycle jacket? Did you get any from our list? How did they pass the test of time?
Did we miss anything? Hit us up in the comments below and we'll try to asnwer asap.