Nowhere in California has better year-round weather than San Diego. In San Francisco, you're going to get fickle winds and that bay spray that can be downright daunting. Los Angeles has air you can cut into bricks and take home, so while it might be warm, it isn't always paradise. Only the beautiful beach city of SD brings the sunshine and the ocean 365 stellar days out of the year. This might enable you to hit the beach, but for a less crowded, less sandy, and more totally intoxicating experience, we have another suggestion: Rooftop bars.
America's Finest City has a rooftop bar scene that is charming and satisfying, bringing in a little something for everyone. Before you head out to get your libations, here's the 17 rooftop bar stops you need on your list when drinking in San Diego.
Amplified Ale Works
Location: Promenade at 4150 Mission Blvd
A wee, squat building that isn't going to dazzle with sweeping skyline views, Amplified more than makes up for its height by being just steps off the beach. It bears along some sweet ocean breezes that complement the homemade beers nicely. Have a kebab and a Treble Tripel, and we'll await your thanks.
Cannonball
Location: Belmont Park at 3105 Ocean Front Walk
Another short-round that gives you an unobstructed view of the Mission boardwalk, Cannonball is the sort of rooftop bar you just don't leave. The craft cocktails are delicious, and the sushi is good enough to keep you seated, though expect to fight tourists for elbow room.
George's at the Cove
Location: 1250 Prospect St, La Jolla
A much more hidden gem due to its location at La Jolla, George's is where you head to escape the crowds while enjoying a look at the Cove. For drinks, any of their unusual vodka infusions is well worth your time, while a few spins on old favorites add uniqueness to the tired cocktail scene. We humbly suggest a California Caipirinha.
Altitude Sky Lounge
Location: Marriott Gaslamp Quarter, 660 K St
22 stories up, and located in the slamming Gaslamp Quarter, the Altitude is attached to the Marriott, but you need not be a guest to enjoy its splendor. It gets packed during Padres games, so we recommend going during the week when it's business locals and a shot of the skyline worthy of a selfie.
Level 9
Location: 509 Ninth Ave
A killer Gaslamp district place to either wind your night up with happy hour specials, or blow it out after the sun goes down. Local Karl Strauss beers flow freely here, and their signature sipping menu leaves little to chance. For the sophisticated: a Blue Indigo Martini is the only order you need.
Hello Betty Fish House
Location: 211 Mission Ave, Oceanside
A little down-home seafood goodness right at the edge of San Diego county, Hello Betty doesn't bother with frills, because it doesn't need them. Stuff your gut with oyster tacos, then slide up to the deck for draft beers, drinks, and a sunset spectacular.
RoofTop600
Location: Andaz-San Diego, 600 F St
There's never a bad time to hit the multi-faceted RoofTop600. Beginning at 6:30, there's breakfast with private cabanas, then a bevy of sunbathers take over the pool area, offering eye-candy all around. At night, DJs spin hip-hop, top 40, and EDM making this space an open-air nightclub worthy of note.
LOUNGEsix
Location: 616 J St #101
True to the name, this is a place to unwind with cozy fire pits and idle chatter over Pear Flower Lemonades. The view of Petco Park is as relaxing as the laid back company, far from the ratrace woes.
The Glass Door at Porto Vista Hotel
Location: 1835 Columbia St
Refined, elegant, and offering up a view of the harbor that you just won't find anywhere else, there's indoor and outdoor drinking and eating available at The Glass Door. Perfectly situated in Little Italy, it's a mixture of novel and antiquated that shines.
Rustic Root
Location: 535 Fifth Ave
Those who want locally sourced food and craft cocktails devised by master bartenders, all set in a Gaslamp quarter setting, need to have this natural delight in their life, now.
Fairweather
Location: 795 J St
Fairweather rides astride the Rare Form Restaurant & Deli. It does an admirable job of sweeping people off to island paradises with stiff mai tais, piña coladas, and zombies, along with plenty of other fruity concoctions that come with useless umbrellas.
SummerSalt
Location: 1047 Fifth Ave #101
On the 4th floor of the lovely boutique Hotel Palomar, SummerSalt allows pool access and sunbathing each day, then switches gears to become a nighttime party using the pool as the centerpiece. If you wish to imbibe, the bar is always happy to accommodate you.
Bertrand at Mister A's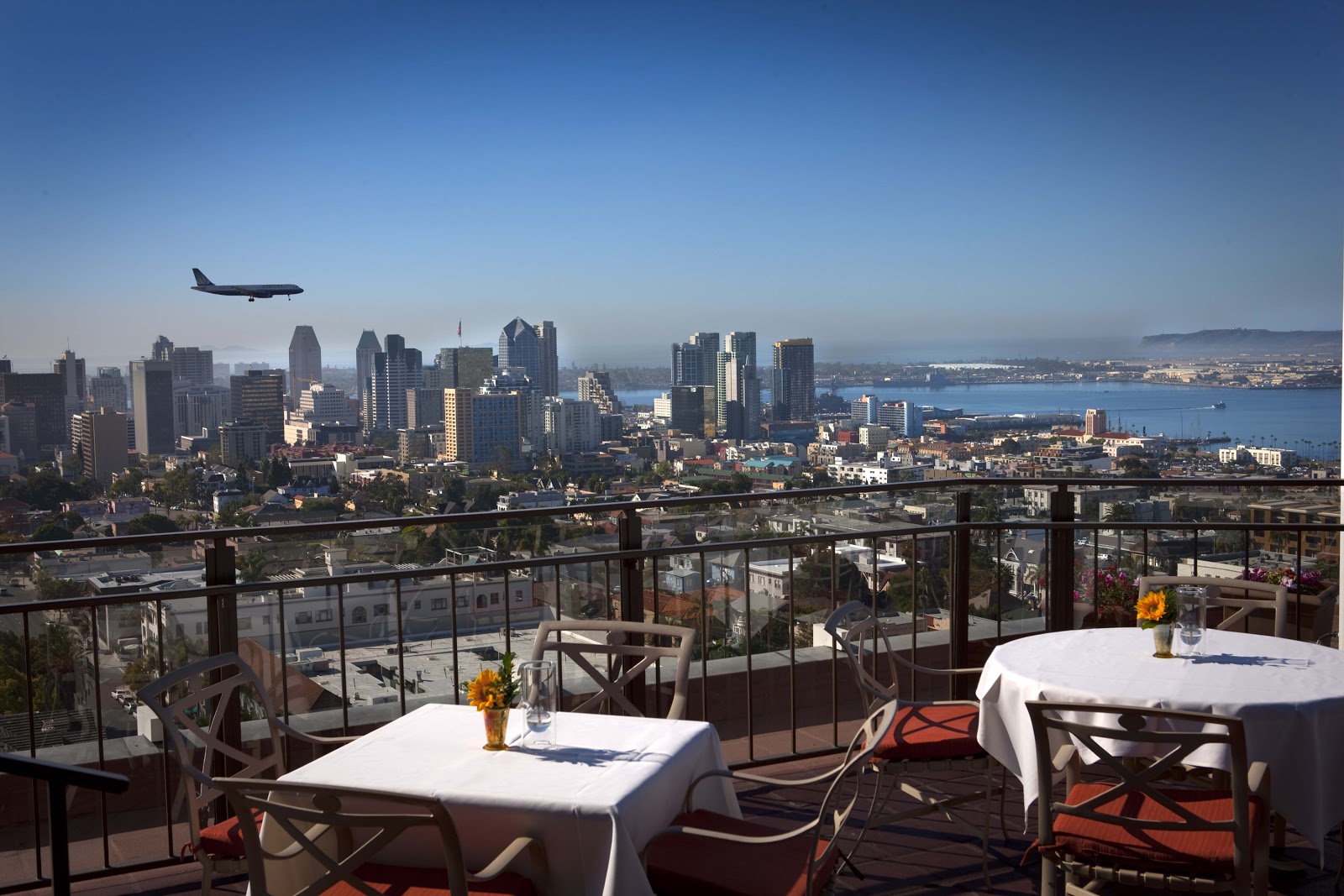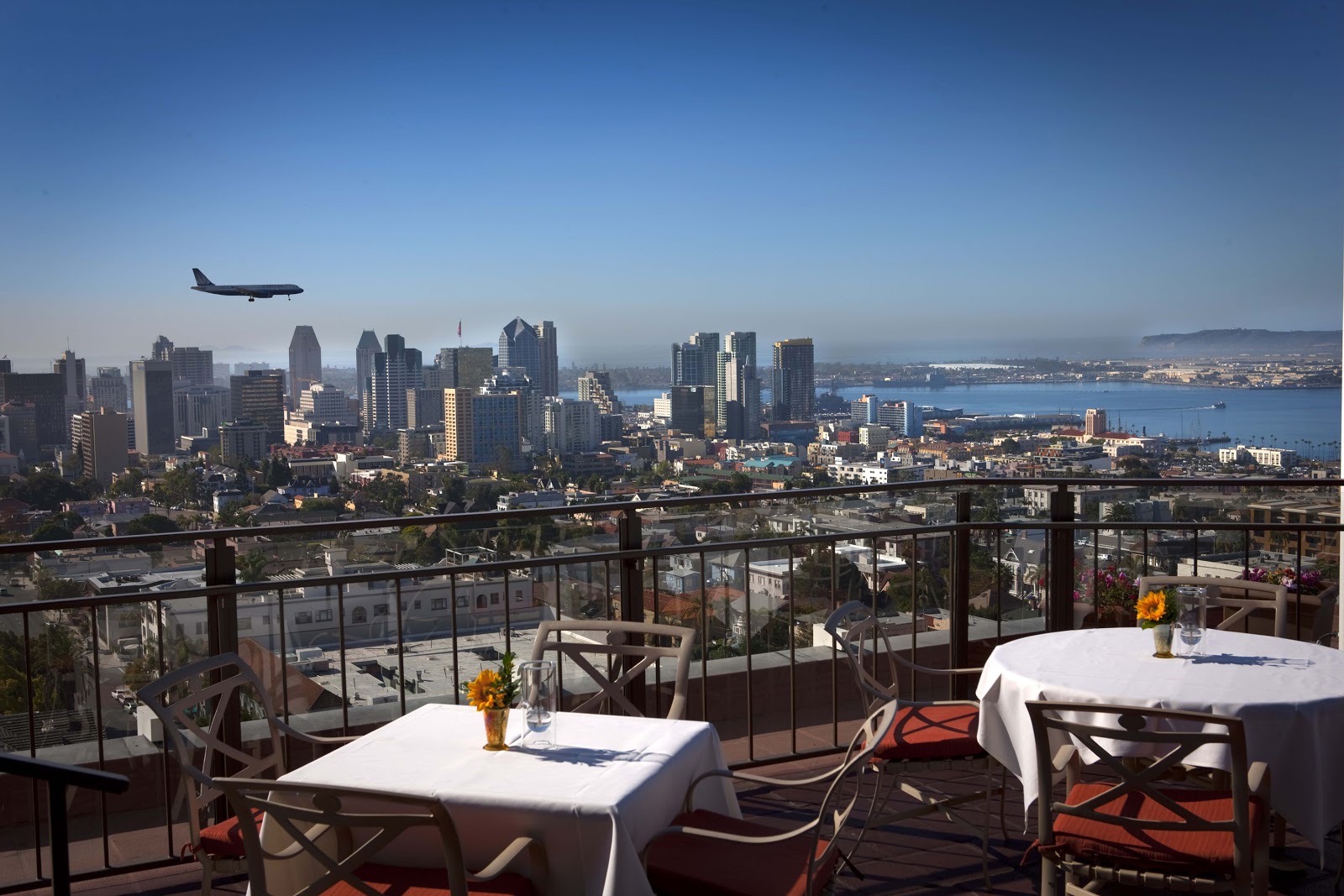 Location: 2550 Fifth Ave
A little ways outside of downtown, there's nothing that compares to the view of Mister A's. Big ol' jet airliners will ride past on approach and departure, using the ocean as backdrop with the city skyline showing off its wares. The hype is real, with the food and drinks perfecting the tableau.
FLOAT
Location: Hard Rock Hotel 207 Fifth Ave
An oasis on the 4th floor of the Hard Rock Hotel, FLOAT follows the San Diego suit by being a lounge during the hot hours where iced drinks are constantly being poured, then takes advantage of the night by turning up the volume and becoming a raging nightclub complete with cover charge.
OMNIA Nightclub
Location: 454 Sixth Ave
Primarily built for the bottle service crowd who like high prices and loads of jarring sound, there's little in the way of lounging to be had, but plenty of sweaty gyrating and shots to lube up your gears.
The Rooftop at W San Diego Hotel
Location: 421 W B St
Lay back and take in the night on any number of the long couches and comfortable chairs that beg for you to ease into a boozy slumber. Slow things down by sipping on a W Mule, staring into the giant fire pit and just letting go. For more privacy, curtained seating helps lock you away from prying eyes.
Kettner Exchange
Location: 2001 Kettner Blvd
Serious drinkers who have honed their palettes owe it to themselves to visit Little Italy's Kettner Exchange. Boutique wines, self-serve beer taps, individualized classic cocktails, and craft drinks devise a rich way to put down all the fermented glory your senses can take.