There is one symbol notably lacking from ancient hieroglyphs: The waffle. Our ancestors didn't yet know about waffle irons, and therefore couldn't comprehend the glorious vistas that awaited humanity. That is ultimately why they died out, leaving behind their sad little pancake griddles and fossilized tears. While they did have flat obleios or wafers, it wasn't until about the 13th century that anyone had the chutzpah and mechanical wherewithal to figure out that making flaky pastries in the shape of honeycombs created a new kind of deliciousness; ushering what is historically known as the Vafelzoic Era, known today as the Age of The Waffle (called The Age of Enlightenment by some).
The original Wafla comes from old french, and it means, literally "a piece of the hive of a honeybee." Generally, the invention and popularization of the waffle is given to the brilliant Belgians whose thick, deep pastries are still a speciality. In truth, crude waffle-making implements have been found in many areas around the world, with some of the oldest existing the the Mediterranean.
Though the history is interesting, it doesn't actually matter. What does matter is that the waffle is here and if you want to whip some up, you need to grab yourself a baking iron that can do the job. Hence: The 15 best waffle makers in the world.
Proctor Silex 26070
Straightforward and lacking in even the most basic frills, you'll find this compact little workhorse cuts all the right corners for those who want nothing more than the simple things. Forget about much in the way of dials, settings, or refinements. It's breakfast, not brain surgery. Purchase: $22
Cuisinart WMR-CA Round Classic
As quaint and compact as a hobbit house, those who prize space but still want a secure, predictable set of shallow, American-style waffles need not look further than the WMR-CA. Little will break, but having Cuisinart's backing means that should something go awry, a replacement is never far off. Purchase: $26
Hamilton Beach Belgian Waffle Maker
Slow and steady, Hamilton Beach hasn't mastered the speed of other units, making patience a required virtue. Thankfully, what it lacks in fast-twitch action, it makes up for by offering even, exquisite waffles time and again. Purchase: $30
Presto 03510 FlipSide
Made with a rotation mechanism that always spreads batter evenly across the grid, the FlipSide stops scorched sides and lopsided cooking and brings in a smooth operation and countdown timer that lets you know precisely how long until breakfast is ready to go. Purchase: $37
Oster Flip Nonstick Belgian Waffle Maker
Even cooking, consistency, and a reasonable price help make Oster's deep dish iron an easy choice for those who want simplicity. The small footprint and modern styling permit it to blend in and work even if you're living in a Brooklyn studio closet. Purchase: $38
Star Wars Death Star Waffle Maker
It's easy to buy into the Star Wars gimmick and overlook the actual cooking portion of the program, but that's not the way to do things. More than just making waffles that look like everyone's favorite weapon of mass destruction, the unusual grid pattern helps crisp flat portions of your waffles while retaining moist insides that meet with approval by 5 out of 5 people with mouths. Purchase: $40
Black & Decker G48TD Grill and Waffle Baker
A Swiss-Army machine, the G48TD isn't going to be the best waffle maker you've ever used, because it's also a griddle and flat-top grill should you need to make sandwiches or change over to flapjacks. While most all-in-one solutions do everything badly, this manages to keep all the balls in the air with a respectable level of aplomb. Purchase: $48
Chef's Choice WafflePro Express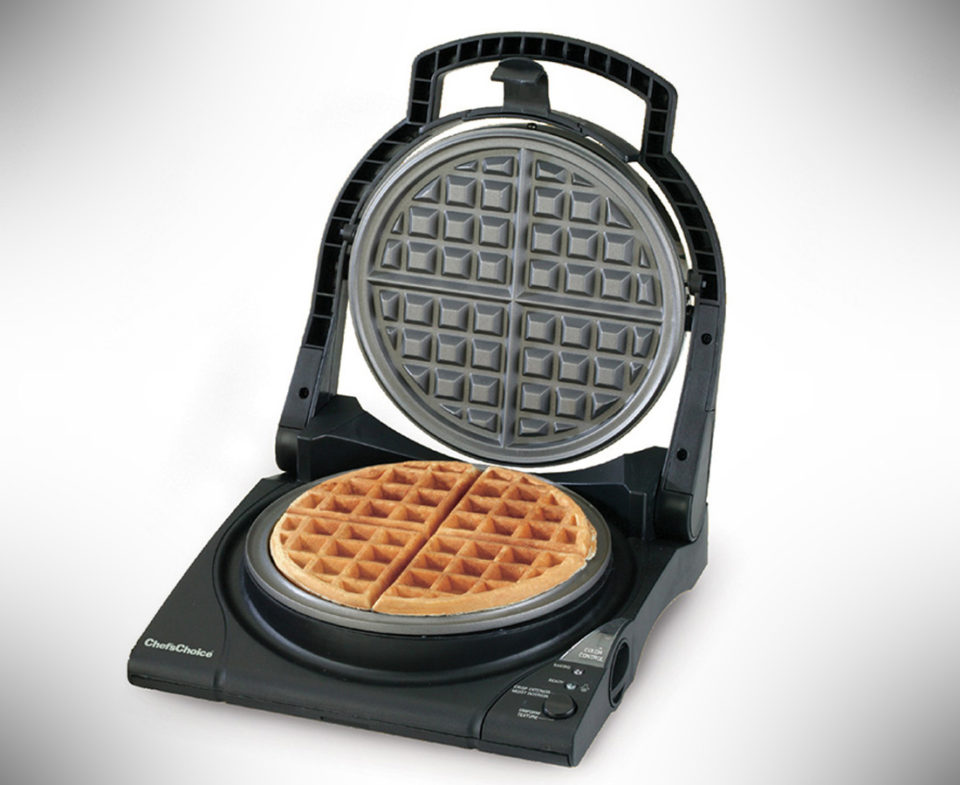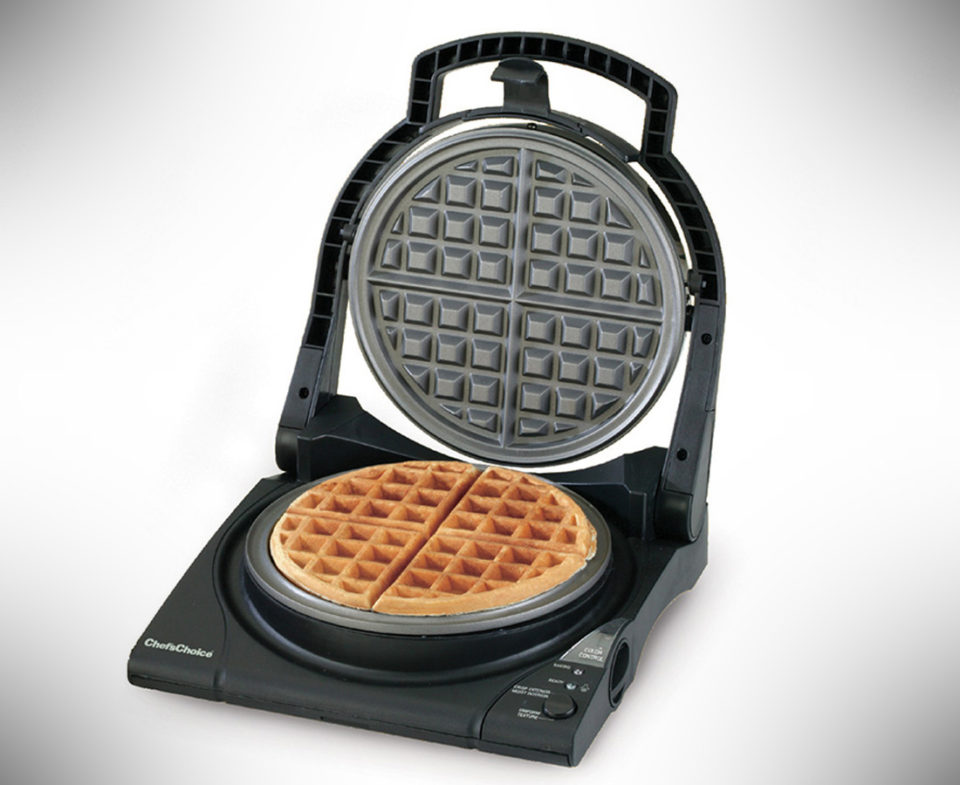 A sleek drip-catching groove around the edges along with your choice of Belgian-style or the shallower, sexier, 5-of-hearts cutout provide a little more variety than you'll get with your standard baker. The top lid floats to stop smearing and pressing, and the modes include deep baking or crispy/moist to suit any palette. Purchase: $70
Waring WMK600
A turn-and-churn waffle manufacturing piece of hardware, Waring has managed to remove much of the wait time from the baking of Belgian waffles by providing dual-duty sides that permit you to pour and cook in tandem. For a mid-range maker, this comes correct. Purchase: $84
All-Clad 99012GT Stainless Steel Classic Round Waffle Maker
The key component to the Classic Round is the steam release on the top, which makes the outside crispy and prevents sogginess from every becoming an issue; as it is with side-vented models. Purchase: $100
Proctor Silex 26016A 4-Piece
It takes a little while to get hot, and the plates don't come off, but otherwise this is a stellar choice for those who have a lot of real estate to fill. It's a big mother meant to make a whole stack of square syrup-catchers at a time. Using a little ingenuity, you can also put that bulk to good use for hash browns, cinnamon rolls, and whatever else you have laying around. Purchase: $112
All-Clad 2-Square
Intuitive and kind to the chef who prefers to throw in fruit, nuts, or chocolate chips to their batter, the 2-Square only requires the barest of know-how from the cook to pour and prepare time and again. Just know that quality takes time, and All-Clad is all about quality. Purchase: $157
KitchenAid KPWB100OB Pro Line Waffle Baker
Professional grade means sacrificing some counter space for this hefty beast of a baking pan. Using a dual set of irons for faster cooking, KitchenAid's Baker is a true power hog that makes buttery batter into delectable dishes with ease. Honestly, if you want one waffle maker to rule them all, spend the scratch and go this route. Purchase: $220
Breville Smart Waffle
A handy triple threat that can make buttermilk, Belgian, and classic waffles, there's little this Smart piece from Breville can't handle. A deep trough around the edges catches excess batter for less mess, and the stainless steel body with aluminum cooking plates makes cleanup quick and painless. Purchase: $229
Calphalon No Peek
Though waffle irons aren't a complex appliance, they can be temperamental, especially after a few years of abuse. If you're used to making waffles by pressing a button on your toaster – for shame – and haven't yet broken into the delicious world of home-baked waffles, then the Calphalon is here to hold your hand. It is the least troublesome of any waffle maestro we've ever seen and cuts out much of the human error element. Purchase: $260