Gentlemen, even if you travel for business like a baller, there's no need to have loads of luggage. With the right weekender, AKA duffel (or perhaps "duffle"), you can live in total comfort and never once sweat the nightmare of checked baggage. Finding a bag that has all the space you need in a compact body, which also looks good and is comfortable to carry is akin to finding an ice cream bucket at a ballet academy, but it's possible. There's thousands of duffel bags that claim they can do the job, but somewhere they fall, and fall hard.
So you don't need to endure the hellish nightmare of trying to make do with the wrong tote, we jumped on jets, went car camping, attended endless meetings, and ultimately discovered the 18 best weekender bags for men who need a sack that's suitable for all occasions.
H&M Cotton Canvas Weekend Bag
Pretty, Cheap: A tiny drop in the monetary bucket when compared and contrasted with many of the items on this list. The H&M has a wee price tag, but it doesn't skimp on quality, and the supple cotton canvas doesn't disappoint when it comes to lasting long, going hard, and coming out a winner. Purchase: $30
Fred Perry Men's Classic Barrel Bag
Dominatrix: That shiny black exterior is pure PVC that won't let the smells, wetness, or sins of the world find their way inside. The interior is soft polyester that cradles your goods, creating a weekender bag that belies its small expense. Purchase: $58
Beckel Canvas Products War Bag
Grab & Go: Made to be the maximum size allowed on most airlines, the War Bag doesn't waste space with pretty accoutrements, but offers up a hefty satchel for weekend warriors. 20 Canvas and dense cotton webbing give it structure you can sink your teeth into, though you have to buy a shoulder strap separately. Purchase: $75
Herschel Novel Duffle
Thinking Man's: A quaint shoe compartment like a gym bag where you can also stash a flask or two starts off this masterpiece with a bang. A few dozen colors and patterns let you mix and match to fit your personal chic, yet it's more than a pretty face. It'll get there and back without ever losing its cool. Purchase: $85
Everlane The Twill Weekender
Battered Hero: Twill is the thinking man's answer to denim. Like a quality carry-on, this can go into the most restrictive overhead compartment, resisting water at every turn to keep your gear and goods safe as houses. From going on a boat to the wilds to your 5-star suite, it never goes out of style. Purchase: $98
Owen & Fred Work Hard, Play Hard Duffel
Sensible Style: Owen & Fred ride the fence between the steady workmanship you'll find in quality American products, along with the dapper appearance that denotes many European imports. This mixture is evident in the simple, elegant, unpretentious Work Hard, Play Hard.
Purchase: $115
Fjallraven Duffel No.4
Inside, Out: Probably the most versatile bag on this list, the No. 4 has an unassuming moniker that hides a Swiss Army knife mentality. The handles are meant to be slung over the shoulder, kept in hand, or even repurposed to turn this weekender bag into a survival backpack should the creek rise and the bombs drop. Purchase: $109
Nixon Holdem Duffle
Back to Basics: Not only does Nixon design their bags to the nines, they also put in as much time testing as they do constructing. The canvas body is PU coated to keep elements at bay and ballistic nylon on the bottom ensures no points of ingress. Purchase: $150
End Clothing Apolis Mason Courier Bag
Work & Warfare: An aluminum frame provides the base of the 100% Cotton 10oz Army Duck exterior complete with Heritage Leather accents. The Apolis is made to be taken into the bush, behind enemy lines, and keep all your goods, gear, and tools at hand for quick action against long odds. Made in California, it's a home-grown hero. Purchase: $189
Joshu+Vela Duffle in Safari Tan Wax
Elemental: You can't make many mistakes in the world of waxed canvas, but few get it quite as right as Joshu+Vela. Made right at home in the land of San Francisco, vegetable tanned leather mixes with dyed and finished canvas for a world-weary look that's ready to survive the storms of life. Purchase: $245
Duluth Medium Sportsman's Duffel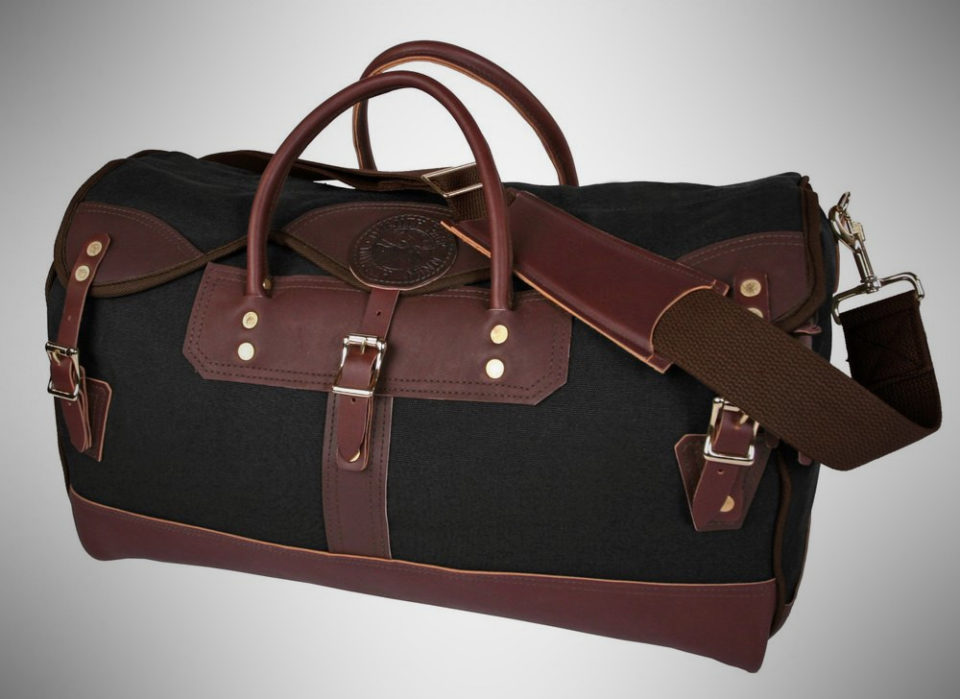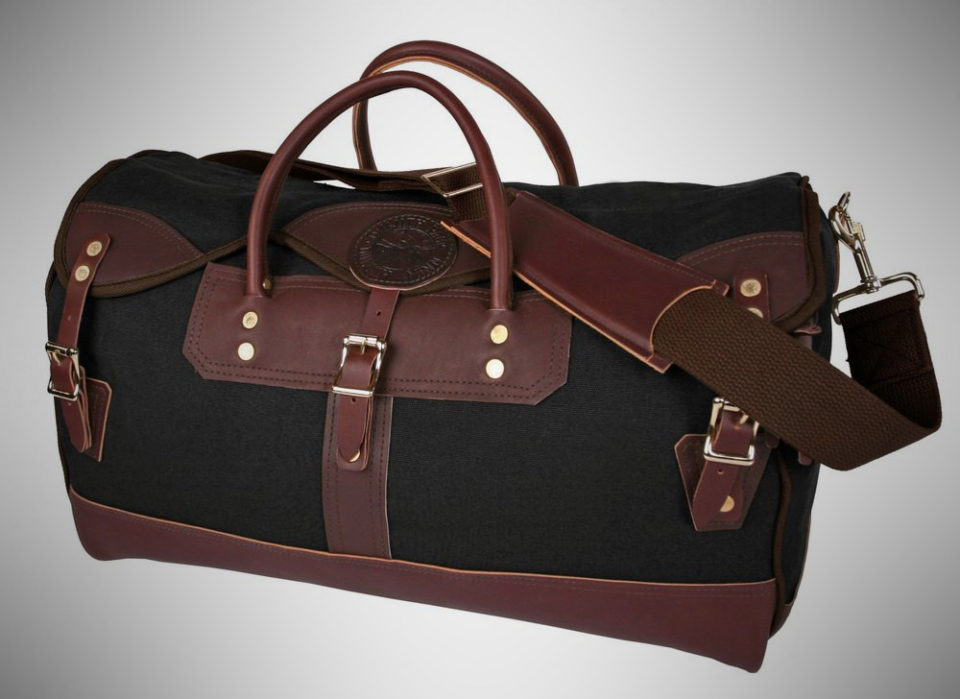 The Huntsman: Leather and brass show just how much machismo one bag can hold, with 18-ounce canvas covering the broad strokes. Made in the USA, it's tough to find much in the way of flaws. Purchase: $325
Filson Duffle – Medium
On the Range: The best friend of the outdoorsman, Filson's duffle defines rugged masculinity, with a wise inclusion of supreme stylishness. As far as weekender bags go, you probably won't find a better sidekick than this twill and bridle leather rucksack. Purchase: $395
Jack Spade Tech Oxford Travel Duffle
Young Professor: There's only one word you need to know about the Tech Oxford: indestructible. It resists water with a fully poly lining that's as smooth as the outside is natty. A true work of internationally-renowned art, it's pretty enough to frame and tough enough to never say die. Purchase: $548
J. Crew Tanner Goods Nomad
Fine Tuned: Constructed out of Horween Chromexcel leather – the type often reserved for bespoke shoes – with wool on the outside and brass hardware, the Nomad is intended to survive a life abroad; off the grid; or outside the law. Though, we hope you don't need that. Purchase: $550
Killspencer Weekender 3.0
Wide Open: The top gives you easy accessibility that reduces the time you spend digging around as the leather or nylon build offers up potency you can count on trip after trip. It's built with the same idea as a dopp kit, which is simple access with ample space for either organizing, or just chucking stuff into. Purchase: $550-$800
Stephen Kenn Travel Duffle
The Long & Short: Slap your eyes against those adjustable handles. They ensure that you'll have a secure fit whether you carry this L.A.-made miracle close, or prefer to let it dangle at your side. Slinging it over your shoulder or keeping it in your fist will provide you with equally comfortable toting while the snappy looks ensure winks and nods everywhere you go. Purchase: $995
J. Panther Luggage Company Perfect Weekender
Pure Perfection?: We'll let you decide if this is, as the company claims, the "perfect" weekender. For our money, it's damn sure one of the finest. It proves that Smart is the new Black, with a specialized folio compartment that gives this more than you'd expect from a traditional "hit the road" weekender duffle. Purchase: $1,490
Burberry Grainy Leather Holdall
First Class: Quietly understated, the blue/grey/black leather gives little away, but the polished flashes of brass accents draw just enough admiring looks to start more than a few conversations. As pleasing to the touch as to the eye, it begs to be used and shown around in equal measure. Purchase: $3,095