Booze has gone from man's best friend to an ugly secret that is kept out in the shed. The era of marijuana is gradually making its glacial way across the globe, and it's driving people away from the demon rum in droves. Increased drunk driving, mounting evidence of the bodily harm that comes with alcohol, and horror stories of drinking gone wrong plague western culture, and has made teetotalers out of many who see alcohol as evil. This outlook is plain madness that must be stopped by responsible drinkers, who comprise the majority of imbibers out there.
The only way to dispel this notion of the angry drunk, the sloppy lush, or the annoying dipsomaniac is for all of us who can and do drink like adults to do so whenever, wherever, and however we please. For us, that means having a flask on hand for a little mid-day tipple, an Irishing of the coffee, or a soothing nip after being forced to talk to a lawyer for more than 2 minutes. Carrying around a flask is a choice that says freedom is living how you choose and making decisions about when it is and is not appropriate to knock the edge off, rather than only doing it at allotted times in allotted places like you're hiding your sin from The Most High. Get out there with your dashing flask and show them how a refined boozer performs.
Vapur Incognito
Perhaps you're not quite ready to pull out a hip flask at the office, but like to have a little martini lunch. Incognito's sneaky pouch has space for 10oz of whatever you so choose, then folds away when empty to weigh a bit more than an ounce. Also good for backpacking with people who annoy you when sober. Purchase: $7
Coleman Stainless
Zero fluff, no show, just a die-hard flask from a die-hard brand. It's 8oz of whatever your doctor or bartender requires. Taken as needed. Purchase: $8
Nalgene Flask
Upon discovering that the outdoor sports bottle giant Nalgene had a flask, there was only one option: Drink heavily. It can take 10oz inside, and a world of hurt outside. The body is made to be lightweight and borrows from the Nalgene water bottle design by being completely BPA-free. While this isn't as important for alcohol – which is sterile already – it reduces cleaning of your flask, which is a nightmare, and makes it useful for more than just giving yourself a memory wipe with gin. Purchase: $9
Stanley Classic
Stanley began by making the most reliable thermos in the world, then turned its sights on flasks. For a flavorless, food-grade steel interior that can also help keep items insulated for short periods, the Classic will live through daily abuse and come through with whiskey right where you need it. Purchase: $17
Original Shot Flask
Imitations litter the world of this gentleperson's drinking system. The one that began the craze of measuring out your liquor, even on the go is the perfect sidearm and conversation starter. Brushed stainless nested in bonded leather provides a debonair way to drink like the 1% or mix your own cocktail like the other 99. Purchase: $20
Cork Pops Nicholas Portside
More a gag than a real flask, you only get 4oz out of the Portside, but it has a nifty submarine window and a whole nautical design which makes it a fun gift. Or a secondary flask for emergencies. Or a thirdendary… Purchase: $22
Bush Smarts Hip Flask
A true EDC pioneer, the Smarts flask is built like a canteen with a rounded, weather-friendly exterior that is streamlined for reducing damage should it take a spill down the mountain. An ingenious carrier for anyone who's day is rough and rugged and who needs to take the edge off of saving skiers by a bit of that emergency rescue brandy. Off duty, naturally. Purchase: $23
Elkton Waxed Canvas And Leather
If anyone can think of a time when waxed canvas and leather together were a bad idea, sing out. The sole flaw is the same with this flask as with all others: It isn't endless. Purchase: $35
Kaufmann Mercantile Handmade Pewter Purse Flask
Long and narrow so that it can disappear into a tote, a purse, a weekend bag, or a suitcase, it's also easier to keep in a backpack should you need help surviving finals. Purchase: $49
Sneerwell War Eagle Noble Flask
Dark etched by hand with a patina already developed, each flask arrives wrapped in gold foil inside a decorative pull drawer, then provide 6oz of relief for the little worries in life. Like a flask that's too small. Drink up! Purchase: $65
Vargo Titanium Funnel
Pure titanium, this beats stainless steel any day of the week for lightweight carrying with an eye-catching look. To make it more distinctive, the top bears a silicone funnel so that your spirits aren't spilt, nor tarnished by exposure to the elements. Purchase: $75
Filson Leather and Stainless Steel
To begin with, it's a Filson, which is the next best thing to indestructible. Then, it's stainless steel on the inside, as would be used for a water bottle, with a leather grip on the exterior for keeping control of your 6oz of freedom. Though a little on the small side for whole days, it's just about enough for an evening of dull theater or exciting town halls. Purchase: $78
Misc. Goods Ceramic
Sterling white with embossed printing on the body and a leather strap with brass tack holding the cap, this is a real looker. It's clay, which means a little extra care is required to carry it from day to day. Purchase: $92
Kole Thermal Flask
Oak, mahogany, or walnut line the outside of each hand-made flask, providing texture to the eye, but are smooth to the touch. The thermal lining is designed for taking espresso wherever you go, with the cap doubling as a serviceable cup…or shot glass. Purchase: $95
Snow Peak Titanium Curved
Absolutely beautiful and incomparably classy, the design is more for a purse or handbag than a pocket, though any gender is welcome to help themselves. Be wary of the cap, which isn't tethered, which can lead to loss when paired with alcohol. Purchase: $129
Jacob Bromwell Great American Flask
Pure copper that has been worked in the company's outlet in Vermont, each flask is part of a small batch, making it unique. As time goes on, the copper will patina on the outside to create a sheen and an expressive style that is unlike anything else. Since copper is where most spirits are distilled, holding it here only enriches the flavor and sipping experience. Purchase: $200
Tradition Hunters Flask
Leather and stainless steel, this is modeled after a true saddle flask. It's built for drinkin' under the stars, or easing those saddle sores the old fashioned way.
Out of Stock
Macallan & Oakley Flask
This is what you'd put the holy grail into. Made by Macallan whiskey and Oakley sunglasses, you're paying for a carbon fiber body, food-grade stainless steel, a rubberized bottom to prevent sliding, a funnel with mouthpiece made of aerospace-grade aluminum with an air vent for easy pouring, and a double-sprung cap that stays where it's put. Is it worth the price? No. But, it's still incredible. Sign-Up: $900
Sir Jack's Sterling Silver Hip Flask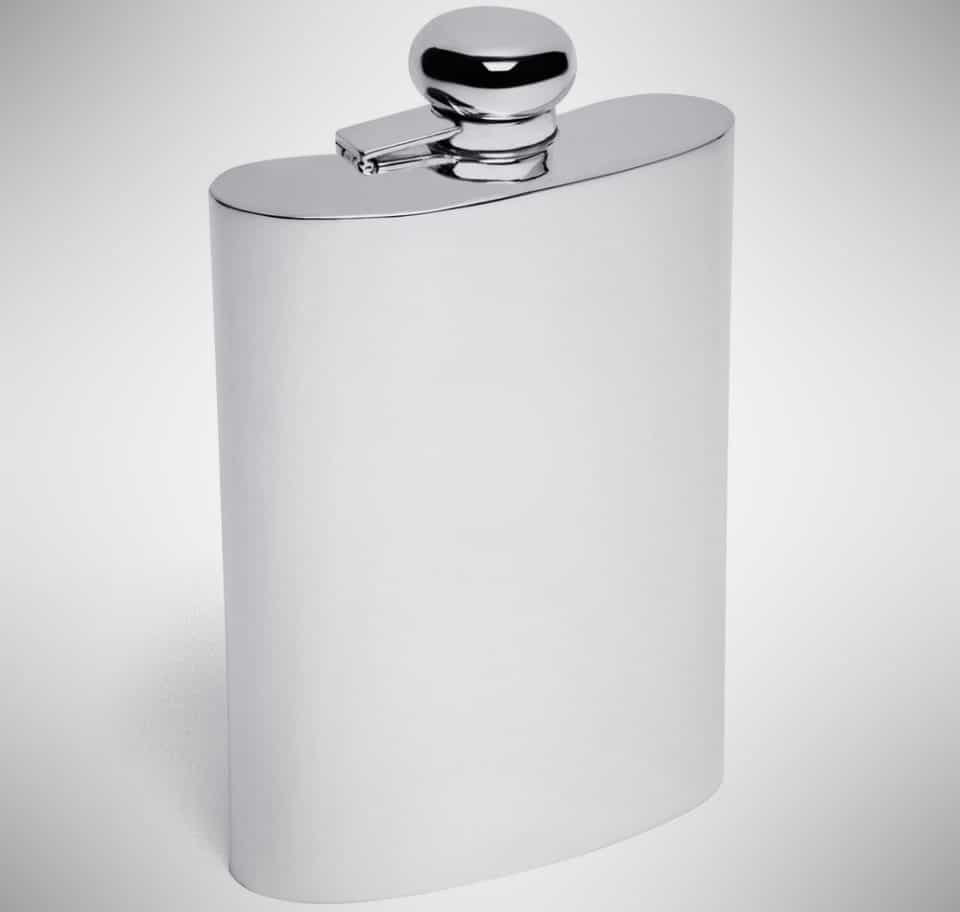 Sterling silver with a bayonet-fit top that can't escape, a classic kidney design, and 7oz of space, it's wonderful to carry around and remind the hired help how you spend your cash. Purchase: $1,995