Knowledge of matching clothes doesn't come naturally to all of us. You might feel as if you're a perpetual fashion victim. To make life easier, we have a few tips you can follow to help you always look and feel your best.
View in gallery
Clothing is a major form of self-expression. Regardless of your personal style, your clothes should match. Your appearance says a lot about you, so a cohesive outfit is important whether you're dressing for a casual, professional, or formal setting. The way you dress can impact other people's opinions of you.
Throwing on a mismatched outfit can make you look and feel awful. Having a firm grasp on how to match clothes will convey a sense of confidence and maturity. Once you master the basics, you'll be able to style yourself with ease.
ALSO READ: Best EDC Watches
Matching Colors
Matching clothes by color isn't advice meant to be taken literally. You don't always need to focus on the exact same colors in order to match. Colors can correspond to one another without sharing the same hues.
Sticking with neutral colors will give you more options in your wardrobe. You'll be able to mix and match pants and shirts allowing for more outfit combinations. Neutral color options such as dark brown, khaki, navy, grey, and army green are going to provide you with that flexibility.
A good rule of thumb when matching clothes is to find a base color and construct your outfit around it.
Brown and khaki both go well with white, grey, green, or navy. Brown clothing can also pair with black despite what you may have heard in the past. When in doubt, stick with a classic combo of khakis with a white oxford button-down, or a darker pair of brown pants with a light blue chambray shirt.
Navy matches well with khaki, grey, and white. You can never go wrong with a navy suit and white shirt. Throw on a navy button-down with khakis or grey chinos for a more casual look. You could also opt for navy pants with a white or grey shirt to achieve the same cohesive look.
Grey looks good with an army green sweater or shirt for a clean-cut appearance. You can also reverse the colors and have army green pants with a grey sweater or shirt for the same result. Grey and army green also match with reds and yellows. Make sure you choose a darker tone to avoid a neon hue that could wash out your features.
When it comes to trending styles, it's best to avoid them. However, monochromatic clothes are a safe trend to experiment with. Matching different shades of the same colors is one way to add depth to an outfit. A pair of jeans, a light blue shirt, and a navy jacket is a simple yet well-constructed look.
If you're wanting to experiment with brighter colors, a corresponding neutral base will give you a safe palette to work with. Darker pants match well with light-colored clothing, such as navy pants and a pink shirt. Don't go overboard with colors though. Too many can look messy. Keep it simple and avoid overloading your look.
Complexion
Clothes need to match more than the other articles of clothing in your outfit. You'll want to familiarize yourself with colors that work best for your complexion. One combination of colors might work great for one person but could completely overshadow your features, or wash them out.
Complexion can be broken down into three tones: warm, neutral, and cool.
Someone with a warm complexion will look best in khaki, brighter reds, blues, and creamier whites.
If you have a neutral complexion then softer tones will work best for your skin. Neutral skin tones will also want to stay away from anything too bright.
A cool complexion is best suited for navy blue, greens, and brown. Reds and oranges will give a washed-out appearance you want to avoid.
Accessories
Accessories allow you to amplify your outfits, but you have to be mindful of matching them to your other clothing. Luckily you have less restraints in matching accessories to skin tone. Use accessories as a way to experiment with adding colors to your wardrobe, or a chance to showcase your personal tastes while donning traditional looks.
Watches and Jewelry
When you're choosing a watch or jewelry to wear, you'll want to be conservative. Wearing too many pieces at once will become overwhelming and distract from the rest of your attire. Jewelry shouldn't be too gaudy and watches shouldn't be too big.
Watches and jewelry mainly consist of metals and leather. Watches are often made of different metals or a combination of both metal and leather. So, there's less concern that a watch will clash with your outfit.
Try to focus on the tones used in your outfit or other accessories you're wearing. That way you can still match while including other colors.
It's good practice to match metallic jewelry to other metal items in your outfit, but this rule isn't set in stone. As long as the jewelry is on the softer side you'll have more freedoms. Anything too vibrant will stand out in an unflattering way.
Keep in mind silver jewelry looks best with other silver and gold works best with other brassy tones. A wedding band is exempt from this rule.
Ties and Pocket Squares
View in gallery

Ties and pocket squares are where you can have fun accessorizing. You can utilize patterns to really amplify a look. A neutral suit and tie look good on their own, but a floral or striped tie will provide texture and depth.
Adding a pocket square is a great option for a pop of color to a darker color pattern. You can also strengthen a monochromatic outfit by including a pocket square of a lighter tone.
Remember that ties and pocket squares will draw attention to your face and should compliment your complexion.
Shoes and Socks
Shoes are an integral part of any outfit, but they are still technically accessories. Black and brown are two of the most versatile colors to choose from for boots and dress shoes. With sneakers, you have more freedom to experiment with colors and designs. Just make sure you include some of those same colors in the rest of your outfit to have a unified appearance.
Matching socks to your pants is an easy way to craft a complete look. Of course, if you're wanting to be creative, patterned socks are always an option as long as the base color flows with the rest of your outfit.
Belts
Belts are similar to watches in the way they incorporate metals with leather or fabric. Unlike a watch band, a belt covers more surface area on your body. If you're wearing a leather belt, try to match it with the rest of your outfit. A black leather belt goes well with khakis or jeans, but will clash with navy. Brown works well with army green, navy, and denim. When in doubt, match your belt to your shoes.
As far as belt buckles are concerned, try to match them to the rest of the metals in your outfit. You don't want to draw too much attention to your waistline.
Patterns
Finding matching patterned clothes doesn't have to be intimidating. Patterns are a great way to branch out and add more excitement to your wardrobe.
Contrast is key! Choose patterns that vary in size to add depth to an outfit. For example, a checkered coat with a smaller checkered shirt is an attractive combination. You want one item of clothing to standout while the others coordinate with it.
Patterned clothes are a fantastic way to incorporate more colors into your ensemble. Use dotted socks to add more depth and help blend colors together. Just make sure the base color corresponds to the colors in the patterns you use.
If you're interested in choosing a heavier print such as camo or color block, you will want the base to remain neutral. Camo matches with khaki or black pants without making you look like you just enlisted in the army. Color block sweaters or jackets can add brighter colors without looking too busy.
Always keep if simple if you're unsure. Don't try to overdo it with patterns. Moderation is important.
Texture
View in gallery

Matching the texture of your clothes is as important as the colors you choose. You can have the right color combination but throw off the entire outfit by choosing the wrong textures.
Fabric will provide most of the textures in your clothing. Some notable heavily textured fabrics include denim, leather, suede, corduroy, and wool. These can all be combined in a variety of ways. Think of them as neutral textures. Patterns will also add texture to your clothes.
Denim is a versatile match for many other items of clothing. Pair denim jeans with a leather jacket and wool sweater for a comfortable yet edgy look. You can also combine a denim jacket with corduroy pants to get a more casual look. Throw on a pair of suede boots and you'll easily enhance a casual pair of denim jeans.
Occasion
Your clothes might match but does your outfit match the occasion? Showing up to a casual event in formal wear is the wrong way to make an impression. Make sure you dress for the occasion and not just for a specific outfit.
It's a good idea to consider the seasons as well. Certain fabrics look out of place depending on the time of year. You want to avoid clashing your outfit with your surroundings.
Great Options to Kickstart Your New Wardrobe
Matching your clothes is the first step to nailing your own personal style. The following items would be a great starting point for anybody looking to learn more about how to match clothes.
Shop Now
If you're looking to bring more style out of your plain shirt or simply want to experiment with a little texture or pattern in your outfit, this Percival workshirt will do your style great. Call it anything you like and wear it anyhow and anywhere you like, perfect for layering. You have a choice whether to wear it undone over a plain t-shirt or sweater or buttoned up to wear it like a shacket – a shirt jacket. Wear it to work or wear it while working at home or while doing DIY.
This Italian wool blend flannel workshirt made in London makes a classic casual wardrobe staple that matches plenty of styles. Pair it with your favorite dress pants and leather loafers or denim jeans and canvas sneakers. It has ultimate versatility, is super comfortable, and is incredibly easy to wear. And it comes with handy pockets for your essentials too.
Shop Now
The details make the difference in your entire outfit. And while leather seems like a classic choice, don't discount elastic viscose belts just yet. These stretchy belts have plenty of pros: they enhance your comfort, grip the waist better to keep your pants in place, flex with your movement, so there's no restriction, less pressure in the abdomen, and they are super light.
For one, this Enrico elastic viscose belt from Dalgado is perfect for every occasion where you want ultimate comfort without compromising a sophisticated aesthetic. Handcrafted by Italian and German artisans using Oeko-Tex Standard 100 certified viscose from Italy, this statement piece is both intricate and eye-catching. It can switch up your look but is subtle enough to fit well on any occasion or style. Wear it while at work or while doing sports and pair it with your jeans or your chinos. And the Italian silver solid brass buckle only adds to its sophisticated style.
Shop Now
The humble white T-shirt is a must-have in every man's wardrobe, the most versatile piece you can have in your closet. There is nothing more versatile and widely appreciated than a good-quality white tee. It's a staple in nearly all genres of personal style, whether for casual settings or a bit more formal. As basic as a plain white tee might be, it's the unsung hero of plenty of outfits, the ultimate mix-and-match piece to compliment any event.
But what makes a good white T-shirt? A simple rule is to pick a good-quality fabric. Organic cotton is always a top choice like the one from the sustainable brand, Unrecorded. It's a heavyweight 220 GSN 100% organic cotton tee made in Portugal with a more relaxed fit for all-day comfort. Designed to be timeless out of high-quality materials with a subtle embroidered logo on the left chest, this shirt is made to be worn often and lasts for a long time.
4. L'Estrange London 'The 24' Trouser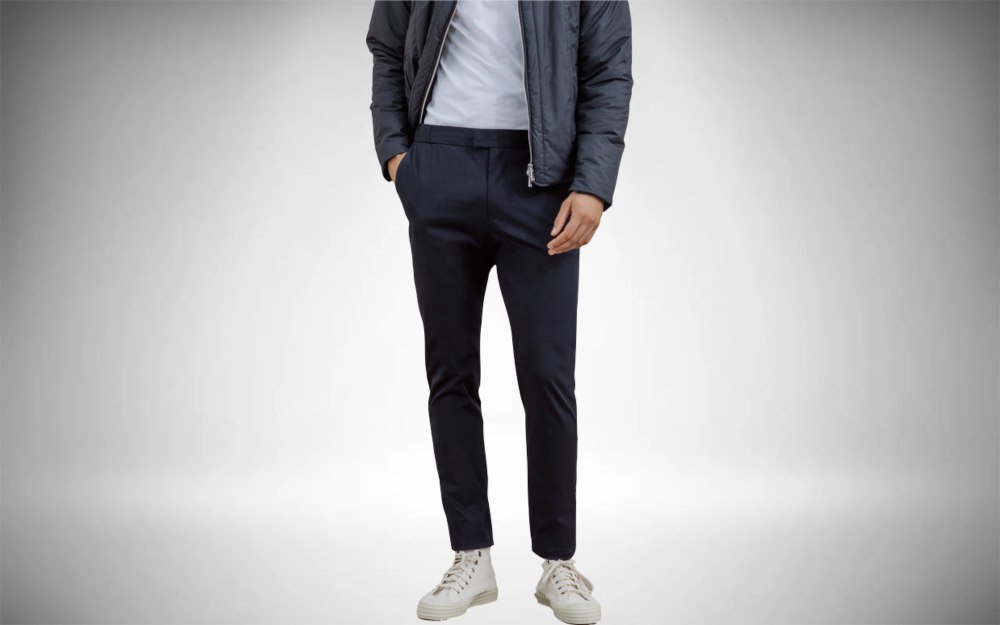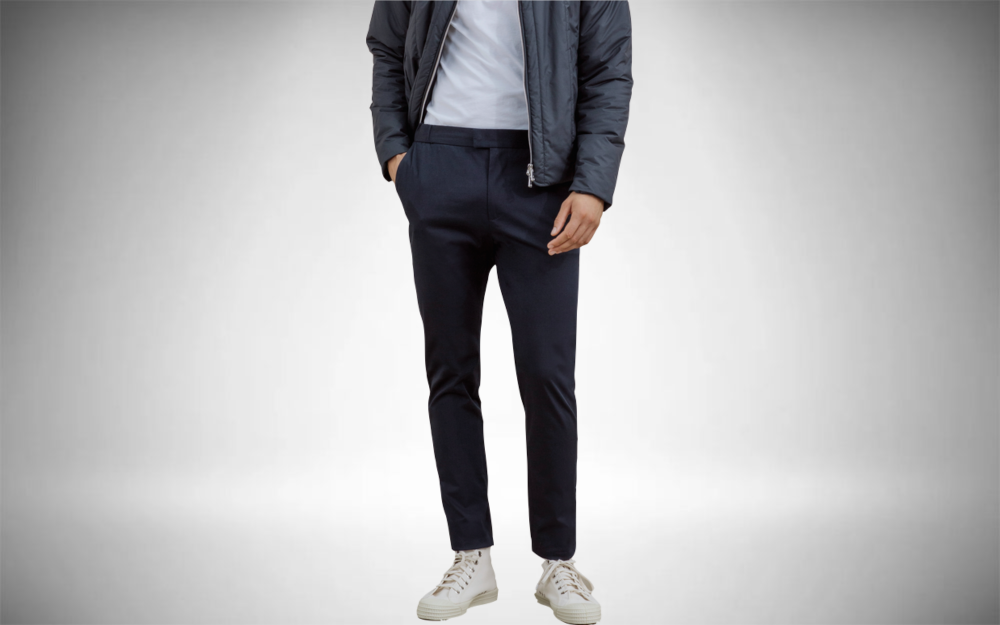 Shop Now
Elevate your everyday style with casual pants that are as comfy as they are stylish. The best trouser will carry any fit in your stride, one wardrobe piece that you can wear anytime and anywhere. And when it comes to a clothing system rooted in versatility, L'Estrange London has a range of top-quality staple pieces.
The trouser designed for every hour of the day, 'The 24' trouser, promises a perfect fit for all-day comfort and a timeless look no matter where you are. Nothing quite compared to a well-tailored trouser. Made of luxurious 3% premium Italian stretch cotton and made in Italy, it's super lightweight, boasting minimal aesthetic. The perfect tailored fit makes this trouser modifiable. Roll it up or tuck it in; wear it any way you like. It's a classic item designed to look sharp, from the seams to the luxurious metal finishes. Not to mention, they all come in staple shades. Go navy or black for easy styling, or mix things up with a powder grey trouser. Learn more about these sleek everyday slacks in our L'Estrange AeroTech Trouser review.
Final Thoughts on Matching Clothes
When it comes to matching clothes it's probably best to keep it simple to start. Avoid trending accessories and styles because they come and go for a reason. Stick with classic looks and you'll make a great impression with little effort on your end.
Do you have any other suggestions on how to match clothes? Let us know below in the comments!