What could go wrong with combining booze and tall buildings in a place called The Windy City? As it turns out, absolutely nothing. Chicago is home to some of the finest watering holes in the world, from hole-in-the-wall dives to upscale taverns where membership is required to wet your whistle; but nothing compares to their rooftop pubs. The first skyscraper was built in Chicago, and to this day the skyline is one of the most impressive in the world; so getting up and away from the narrow streets and back alleys to breath free, intoxicated air is enough to set your head to spinning.
Even if you're only in town for a night and have to ditch out of your intervention early, make a point of visiting one of the Chicago's 18 best rooftop bars. You'll thank us once the vertigo and hangover wear off.
The Terrace at the Trump
While Donald Trump is making headlines, the real story is taking place at his international hotel. The Terrace sits in the shadow of the Wrigley Building, giving it a daunting view of the majesty around it, but also serves color-changing cocktails infused with odd fruits from around the world for a drinking experience that is downright transcendent.
The J. Parker
A retractable roof makes this a year-round attraction with plenty of drinks to titillate and an appetizer menu devised by the culinary mind of Chef Paul Virant. Though located on the unlucky 13th floor, as you look out over downtown, Lake Michigan, and Lincoln Park, you'll feel blessed before the booze even hits your brain.
Celeste
Ivy covers the walls and Louis Sullivan tile adorns the floor for an experience that bears a throwback to the Victorian era. You can sip on average-sized libations if you choose, but do your party a favor and order up a massive round of their giant cocktails served in vintage punch bowls.
GreenRiver
Devised by the same geniuses that blessed New York City with Dead Rabbit Grocery and Grog, GreenRiver starts serving at lunch and runs long into the night, inviting day drinking as you stare off of the 18th floor and sip concoctions from master mixologist Julia Momose.
AIRE
Fire pits lurk around the 90 seat lounge for staving off wayward chills, and red hibiscus grant the entire space a crimson hue that sets off the wild green of potted plants that drip from the ceiling. Speciality cocktails abound in AIRE, and the inviting atmosphere lures everyone to make new friends for a night.
Vertigo Sky Lounge
A staple of Chicago's party scene, $25 gets you a bucket of beer to enjoy nightly DJs in this penthouse/bar. Fire pits dot the area for a less synthetic experience and help this year-round venue stay cozy and comfortable even when the brutal winter winds attack.
Cindy's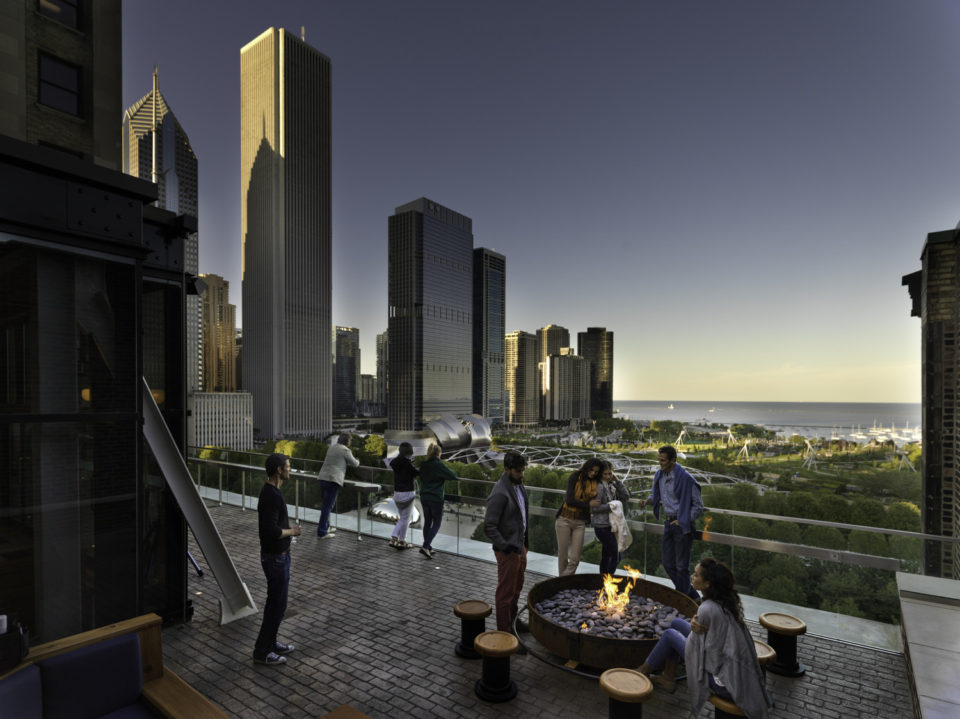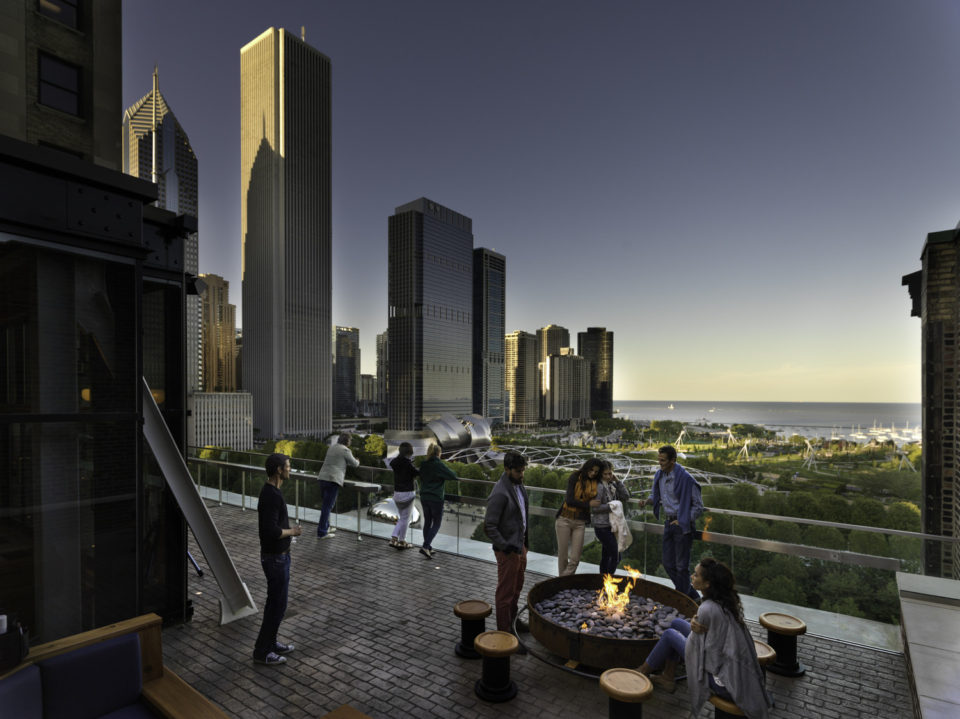 Visitors are treated to views of both Lake Michigan and Millennium Park, though it will be hard to pull your eyes away from the cocktails brewed up by Nandini Khaund, who has been named "Spirit Guide" of the region. Once a haughty gentleman's club, Cindy's is now a refined and relaxed establishment that welcomes rather than excludes.
The Dec Rooftop Lounge + Bar
Attached to the Ritz-Carlton's bistro Deca, The dec is a quaint little spot to have a nip while relaxing around a fire pit and soaking in the sights. Playful and friendly throughout, there's not an ounce of pomp to be found, though you'll find the small plates a little too cute to be really helpful.
Cerise
Far above The Loop, Cerise nearly encircles the Old Dearborn Bank Building, looking out over downtown, including the now infamous Trump Tower. A DJ spins almost every night, so this isn't a place for the faint of heart, but the fleet of foot who prefer their liquor with some bouncing and bumping EDM.
Fountainhead
Simple and straightforward, Fountainhead is a North Center bar that opens up seasonally. There's little in the way of signature cocktails, as beer and whiskey are the focus here, with lots of drafts on tap for the most refined hop-head, and a simple bar food menu that can hit the spot and soak up all those heady brews.
Raised
Another new offering in Chicago's rooftop bar world, Raised is changing the game by creating new twists on old favorites – like their berry mint julep – and huge, shareable platters of food that are both home-grown and exotic.
ROOF on theWit
Booze is just the beginning. Drinkers here are treated to runway models striding down the catwalk in the summer's hottest fashions that expose a lot of skin. The view hits the river and the beautiful Bean, but a huge projection screen offers digital entertainment if you've seen enough of the women and the city.
Streeterville Social
The ultimate in adult fun, Streeterville opens on the 25th of June, but a sneak peek provided us with all we needed to know. 9,000 square feet of terrace complete with a lawn where you can while away the time playing croquet and resting your weary bones in birdcage chairs. It's a garden party come to roost.
IO Urban Roofscape
Dense and industrial in design, the IO isn't just a club and pub, but a wonderful place for breakfast or lunch on the sun-dappled deck. As night falls and the music gets louder, the transformation from relaxing escape to intense cocktail scene is a tonal shift that will find you returning time and again.
Homestead
Though Chicago might be a major population center and port of call, it's still hip deep in midwest agrarian culture. Homestead has a rooftop garden that reflects both the pastoral and the civilized, with drinks and food that clearly have taproots in natural flavoring and healthy living.
Gene's Sausage Shop & Delicatessen
As casual at it gets, there's little more than suds to be had, but when you factor in the mind-blowing sausages that celebrate the meaty history of Chicago, the potato pancakes, and the dazzling soft pretzels, it's everything you could want in a picnic without all that nature nonsense.
Joy District
One of the most engaging happy hours around – labeled "Joyful Hour" by the bar – you'll find drink specials that pull from the top shelf liquors and food platters that add new twists on old favorites. Try their specialized Deviled Eggs with caviar.
52eighty
A smaller spot downtown, 52eighty can slip under the radar pretty easily, but you shouldn't let it. Open year-round thanks to the covered patio, this is more lounge than club. The food and drink are tremendous, and the intimate environment is ideal for first dates, small parties, or anytime you need a few moments to reflect.