Bean Town is where only Olympic-level drinkers go to celebrate. Outside of New Orleans, nowhere is drunker or has a better bar scene than Boston. The deep Irish roots pervade the culture of the city, offering up a mixture of fine pints, ales, beers, and lagers, along with whiskies that won't just put you under the table, but into the hospital.
In this drinker's paradise, this booze-hound's garden of Eden, you can find any number of dives, but when you want to day drink and enjoy a little fresh air, a roof is the place to wet your whistle. That's why we tippled until our eyes ran red to bring you the 17 best rooftop bars in Boston and the surrounding area.
Atlantic Beer Garden
Unlike some of the Bostonian rooftop watering holes, ABG has incredible views of the city and the harbor, letting you soak in a lot of local color. When you're done with that, a deep list of more than 80 beers will keep you coming back, and the heart-attack food will help keep your calorie count up for the marathon.
The Colonnade Hotel
Nothing could be less Boston than the rooftop pool and pub at the top of the Colonnade. Renovated in 2014 to resemble a luau on a tropical island, there's swimming, relaxing in wicker chairs, cabanas, and a Tiki bar with a wide range of seasonal cocktails for a little island feel, mon.
Legal Harborside
One of the few top tier establishments that is open year round, movable walls and a glass ceiling provide the ability to enjoy harbor views on the aptly-named Promenade Deck, even during the brutal winter months. Sushi, oysters, and whole pitchers of their intoxicating punch will either kill you, or give you new life.
Poe's Kitchen at the Rattlesnake
The most Latin place you'll find in town, the Rattlesnake is famous for its huge variety of tequilas and dizzying array of dark liquors. Specialty cocktails and dozens of craft brews help keep the temperature down, but they also fire up a mist maker when the mercury threatens to break the bubble.
The Baseball Tavern
Forget about heading to Fenway, America's favorite ballpark. Enjoy the pre, post, and during parties going on here whenever there's a game, or just because the world didn't end. Able to be rented out for private events, there's little more than domestic beer and fryer food to be had, but if you need more, then this ain't where you belong.
Cityside Bar
Small but stacked with loads of cocktails for your sipping enjoyment, Cityside offers you the option of building your own margarita or tackling one of their crisp and cool specialized mojitos. When you're ready to hit the deck, get a Long Island Lemonade and kiss consciousness goodbye.
Bokx 109 at Hotel Indigo
A pool and bar for the South Beach transplant looking for a slice of home, every Sunday is a themed party from 11 to 4. If that sounds like too much trouble, grab some of the ice cream treats and floats for a childhood throwback that will give you a very adult buzz.
Lookout Rooftop and Bar
Since this is a new hotspot in town and still very much in demand, you're better off making reservations than just rolling in. You'll be glad you did when you see the list of locally produced spirits backed by their smoked bacon flatbread. Chill and mellow in tone, but able to strike awe with harbor and city views that amaze.
Revere Hotel Roofdeck
16,000 square feet worth of food, fun, and sun, here you can rest your weary bones on plush couches near the pool and cabanas. The entire staff is dressed to the nines in threads provided by Bless Couture, telling you the level of style you'll need to fit in.
The Whiskey Priest
Sitting right next door to the Atlantic Beer Garden, The Priest is a scant step down in swankiness, with a heavy concentration on whiskey and beer. Old Country Irish with a decidedly modern twist, you'll find Gaelic sliders alongside Reuben egg rolls in tasty mashups that complement the massive draft menu nicely.
Pier 6
The name should give you a sense of what to expect, as Pier 6 gives you an unparalleled look at Boston harbor that will astound locals and tourists alike. Chic and trendy from top to bottom, they have a specialized Mai Tai you shouldn't miss and a menu you can't ignore.
Daedalus
Located in Cambridge, this isn't a true Boston bar, as evidenced by the fact that it serves brunch. Open early and late, we suggest you gather up the posse and go in for some stuffed french toast, then stick around for their signature mojitos and Blue Point Summer Ale, followed with calamari so fresh it's barely done wriggling.
The Sinclair
Cool and calm, The Sinclair is an ever-changing tapestry that constantly hosts events during the summer that go above and beyond the normal bar playtime. Pitchers are in abundance, but come with the ability to spike them for a whole new palette-pleasing adventure that's some of the best drinks you won't remember in the morning.
Hyatt Regency Boston
Tourists are more likely to find this lurking gem than natives, as it sits on a terrace outside the Avenue One restaurant in the Hyatt's downtown hotel. Live jazz plays every Thursday night, and there's more than a few odd items on the inexpensive menu to set your tongue to tapping.
Ristorante Fiore
Boston's North End suffers from a serious dearth of rooftop bars, with Fiore being the sole flag in this wasteland. Oozing class from the marble bar to the wrought iron furnishings, the food is fine and mixed with an immense wine list that has something to go with tastes both plain and refined.
Felipe's Taqueria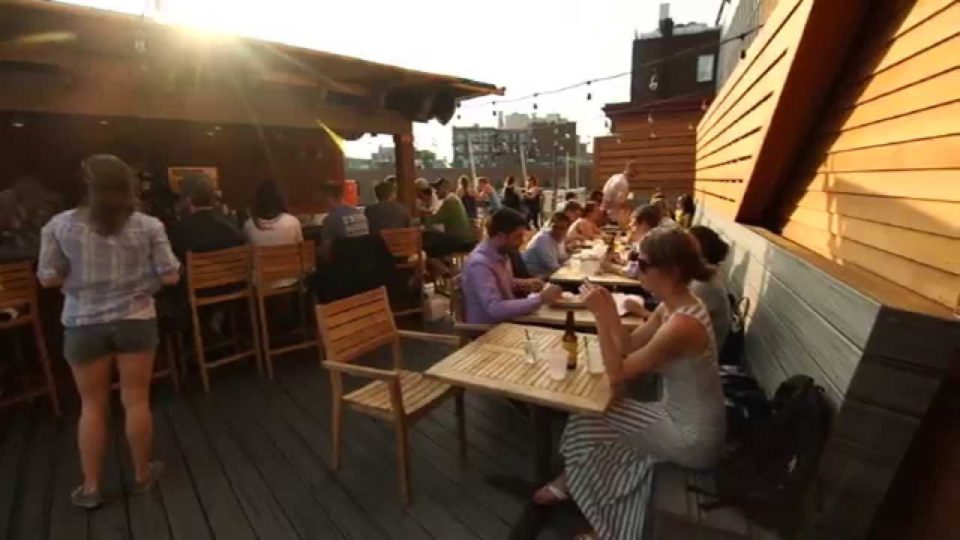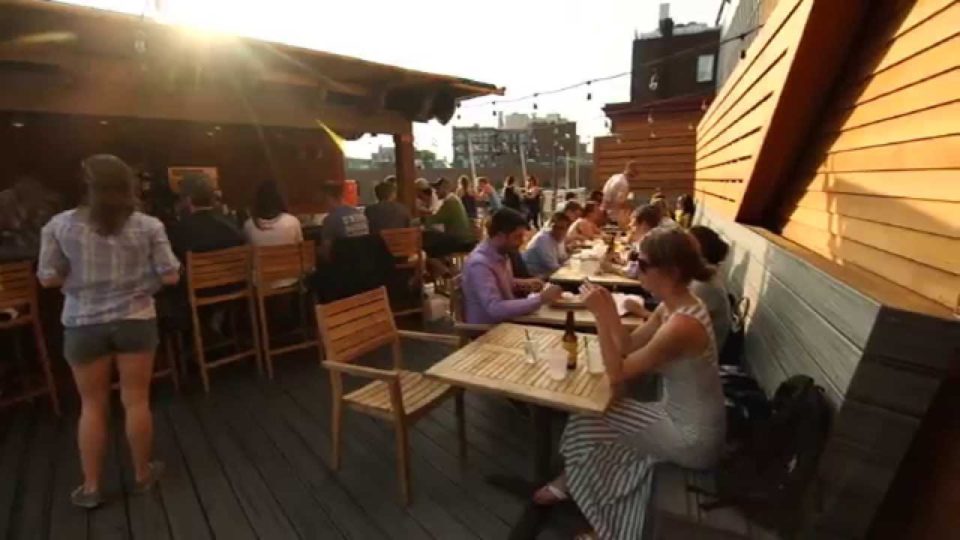 When Felipe's relocated, it snapped up a liquor license to keep the good times flowing along with the abundance of tacos and burritos that made it famous. Tables and umbrellas abound, and the view of the square is sure to amuse and impress.
Coppersmith
A southie fixture, the menu is based around ribs and tacos, while the bar – which is a converted airstream trailer – is all tropical all the time. If you love fruit and tiny umbrellas served out of a recreational vehicle, then this is the place to be.