Big and beautiful, fat bikes prove that real cycles have curves, and their sweet cushioning allows them to push through some of the strangest terrain the world has to offer. From sandy beaches to winter wonderlands, a fat bike goes where others fear to tread. The big tires provide extra real estate, keeping the bike aloft on surfaces and conditions that would sink beach cruisers, bog down mountain steeds, and as for road bikes, there's a reason those slim picks have to stay in the concrete jungle.
In spite of their hefty appearance, most fat bikes actually struggle to keep the weight low, while still giving you a frame you can sink your teeth into; that won't also sink into the turf. Since they're meant to float atop the dunes and drifts, they typically use aluminum or carbon frames, carrying the majority of their heft in the hardware and those bouncy rubber tires. Top-level traction is their aim, and if you're a winter rider, they're largely the only choice you have for riding in a white out blizzard. For those brave enough to cycle when the snow flies, here's the 10 ideal fat bikes for you.
Those looking to go off book and pick their own mount should give this fat bike buying guide from Adventure Cycling a gander.
Framed Minnesota 2.0
Built short for a freerider feel, the Minnesota is meant to reach across the divide and invite in newcomers to the fatty world without throwing too many challenges in the way. Though a true fat trail blazer, you can quickly swap the tires out for framed slims, allowing for commuting around town when going for broke isn't on the menu. Speaking of broke, the low cost and multiple utilities of the Minnesota is a good introduction, even if the weighty 35 lbs. body isn't ideal for drifting along over the landscape. Purchase: $650
Surly Ice Cream Truck
Surly claims to have made the first official fat bike in existence. While that might be braggadocio, the Ice Cream Truck might very well be the last word in the game. Built with a 4130 ChroMoly steel frame that's intended to be mistreated, the entry fee gets you a sturdy, sterling fat boy that can survive reckless riders, sometimes even when they don't. Lots of storage choices and an Sram SLX drivetrain put cherries on top of this burly sundae. Purchase: $825/Frame
Salsa Cycles Mukluk
The Mukluk line from Salsa offers versatility that is largely unmatched anywhere else in the industry. You can pick from frames in carbon, or the cheaper aluminum, with each one able to accommodate tires up to 5″ wide, allowing them to be a dune runner or a snow plow, good for carving a first trail down a ski slope. The chainstay length is shortened, specifically to promote power and easy riding when the going gets grim. Get it in a single speed, gear it up, and pick from a rigid rear or a suspended, depending on how you ride. Purchase: $1,799-$4,499
Carver Carbo'Beast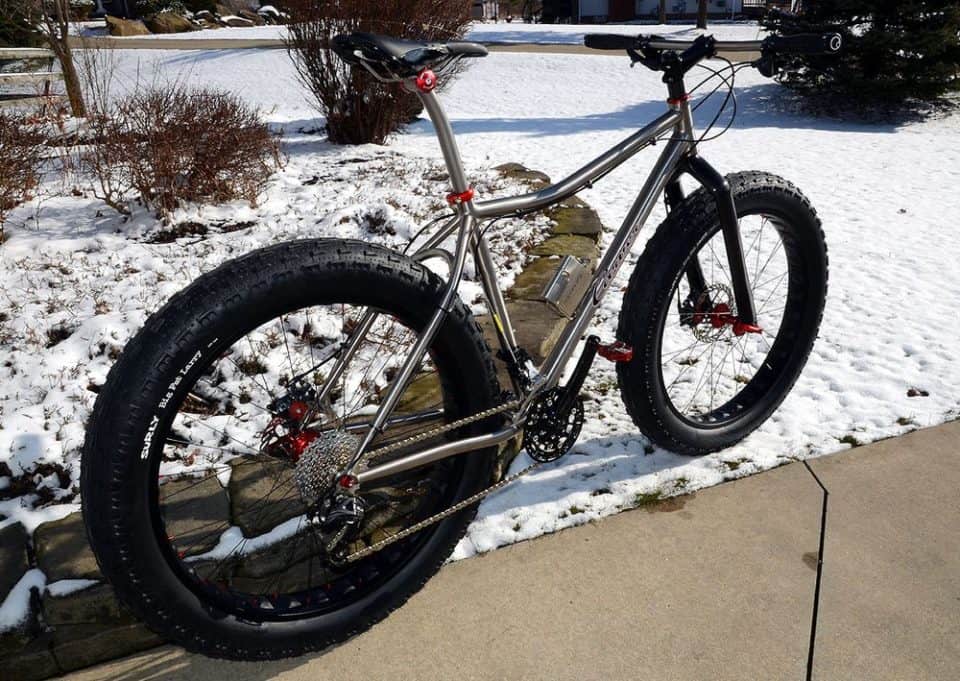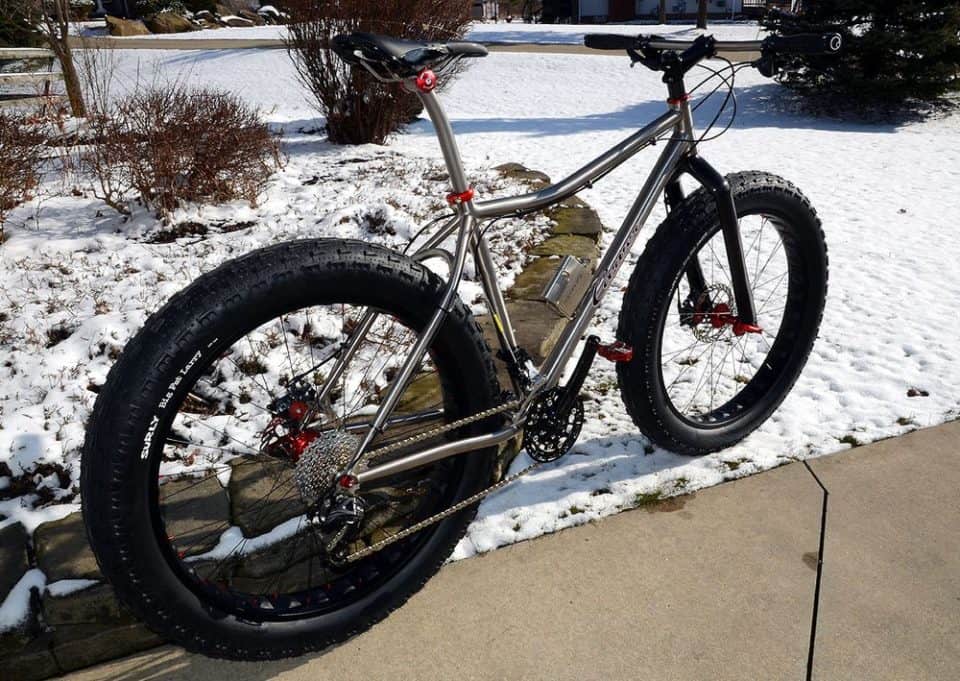 The name is misleading, as even the XL version of the 'Beast has a full carbon frame that's barely three-and-a-quarter pounds. Black on black style from the Maine-based Carver is always in season, and the highly customizable build is made primarily for speed, even if it can take on 29+ sizes and 5″ tires where you need it. It's rigid as hell and responsive, making hucking or carving easy feats, and can be outfitted with whatever you desire, all the way down to a belt drive system. Purchase: $1,800 Base
Rungu Electric Juggernaut
Oh, it's technically a trike, or maybe an ATV, but whatever it is, it has a fat bike tire on it, and that damn sure makes it a fat bike to us. Built with 6061-T6 aluminum on the frame and equipped with a 3-phase hub motor, the Juggernaut dares you to take it anywhere and push it to the extreme. Rather than trying to slink across the top of snow, this digs deep and rips it away, letting you go forth and conquer. Capable of getting up to 20 mph, it's joy for all seasons. Purchase: $3,299-$3,459
Fatback Skookum FLT
No list of fat bikes is complete without at least one offering from Fatback. You won't find a hole in their lineup, so those with a little less to spend should hunt through their line for the ideal fit, but those who can swing it shouldn't look further than the Skookum FLT. Made to go fast and corner like a locomotive, motocross riders, adrenaline junkies, and anyone who could use a touch of carbon excitement backed by Sram kit should go big, dig in, and let this take you away. Just make sure you've got a helmet. Purchase: $3,850
Surly Moonlander
Made to run practically flat for easier gliding, the Moonlander doesn't just take on snow, it is ready to disappear into the wilderness where most mortals fear to tread. The tires are 4.8″ out of the box, mounted onto rims that are 100mm, and meant to march into the wild. The bottom clearance is nice and high, making obstacles a joke, but the head tube sits up tall and tight, increasing the comfort should you find yourself on an all-day trek. Purchase: $4,900
Borealis Echo Blizzard Special Edition
Based in Colorado, Borealis lives and dies based on whether or not they can make their steeds work in the snow. Thus far, they've proven to be more than worthy of a place among the vaunted fat bikes in the world, and are showing no signs of slowing in the future. As you might guess from the name, the Echo Blizzard is a snowfall speciality that employs an XO1 build to keep weight down, while bulking up the Bud and Lou tires to 4.8″. It's a trail hound above all else, with the double-walled carbon tires to prove its dedication to enjoyment and survival long after the trail has stopped. Purchase: $5,200
Felt Electric Outfitter
Hunt, fish, hike, camp, haul, the Outfitter is a backcountry adventure in the making. It starts with a lightweight survivor frame made of double-butted 6061 aluminum, then adds in the smart power of a Bosch eDrive System that enhances and increases your range without making your legs do any extra work. Though made for distance and sturdiness, the ControlTaper headtube shows that Felt is trying to add in a little responsive fun, should you decide to ditch the baggage and do a little downhill work. Purchase: $5,500
Specialized Fatboy
Most major manufacturers either aren't getting in gear with the fat bike craze, or aren't doing it right. Specialized is one of the few names in the business who has managed to bring their savvy engineering to bear and created a line of Fatboys that are free of flaws from top to bottom. The advantage to their widespread manufacturing is that they offer shapes and sizes others can't reach, all at a price that isn't too restrictive. Carbon, aluminum, and lots of builds and colors mean there's a Fatboy that fits you, and they're all worth the cash. Purchase: $770-$7,000