Trash. We all make it, we all have some sitting around somewhere, and we all wish we could do more to recycle, but we're busy and there's only so many abstract cat houses we can make out of Amazon boxes.
In a few cases, one person's trash is another one's treasure, but more often than not, one person's garbage is just another person's garbage. Unless you know someone of a deeply creative mindset who is able to transform all that wasted junk into something glorious and transcendent.
One of the tremendous things about art is it's meant to be enjoyed forever, not used up. The genius of re-creation gives new life where once there was only waste, reviving litter to be something capable of touching the heart and soul.
From this wellspring comes 28 pieces of junk art that waste not, but leave us wanting more.
Gregory Euclide "Microcosmic World Park"
A theme park made wholly from litter that Euclide picked up in New York's Central Park, at a distance it's impossible to discern that this seeming roller coaster is actually garbage that has been given new purpose as a playground of waste.
Adam Eckstrom and Lauren Was "Dream Home"
An entire dining room made from discarded lottery tickets, this is an ambitious piece that actually shows more than $70,000 in tickets, all of which are hopes discarded and money wasted on dreams of hitting the jackpot.
Nick Gentry "Elements of Existence"
Gentry uses a combination of natural artistic talent to use floppy disks as the canvas for his drawings. Working on the unforgiving plastic is difficult enough, but managing to incorporate the metal center of the disks as unsettling eyes adds a robotic element to Gentry's otherwise lifelike paintings.
Derek Gores "Empire State of Mind"
Derek has a huge collection of collages made of cut up magazines, advertisements, and found items, many of which render beautiful depictions that would dazzle the most glum collector, but there's something special about adding in a pop-culture icon like Star Wars that shows a Warhol-esque attitude.
Tim Noble's and Sue Webster's "Shadow Sculptures"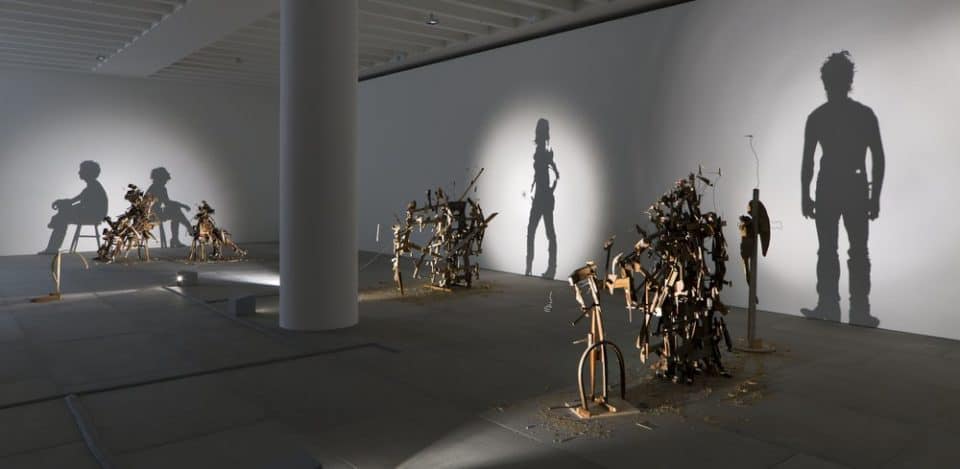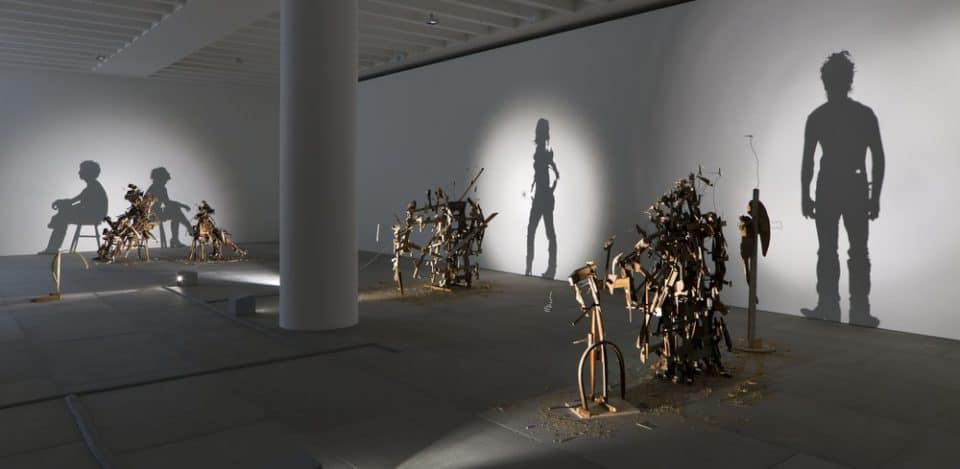 At first glance, you see nothing but a pile of junk. Only when lights strikes the work and halos it against a wall does the genius come to life. Clearly painstaking, the rendering and message – we're all made of junk – are poignant, thoughtful, and arresting.
Heather Jansch'S Driftwood Horses
Driftwood is a common item to be reused and reclaimed by artists, artisans, and craftspeople, but Heather Jansch turns it into something far more lively than a coffee table. Thrown out of art school for being a "poor" painter, Jansch makes sculptures that practically breathe.
Tom Deininger "Marilyn"
Norma Jean, AKA Marilyn Monroe has inspired artists since before her brief stint on this planet came to an abrupt end. As Marilyn was beauty that came from cruelty, so is this destruction reborn as elegance.
Erika Iris Simmons "Ghost In The Machine – Kurt Cobain"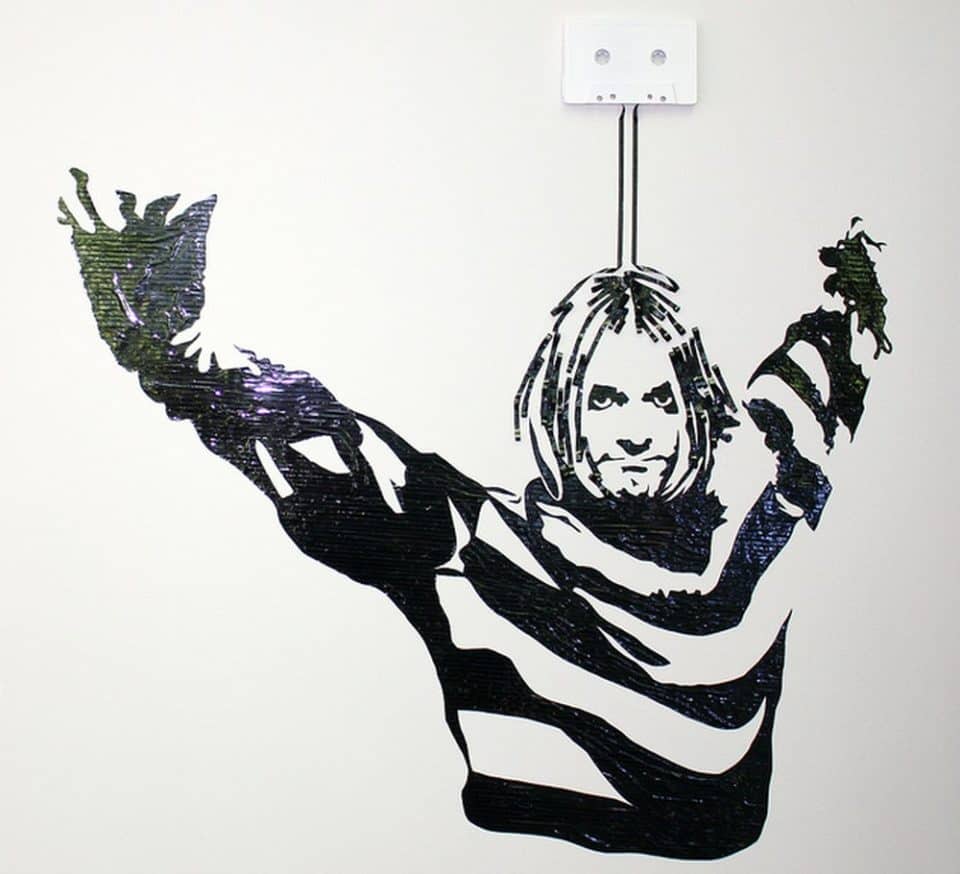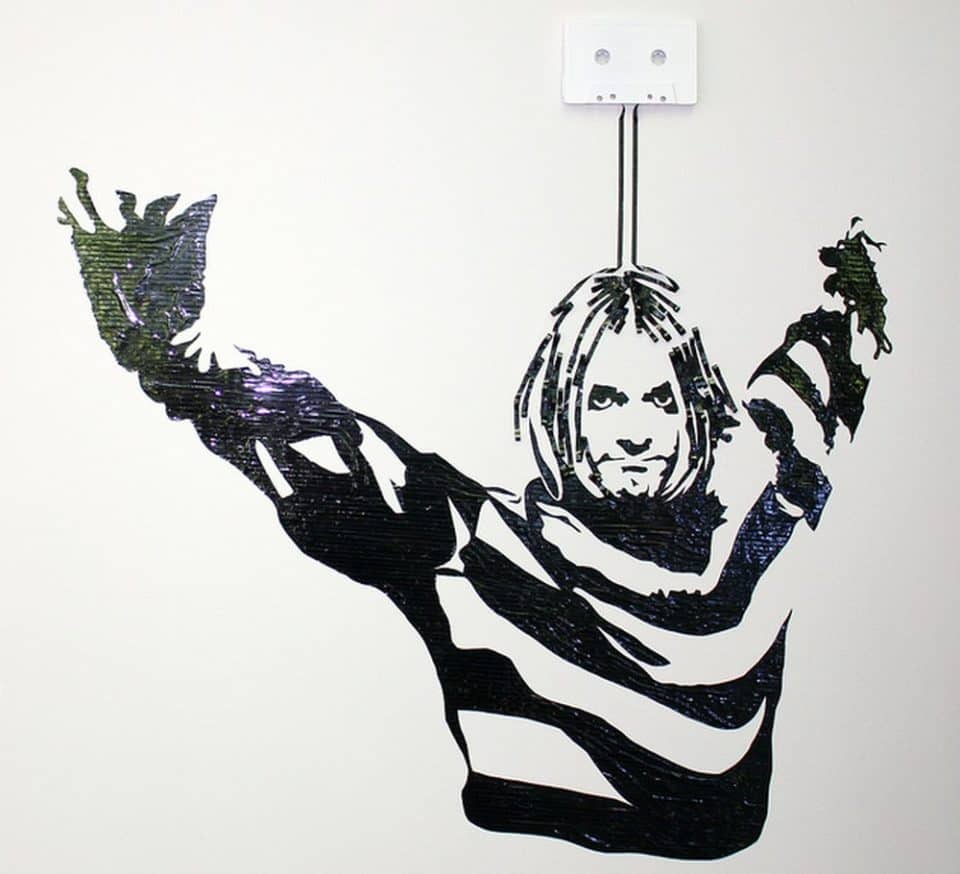 There's few things in this world more useless than a cassette tape to everyone but Erika Simmons. In her Ghost In The Machine series she creates musical icons out of the ribbons of magnetized tape that once held their creations.
Atelier Hapax "Chess Set"
Paper and varnish are all that is required to create this stunning and unique chess set by the French Atelier Hapax. Pieces of paper cardboard are held with hat pins that have been topped with successive drops of recycled wax to form the balls atop each figure.
Jean Shin "Sound Wave"
Vinyl might be making a comeback, but not everyone wants to use it for music. A display at the Brooklyn Academy Of Music, Shin admits "Sound Wave" is intended to show how a single person's taste in music amounts to nothing more than a wave breaking against the shore, dissipating and gone.
Caitlind r.c. Brown "Cloud"
An electrical installation comprised largely of dead bulbs that have been thrown away, strings dangle down, allowing viewers to make the "Cloud" flicker with tiny bursts of energy moving through this wired bit of weirdness.
Andrew Chase T-Rex
Metalwork is a daunting skill to learn, and a medium that frustrates many artists. Not Andrew Chase, who has not only made several items of epic animalistic art from scrap metal, but also some that are fully articulated and capable of robotic motion.
Choi Jeong-Hwa "Doors"
Ten stories high using more than 1,000 discarded doors, the ambitious nature of the South Korean sculpture is enough to astound and change the way we think about our walls, floors, and the boxes into which we place ourselves.
Wendy Wahl "Branches Unbound"
View in gallery
Wendy filled a room with ten-foot arches of torn book pages, creating a series of gateways that emulate the transportive quality that literature has to move us easily from one place to another; and yet how easily we throw that ability away.
Johnston Foster "Catch and Release"
Foster is living proof that any materials can be the "right" materials for an artist with half a mind to use them. He made an entire series made out of whatever the landfill offered up, finding fantastical reality in the leavings of man.
Jill Townsley "Till Rolls"
Townsley likes to pick a single trash item and use it to maximum effect. She's made pyramids from plastic spoons and rubber bands, a wedding gown out of latex gloves, and this stunning city from used till rolls that came out of registers.
Miguel Rivera "Hard Disk Drive Bike"
Once the memory storage units that held all your computer data, now a retro motorcycle in miniature. Rivera has a knack for altering battered technology to become showpieces worthy of respect.
Guerra De La Paz "Ring Around the Rosy"
Incredibly dark, children made from military fatigues dancing around a bomb is less an artistic critique and more a harsh truth of many war-torn parts of the world.
Lin Evola-Smidt "Renaissance Peace Angel"
Lin Evola-Smidt has said all she does she does for peace on Earth. Once built into guns used to kill, the Peace Angel is proof that we can use the metal to better effect.
Mark Oliver "Litterbugs"
Playful and thoughtful, the punny "Litterbugs" collection is precisely what we all want it to be.
Ptolemy Elrington "Hubcap Creatures"
Always looking to see usefulness where others see junk, Elrington is another metalworker who gets his kicks making life from cold steel thrown away by an ever-disposing world.
Sandy Smith "Mauritian Sunset"
A wall of old computer monitors doesn't look like much, until it's given a little juice. Then it creates a doorway that is so cyberpunk that Gibson would tip his hat. Her other work, "Pope, Pop & Terror" is a likewise stunning item with a more shocking message about culture.
Leo Seowell "Jesus on the Cross"
After 50 years of honing his craft, Seowell is the undisputed master of the junk sculpture. He doesn't pick and choose, but uses anything and everything on hand to shock and amaze those who claim it's nothing but garbage.
Kim Alsbrooks "Trash Miniatures"
Using cans as her canvas, these tiny paintings and portraits not only make junk gorgeous, but reflect the people who tend to waste the most.
BRC Designs "Binary Low Table"
BRC is an acronym for the artist Benjamin Rollins Caldwell who creates furniture from discarded technology, making the unusual ordinary and devising unique decorations worthy of scrambling to get.
Wim Delvoye
A sculptor who uses the nearly impossible medium of rubber tires, delicate latticework and naturalistic expressions that are made with no mechanical tools manage to mix the industrial with the organic.
Aidia Studio "MilkyWave"
That's a set of plastic yogurt containers you're seeing that have been lit up to prove with a touch of ingenuity, anything can be made transcendent.
Jane Perkins "Girl with a Pearl Earring"
A reimagination of a classic done wholly with found objects, Jane has thrown down the gauntlet. Your move, Vermeer.