Journalist Emma Spence discovered that Superyacht owners are more interested in proving their conspicuous wealth than in buying a quality boat built for travel. Superyachts depreciate in value from the moment they are bought, they won't get you anywhere as fast as a private jet, their greater than 24 meter (78.74 ft.) length makes them tough to park, and taking them out into international waters is like ringing the dinner bell for pirates. But they're so glorious, gorgeous, striking, and superfluous that it's hard not to fall in love.
In honor of this marvelous waste, and the party dreams and far-off destinations they promise, here's the 18 best superyachts for savoring the sailing life.
Heesen Galactica Super Nova
The crowned victor of the 2016 Monaco Yacht Show, the Super Nova is an achievement in beauty from the Holland wunder-company working in conjunction with designer Espen Øino. Despite being 230-feet long, and a displacement yacht, the Nova can kick out the RPMs to pull 30 full knots, while looking like the belle of the ball.
Benetti 11-11
True ship pornography, the 11-11 is 207-feet of luxurious glory. Everything about it screams pampering, from the VIP bedroom that is more lush than any penthouse suite, the full sauna/spa for sweating out the woes of the world, down to the decks on decks of chrome and glass.
Perini Navi Sybaris
Commissioned by Bill Duker when he found out the cancer in his body had spread to his lymph nodes, the Sybaris is a Monarch's wing short of 230-feet, and is part of the unusual class of sailing superyacht built for serious seafarers looking to catch the wind while looking like a glorious mirage.
CRN Atlante
A true warhorse, the military build is intentional, making the 180-foot Atlante look more like a battlecruiser than a pleasure boat. Those sharp lines came from the hand of Nuvolari Lenard, a superyacht designer who can turn the tactical into the exceptional, all with Italian grace from bow to stern.
WIDER 150 'Genesi'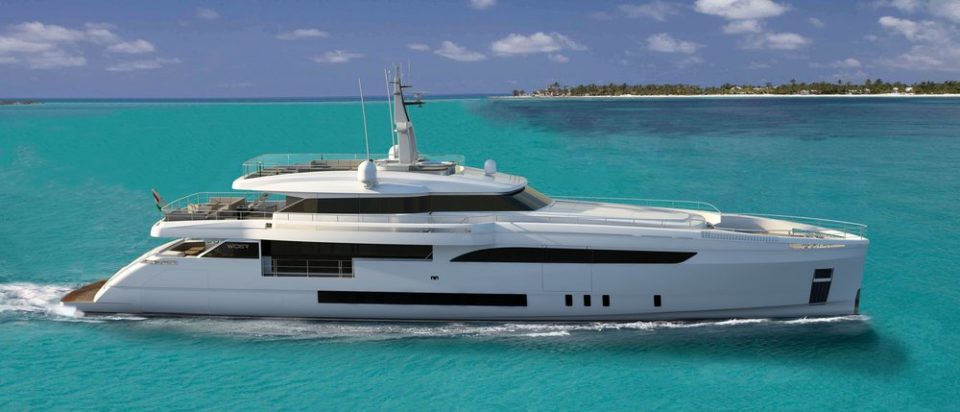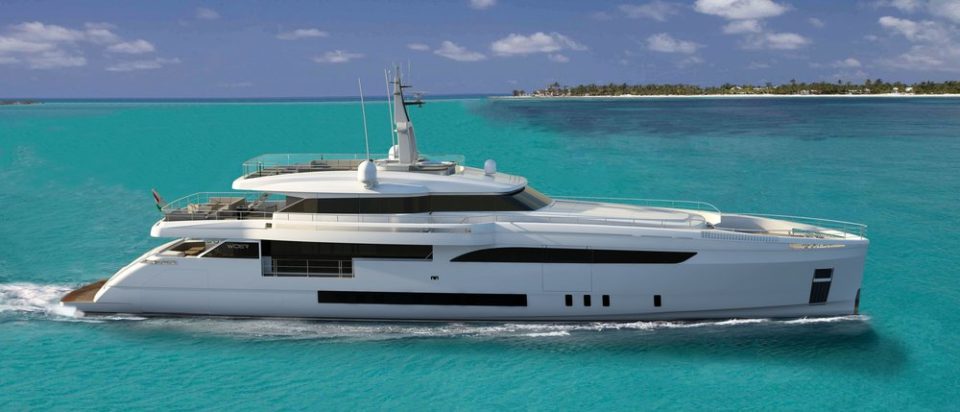 Beneath the swooping curves envisioned by Fulvio De Simoni, there's actually a piece of history. Inside that broad hull is a diesel electric engine that borrows from technology that is more than a century old; reimagined to be quick, clean, and economically sound as well as prim and powerful.
Lürssen Coral Ocean
Originally designed in 1994, the Coral Ocean is an oldie that never goes out of style. A refit and redesign took place in 2009, breathing new life into this enduring piece of maritime grandeur. Few superyachts can claim as smooth a ride as the Coral, reducing roll to a scant sway, ideal for those with staunch land-legs.
Feadship Vanish
The new zero speed stabilization is the real story of the Vanish, as it turns rough chop into negligible movement while sitting at anchor so the on-board pool, jacuzzi, gym, sauna, and spa can all be enjoyed to the fullest.
Damen Fast and Furious
Wholly a Damen creation both above and below deck, Fast and Furious isn't meant to work alone, as it's a support vessel first and foremost. The immense deck can accommodate helicopters, secondary boats, and all other toys that are needed for an office, playground, and home away from home.
Dynamiq Jetsetter
New on the scene, Dynamiq is rapidly rising in the esteem of the superyacht community as a maker of compact dreams. A touch over 126.5 feet long, Jetsetter clearly has Carribbean travel in mind, using a shallow draught that permits touring around any archipelago without bottoming out.
Hawk Yachts Seahawk
A concept yacht brought to life, the Seahawk is built to not only be a beast, bearing a length of 338-feet, but also capable of true globe-trotting. Able to accommodate a few dozen in comfort, the proprietary mechanics are ingenious in their ability to go from the poles to a jaunt down the Amazon without breaking stride.
Baglietto 46M Fast
Forever pushing the boundaries between sport yachts built for speed, and luxury liners made for bringing man-made beauty to the high seas, the lead gray Fast is a revelation. A swift and stylized design from Francesco Paszkowski, the minimalist look is only skin deep.
Admiral Quinta Essentia
Opulent, but managing to retain taste and grace at every turn, the Quinta Essentia is Admiral's largest and most ambitious superyacht to date. Expressive expanses show that it's made to entertain guests in saloons and ballrooms, while using an ingenious hybrid power package to stay afloat.
Bilgin Giaola-Lu
Multiple decks for sunbathing along with a fold-out swimming platform at the rear and places for two tenders in the garage are evidence that this is a serious party and play ship, not simply a way to squander wealth. Cocktail and lounging areas prove this point again and again.
Gulf Craft Majesty 110
Small and spritely in the land of tri-deck superyachts, the Majesty 110 aims to provide a unique experience at a bargain price to the nouveau riche. Each Majesty has an array of bespoke options from which to choose, creating an experience that is more than the sum of its many wondrous parts.
Metalships Maybe
In the world of aluminum boats, Maybe is unabashedly steel, and the biggest ship to ever be designed and built in Spain. Nearly a tragic tale, Maybe was abandoned on the assembly line in 2009, only to be given new life and a full launch a few years later, to much-deserved fanfare.
Feadship Savannah
Once known by the humble moniker project #686, Savannah is a hybrid tri-deck that employs a lone diesel engine with an immense battery pack and a set of diesel-electric generators to reduce environmental impact while looking like an elite destroyer.
Baltic 115 Nikata
Another sailing superyacht that can turn heads, Nikata is an all-carbon racing vessel that mixes work from naval architects Judel/Vrolijk & Co. with Nauta Design's interior and exterior looks. Truly a dinghy that's only as good as the person at the helm.
Baglietto Unicorn
Like the 46M Fast from Baglietto, the design of the Unicorn comes from Francesco Paszkowski, but there the similarities end. The Fast is made for speed, but the Unicorn is as open as the sea itself, encouraging passengers to interact with the wide skies and stay in touch with the ocean around them through airy architecture that invites the world in.