Are you looking for the right life quotes but can't think of the perfect one? Because we've compiled 160 life quotes that are great for any occasion.
View in gallery
Once in awhile, you'll be searching for the perfect thing to say to no avail. In fact, even the most creative minds suffer from mental blocks.
Occasionally, you might need to make a toast or you're trying to make a good impression. In another case you might just want something fun to add to your email signature.
That's when you need a good quote. Of course, you aren't neglecting your own self expression when you quote another person. Because when others have so eloquently said what you want to say, it would be foolish to try to rework it.
Whether you need inspiration, a motivating message to get you through the day, or a reminder that you're not alone in your struggles, there's a quote to suit your situation. In short, you just have to find it. In order to help you on your search, we have 160 life quotes to help motivate, inspire, and make you think.
Inspirational Quotes About Life and Family
View in gallery
Due to the many family holidays and birthdays, you have your hands full keeping up with your family. Of course, that doesn't mean looking for an inspirational quote about life and family should be exhausting. After all, they're your family.
So, that's why whether it's your family by blood, or the family you choose, we have the perfect family life quotes for you!
1. "You don't choose your family. They are God's gift to you, as you are to them." — Desmond Tutu
2. "I have frequently gained my first real insight into the character of parents by studying their children." — Sir Arthur Conan Doyle
3. "The happiest moments of my life have been the few which I have passed at home in the bosom of my family." — Thomas Jefferson
4. "In family life, love is the oil that eases friction, the cement that binds closer together, and the music that brings harmony." — Friedrich Nietzsche
5. "A family is a risky venture, because the greater the love, the greater the loss… That's the trade-off. But I'll take it all." — Brad Pitt
6. "A man who doesn't spend time with his family can never be a real man." — Vito Corleone
7. "In truth a family is what you make it. It is made strong, not by number of heads counted at the dinner table, but by the rituals you help family members create, by the memories you share, by the commitment of time, caring, and love you show to one another, and by the hopes for the future you have as individuals and as units" — Marge Kennedy
Related Reading: Best Love Quotes for Him
8. "A happy family is but an earlier heaven." — George Bernard Shaw
View in gallery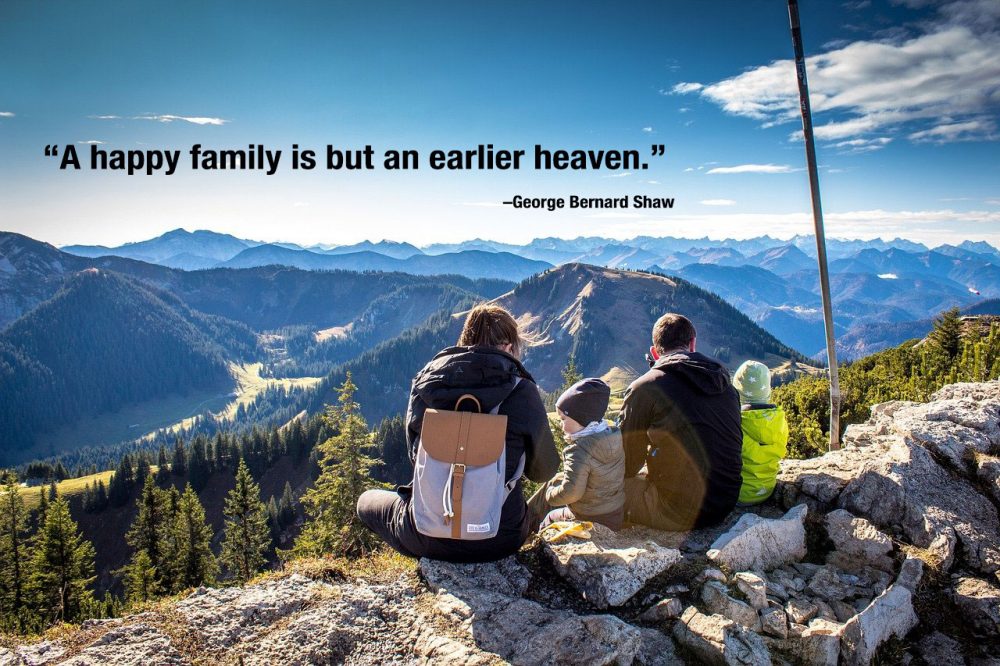 9. "I have a great family, I live an amazing life." — John Oates
10. "Life is beautiful. It's about giving. It's about family." — Walt Disney
11. "You can kiss your family and friends good-bye and put miles between you, but at the same time you carry them with you in your heart, your mind, your stomach, because you do not just live in a world but a world lives in you." — Frederick Buechner
12. "Your children are not your children. They are the sons and daughters of Life's longing for itself. They came through you but not from you and though they are with you yet they belong not to you." — Khalil Gibran
13. "When everything goes to hell, the people who stand by you without flinching — they are your family." — Jim Butcher
14. "One curious thing about growing up is that you don't only move forward in time; you move backwards as well, as pieces of your parents' and grandparents' lives come to you." — Philip Pullman
15. "I sustain myself with the love of family." — Maya Angelou
16. "My ultimate life dream project is my kids. My family." — Denzel Washington
Related Reading: Best Relationship Quotes
17. "I believe that what we become depends on what our fathers teach us at odd moments, when they aren't trying to teach us. We are formed by the little scraps of wisdom." — Umberto Eco
18. "Without a family, man, alone in the world, trembles with the cold." — Andre Maurois
19. "My parents are my backbone. Still are. They're the only group that will support you if you score zero or you score 40." — Kobe Bryant
20. "I'd be nothing without my wife. She's the coolest. She's the greatest. She is the smartest. She's the funniest. I love her so much. She's like the – it's like your best friend for the rest of your life." — Jimmy Fallon
---
Deep Quotes for Life
View in gallery
Given that inspiration comes from many places, finding a source of inspiration might seem difficult.
Whether it's from the smallest acts of kindness, or the greatest accomplishments of successful people, inspiration for a better life is all around you. However, you might stumble upon disheartening situations.
Whenever you need an extra boost of inspiration, we have 20 deep quotes for life that will inspire you to do great things in life.
1. "Just don't give up trying to do what you really want to do. Where there is love and inspiration, I don't think you can go wrong." — Ella Fitzgerald
2. "Inspiration comes from within yourself. One has to be positive. When you're positive, good things happen." — Deep Roy
3. "Never doubt that a small group of thoughtful, committed citizens can change the world; indeed, it's the only thing that ever has." — Margaret Mead
4. "The depth of darkness to which you can descend and still live is an exact measure of the height to which you can aspire to reach." — Pliny the Elder
5. "Your time is limited, so don't waste it living someone else's life." — Steve Jobs
6. "I really don't think life is about the I-could-have-beens. Life is only about the I-tried-to-do. I don't mind the failure but I can't imagine that I'd forgive myself if I didn't try." — Nikki Giovani
7. "We lay out our lives in a narrative we understand, like a movie, but are you enjoying making it or are you wondering who's watching my movie." — Donald Glover
8. "The best you can do is always good. I realized you don't have to be perfect, you just have to be faithful in your attempts." — Terry Crews
9. "Don't settle for what life gives you; make life better and build something." — Ashton Kutcher
View in gallery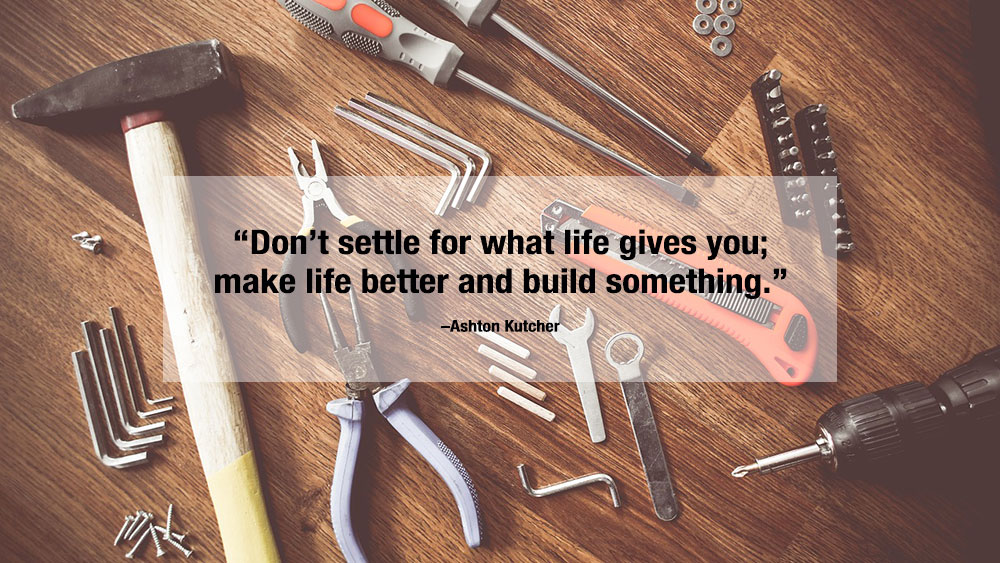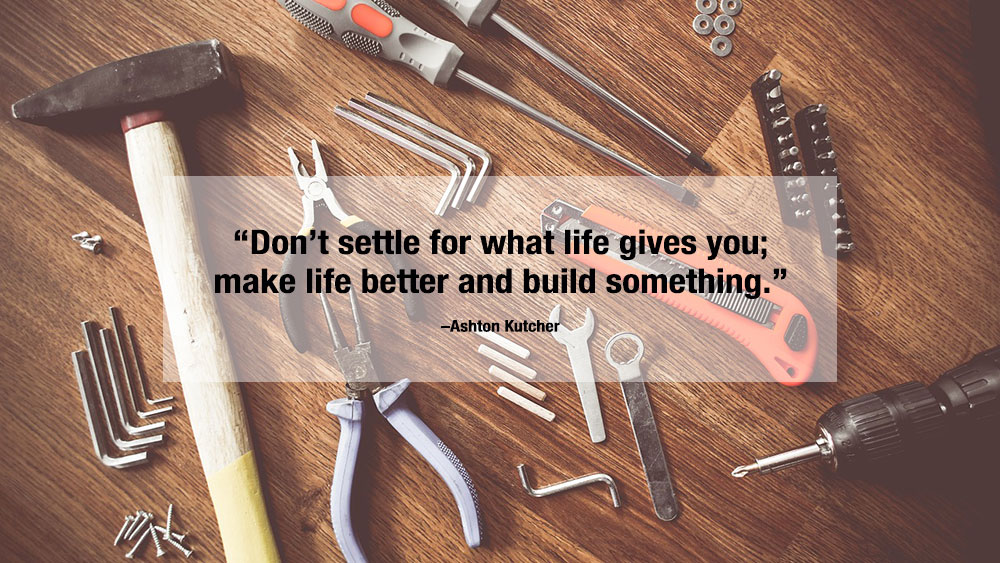 10. "He who is not courageous enough to take risks will accomplish nothing in life." — Muhammad Ali
11. "So if you stay ready, you ain't gotta get ready, and that is how I run my life." — Will Smith
12. "You can go slow. Allow your dreams and goals to change, but live an intentional life." — Kumail Nanjiani
13. "I don't understand how people live without creating" — Samuel L. Jackson
14. "The best advice I could give anyone is to spend your time working on whatever you are passionate about in life." — Richard Branson
15. "Those who are successful overcome their fears and take action. Those who aren't submit to their fears and live with regrets." — Jay-Z
16. "No one lives long enough to learn everything they need to learn starting from scratch. To be successful, we absolutely, positively have to find people who have already paid the price to learn the things that we need to learn to achieve our goals." — Brian Tracy
17. "Far and away the best prize that life has to offer is the chance to work hard at work worth doing." — Theodore Roosevelt
18. "However difficult life may seem, there is always something you can do and succeed at." — Stephen Hawking
19. "An unexamined life is not worth living." — Socrates
20. "The greatest glory in living lies not in never falling, but in rising every time we fall." — Ralph Waldo Emerson
---
Love Life Quotes
View in gallery
When you fall in love you'll find yourself reading poetry, singing songs, and smiling while thoughts of your lover flood your mind. In fact, love can easily take over your mind, body, and soul. Of course, that's kind of what people are looking for…
But without reservation you'll find yourself overindulging in any and all mentions of love. Sooner or later you'll become lost in love's tender clutches. Then again, there's nothing wrong with falling hard as long as you can expect a gentle landing.
So, overindulge with us and fall even deeper with 20 love life quotes.
1. "One day/Time will die/And love will bury it."— Richard Brautigan
2. "Some people care too much. I think it's called love." — A.A. Milne
3. "Love is of all passions the strongest, for it attacks simultaneously the head, the heart, and the senses." — Lao Tzu
4. "One can live magnificently in this world if one knows how to work and how to love." — Leo Tolstoy
5. "You can never control who you fall in love with, even when you're in the most sad, confused time of your life. You don't fall in love with people because they're fun. It just happens." — Kirsten Dunst
6. "The problem, often not discovered until late in life, is that when you look for things in life like love, meaning, motivation, it implies they are sitting behind a tree or under a rock. The most successful people in life recognize that in life they create their own love, they manufacture their own meaning, they generate their own motivation. For me, I am driven by two main philosophies, know more today about the world than I knew yesterday. And lessen the suffering of others. You'd be surprised how far that gets you." — Neil deGrasse Tyson
7. "It's fun to be hopelessly in love. It's dangerous, but it's fun." — Keanu Reeves
8. "If you love somebody, let them go, for if they return, they were always yours. And if they don't, they never were." — Khalil Gibran
9. "I have a love in my life. It makes me stronger than anything you can imagine." — Adam Sandler
10. "Love, unfortunately, sometimes gives you the ability to forgive somebody and blind yourself to the truth." — Trevor Noah
11. "Remember that the best relationship is one in which your love for each other exceeds your need for each other." — Dalai Lama
12. "Almost everybody's happy to be a fool for love." — Jack Nicholson
View in gallery
13. "If there is any immortality to be had among us human beings, it is certainly only in the love that we leave behind." — Leo Buscaglia
14. "If you find someone you love in your life, then hang on to that love." — Princess Diana
15. "What's better than followers, is actually falling in love." — Chance The Rapper
16. "It's a humbling thing when you find someone to love. Even better if you've been waiting your whole life." — George Clooney
17. "Learn to love yourself and all that other stuff will not matter" — Keke Palmer
18. "Life without love, is no life at all." — Leonardo da Vinci
19. "I'm so in love with you, that there isn't anything else." — Ernest Hemingway
20. "I don't hate hardly ever, and when I love, I love for miles and miles. A love so big it should either be outlawed or it should have a capital and its own currency." — Carrie Fisher
---
Positive Life Quotes About Happiness
View in gallery
In order to find happiness, you never need to look too far. Because life is full of reasons to be happy, or at the very least, reasons to spread happiness.
Whether you're searching for happiness in life, or you've already found it and just want to revel in that moment, positive life quotes will keep you feeling uplifted. Nevertheless, one person's idea of happiness might be different from yours. But that should never take away from your own happiness.
Therefore we have 20 positive life quotes to help set the vibe right for you to receive all the happiness in the world.
1. "You will never be happy if you continue to search for what happiness consists of. You will never live if you are looking for the meaning of life." — Albert Camus
2. "If you can do what you do best and be happy, you are further along in life than most people." — Leonardo DiCaprio
3. "Very little is needed to make a happy life; it is all within yourself, in your way of thinking." — Marcus Aurelius
4. "When I was 5 years old, my mother always told me that happiness was the key to life. When I went to school, they asked me what I wanted to be when I grew up. I wrote down 'happy.' They told me I didn't understand the assignment, and I told them they didn't understand life." — Nick Offerman
5. "But what is happiness? It's a moment before you need more happiness." — Jon Hamm
6. "Happiness is having a large, loving, caring, close-knit family in another city." — George Burns
7. "I think I've been happy because I've been able to do what I believe in, and on my own terms."— Ralph Lauren
8. "People take different roads seeking fulfilment and happiness. Just because they're not on your road doesn't mean they've gotten lost." — Dalai Lama
9. "Being happy is really the definition of success, isn't it?" — Jim Gaffigan
10. "Happiness consists more in conveniences of pleasure that occur everyday than in great pieces of good fortune that happen but seldom." — Benjamin Franklin
11. "When one door of happiness closes, another opens, but often we look so long at the closed door that we do not see the one that has been opened for us." — Helen Keller
View in gallery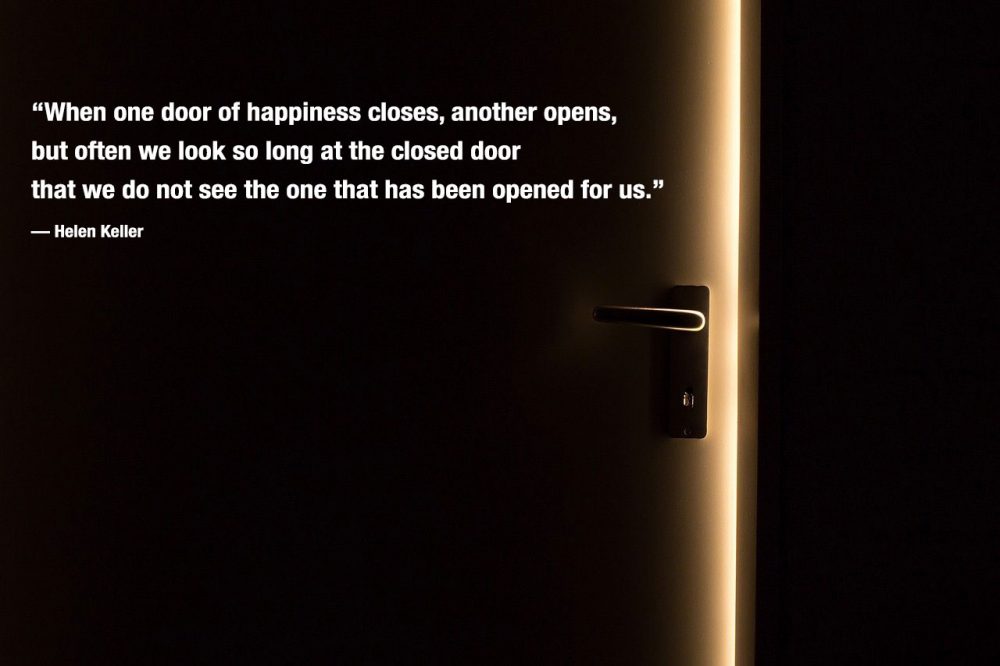 12. "The reason people find it so hard to be happy is that they always see the past better than it was, the present worse than it is, and the future less resolved than it will be." — Marcel Pagnol
13. "Find something that you love. Something that gets you so excited you can't wait to get out of bed in the morning. Forget about money. Be happy." — Chris Gardner
14. "Being miserable is a habit; being happy is a habit, and the choice is yours." — Tom Hopkins
15. "POSITIVE: The positive thinker sees the invisible, feels the intangible, and achieves the impossible." — Winston Churchill
16. "Be happy for this moment. This moment is your life." — Omar Khayyam
17. "The art of being happy lies in the power of extracting happiness from common things." — Henry Ward Beecher
18. "The most important thing is to enjoy your life — to be happy — it's all that matters." — Audrey Hepburn
19. "I, not events, have the power to make me happy or unhappy today. I can choose which it shall be. Yesterday is dead, tomorrow hasn't arrived yet. I have just one day, today, and I'm going to be happy in it." — Groucho Marx
20. "Of all forms of caution, caution in love is perhaps the most fatal to true happiness." — Bertrand Russell
---
Motivational Quotes for Life to Keep You Going
View in gallery
When the going gets tough, it's easy to want to give up. But motivation doesn't have to seem like a lost cause.
Although some people can easily self-motivate, others don't have that extra drive. Whether you find motivation within yourself, or through the words and actions of other people, there's nothing to be ashamed of.
So, help keep your head in the game with 20 motivational quotes for life that encourage you to never back down.
1. "Real courage is when you know you're licked before you begin, but you begin anyway and see it through no matter what." — Harper Lee
2. "My advice is, never do tomorrow what you can do today. Procrastination is the thief of time." — Charles Dickens
3. "Whatever your life's work is, do it well. A man should do his job so well that the living, the dead, and the unborn could do it no better." — Martin Luther King Jr.
4. "Life is a sum of all your choices. So, what are you doing today?" — Albert Camus
5. "Dripping water hollows out stone, not through force but through persistence." — Ovid
6. "Don't be too timid and squeamish about your actions. All life is an experiment. The more experiments you make the better." — Ralph Waldo Emerson
7. "Damn it all, you have been given a life on this beautiful planet! Get off your ass and do something!" — Nick Offerman
8. "I choose to make the rest of my life, the best of my life." — Louise Hay
9. "The point of life was to press on, to do the best you can, to make the world a better place." — Tom Clancy
10. "Go the extra mile. It's never crowded there." — Dr. Wayne D. Dyer
View in gallery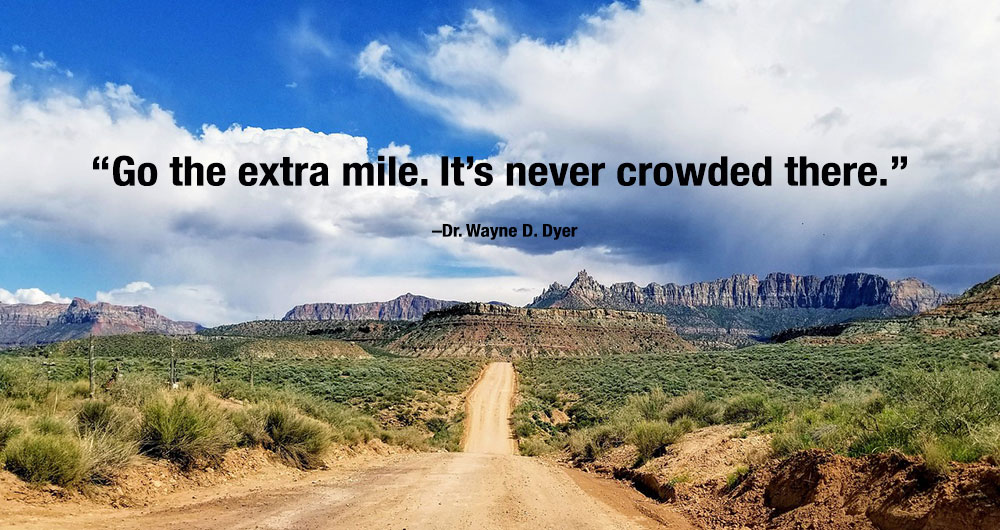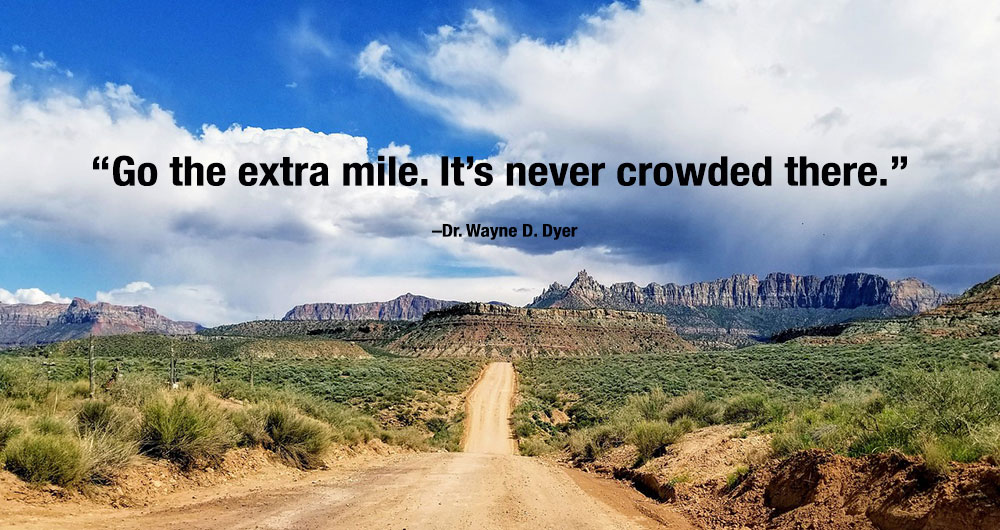 11. "Don't be afraid to be ambitious about your goals. Hard work never stops. Neither should your dreams." — Dwayne Johnson
12. "Work hard in silence, let your success be the noise." — Frank Ocean
13. "You have to always continue to strive no matter how hard things get, no matter how troubled you feel. No matter how tough things get, no matter how many times you lose, you keep trying to win." — LL Cool J
14. "I have always believed that if you want to achieve anything special in life you have to work, work, and then work some more." — David Beckham
15. "When it is obvious that the goals cannot be reached, don't adjust the goals, adjust the action steps." — Confucius
16. "The most common way people give up their power is by thinking they don't have any." — Alice Walker
17. "The secret of getting ahead is getting started." — Mark Twain
18. "Work like there is someone working twenty four hours a day to take it away from you." — Mark Cuban
19. "I never dreamed about success. I worked for it!" — Estee Lauder
20. "I start early and I stay late, day after day, year after year. It took me 17 years and 114 days to become an overnight success." — Lionel Messi
---
Meaningful Quotes on Life
View in gallery
From time to time life feels like it couldn't get any better. Then other times life can be a whirlwind of confusion. So confusing that it can be difficult to find meaning in life at all.
Of course, meaningful life experiences are subjective and what means something to you might not mean as much to another person. But that doesn't take away from the meaning you derive from said experiences.
However, you might need a reminder of where to look for the meaning and your life's purpose. Therefore, read through these meaningful quotes on life to remind you of life's greater purposes and joys.
1. "Patience, patience, patience, is what the sea teaches. Patience and faith. One should lie empty, open, choiceless as a beach — waiting for a gift from the sea." — Anne Morrow Lindbergh
2. "A wise man can learn more from a foolish question than a fool can learn from a wise answer." — Bruce Lee
3. "The ultimate value of life depends upon awareness and the power of contemplation rather than upon mere survival." — Aristotle
4. "We make a living by what we get, but we make a life by what we give." — Winston Churchill
5. "Most of us have two lives. The life we live, and the unlived life within us." — Steven Pressfield
6. "Sometimes you can have a whole lifetime in a day and never notice that this is as beautiful as it gets." — Robin Williams
7. "It is possible to commit no mistakes and still lose. That is not weakness, that is life." — Jean Luc Picard
8. "No one has a perfect life. Everybody has something that he wishes was not the way it is." — Stan Lee
9. "There is only one thing in life worse than being talked about, and that is not being talked about." — Oscar Wilde
10. "Learning how to be still, to really be still and let life happen – that stillness becomes a radiance." — Morgan Freeman
View in gallery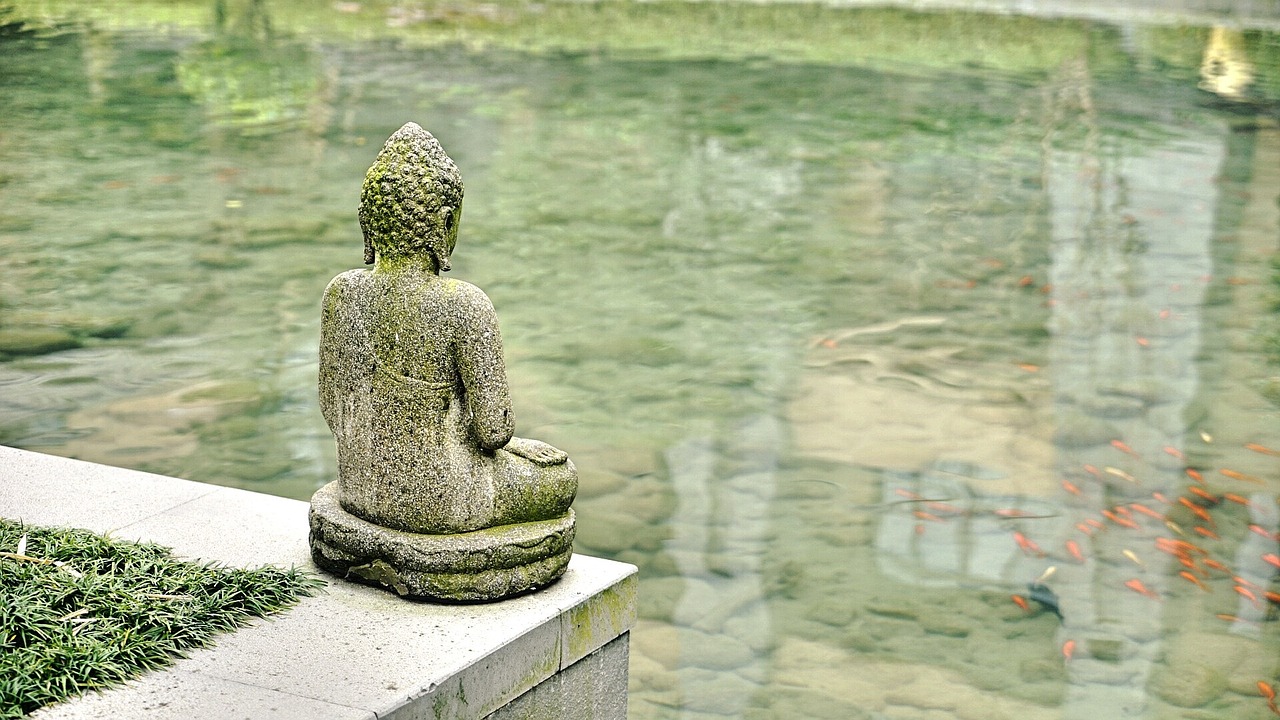 11. "We live in a world where we don't see the ramifications of what we do to others because we don't live with them." — Trevor Noah
12. "So much of life is what you roll and where you land." — Mark Hamill
13. "In real life there are no bad guys. Everybody just has their own perspective." — Quentin Tarantino
14. "I always say, decisions I make, I live with them. There's always ways you can correct them or ways you can do them better. At the end of the day, I live with them." — LeBron James
15. "The greatest gift in life is the ability to think great thoughts and have the strength to take action so that those thoughts become reality in this wonderful and abundant world." — Jack Black
16. "Life is a hell of a lot more fun if you say yes rather than no." — Richard Branson
17. "I have this theory that, depending on your attitude, your life doesn't have to become this ridiculous charade that it seems so many people end up living." — Christian Bale
18. "In your pursuit of your passions, always be young. In your relationship with others, always be grown-up." — Tom Brokaw
19. "You can live within the institutions and work hard to change them." — Noam Chomsky
20. "It's not what happens to you that determines how far you will go in life; it is how you handle what happens to you." — Zig Ziglar
---
Sad Quotes About Life and Loss
View in gallery
Occasionally, we just need a pity party. Because, it feels good to wallow in your misery sometimes. In fact, you can experience catharsis by watching a sad movie, listening to sad music, or by reading about pain and suffering.
Furthermore, part of life is accepting that there will be loss and sadness. And since misery loves company, we have 20 sorrowful life quotes to remind you that you're not alone in your pain.
1. "Tonight I can write the saddest lines. I loved her, and sometimes she loved me too." — Pablo Neruda
2. "Life is sad, life is a bust, all you can do is do what you must." — Bob Dylan
3. "Even a happy life cannot be without a measure of darkness, and the word happy would lose its meaning if it were not balanced by sadness. It is far better to take things as they come along with patience and equanimity." — Carl Jung
4. "Death is not the greatest loss in life. The greatest loss is what dies inside us while we live." — Norman Cousins
5. "When you've suffered a great deal in life, each additional pain is both unbearable and trifling." — Yann Martel
6. "What need is there to weep over parts of life? The whole of it calls for tears." — Seneca
7. "The gods conceal from men the happiness of death, that they may endure life." — Lucan
8. "It's weird to feel like you miss someone you're not even sure you know." — David Foster Wallace
9. "It doesn't hurt to feel sad from time to time." — Willie Nelson
View in gallery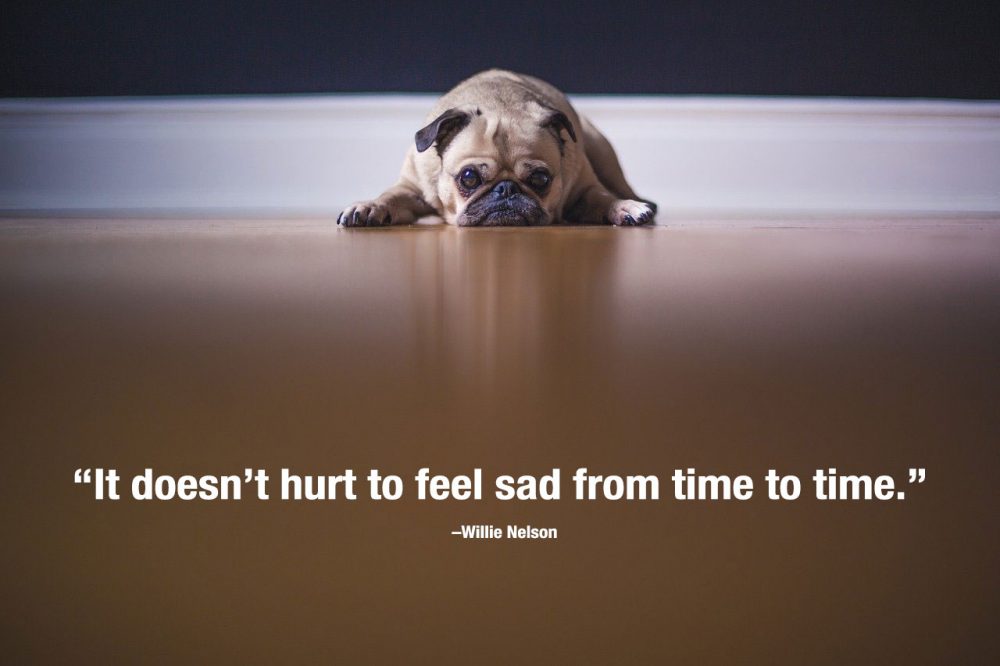 10. "You know how they say you only hurt the ones you love? Well, it works both ways." — Chuck Palahniuk
11. "Here are your options: live long enough to watch your friends die, or die young." — George Clooney
12. "Some people are going to leave, but that's not the end of your story. That's the end of their part in your story." — Faraaz Khan
13. "Boredom, anger, sadness, or fear are not 'yours,' not personal. They are conditions of the human mind. They come and go. Nothing that comes and goes is you." — Eckhart Tolle
14. "Sad things happen. They do. But we don't need to live sad forever." — Mattie Stepanek
15. "I've been afraid of changing because I've built my life around you." — Stevie Nicks
16. "Every man's life ends the same way. it's only the details of how he lived and how he dies that distinguish one man from another." — Ernest Hemingway
17. "When someone leaves, it's because someone else is about to arrive." ― Paulo Coelho
18. "If my eyes could show my soul, everyone would cry when they saw me smile." ― Kurt Cobain
19. "You think the dead we loved ever truly leave us? You think that we don't recall them more clearly than ever in times of great trouble?" — Albus Dumbledore
20. "Things change. And friends leave. Life doesn't stop for anybody." — Stephen Chbosky
RELATED READING: What to talk about with a girl to keep conversation flowing
---
Funny Quotes about Life
View in gallery
Of course, not everyone is a comedian. However, life is certainly funny. Whether you're laughing at yourself, or the world around you. Sometimes all you can do is laugh, even when life seems difficult.
But if you're floundering for the right comedic edge, you might need to brush up on some funny quotes.
In addition, it's also helpful to understand humor and the effect it has on people, in order to have better delivery. Therefore, we have 20 funny quotes about life to help you appreciate all of life's comedy stylings.
1. "Life is too short to read a bad book." — James Joyce
2. "Life would be tragic if it weren't funny." — Stephen Hawking
3. "If I was gonna go to jail, I don't want to go to jail for stealing a bottle of water. I'll steal that $20 million. At least then it was worth it." — Idris Elba
4. "Before you criticize someone, you should walk a mile in their shoes. That way when you criticize them, you are a mile away from them and you have their shoes." — Jack Handey
5. "A good rule to remember for life is that when it comes to plastic surgery and sushi, never be attracted by a bargain." — Graham Norton
6. "Anyone who lives within their means suffers from a lack of imagination." — Oscar Wilde
7. "Do not take life too seriously. You will never get out of it alive." — Elbert Hubbard
8. "I believe that if life gives you lemons, you should make lemonade… And try to find somebody whose life has given them vodka, and have a party." — Ron White
9. "Life is hard. After all, it kills you." — Katharine Hepburn
10. "You know the trouble with real life? There's no danger music." — Jim Carrey
View in gallery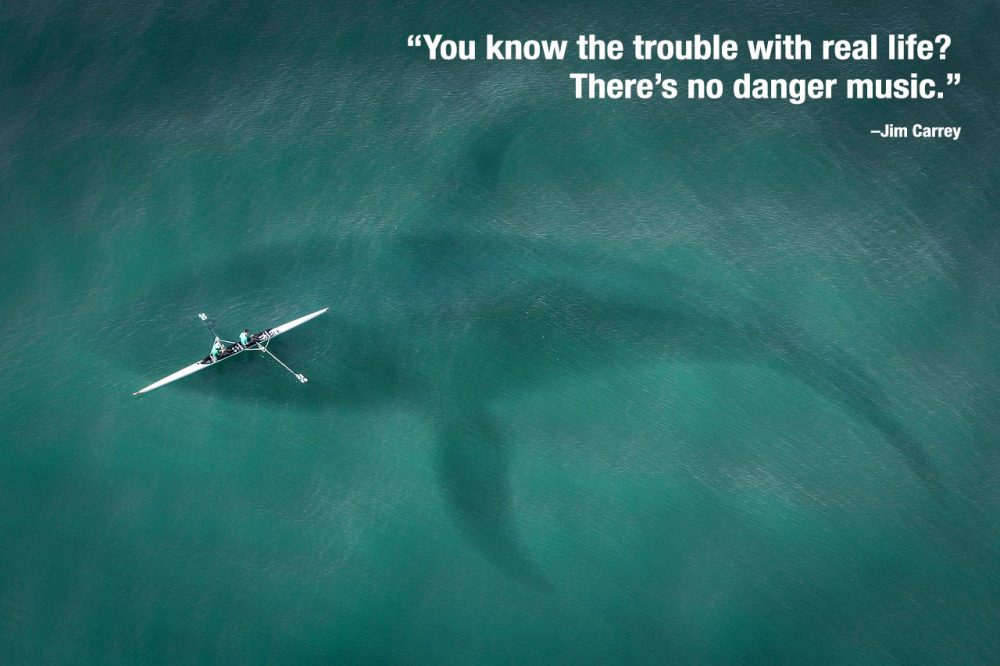 11. "Food tells you everything about the way people live and who they are."— Martin Scorsese
12. "I assume everything I do in life is gonna be a failure, and then if it turns up roses, then I'm psyched." — Jonah Hill
13. "The number one problem that causes student loan debt? Parents that suck." — Dave Ramsey
14. "When did the future switch from being a promise to being a threat?" — Chuck Palahniuk
15. "Coffee is to wake up, coffee is to work with, coffee is to live with, coffee is life" — Jim Parsons
16. "When life gives you lemons, make lemonade. I read that one on a can of lemonade. I like to think it applies to life." — Chris Pratt
17. "You're not hardcore unless you live hardcore" — Jack Black
18. "It could be that your purpose in life is to serve as a warning to others." — Ashleigh Brilliant
19. "I've got to keep breathing. It'll be my worst business mistake if I don't." ― Steve Martin
20. "Tragedy is when I cut my finger. Comedy is when you fall into an open sewer and die." — Mel Brooks
---
Parting Words
Next time you need to make an impactful statement, but start to feel tongue tied, you can use one of the life quotes from the above list. Moreover, if you want you can even write some down to remind you to laugh more at life, or help you stay motivated.
Additionally, you'll benefit from knowing where some of these famous words came from. Whether your goal is to educate, or express yourself, there's always a good life quote you can use.
So, what are your favorite life quotes? Were you able to find a new favorite quote while reading this list? By all means, tell us which quotes made the cut in the comments. Or better yet, bookmark this list for later!